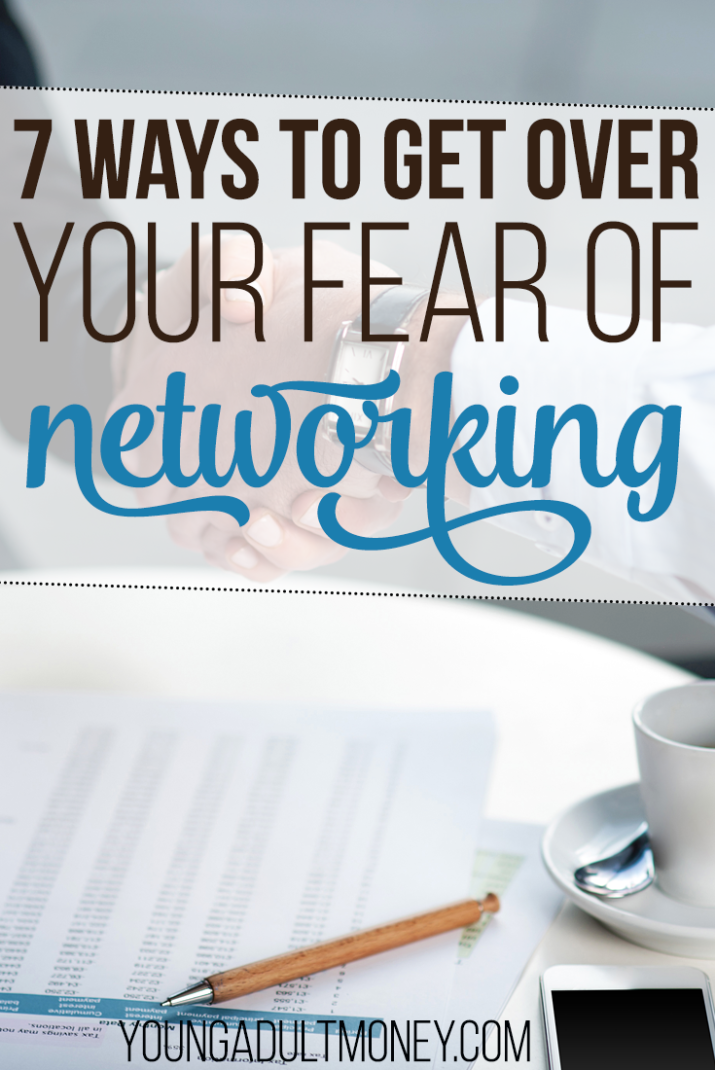 The word "networking" can be scary to a lot of people, especially if you're an introvert.
Of course, as most of us know, networking is a necessary evil if we want to further our careers.
So how can we make it less painful?
There are a few ways, and I can say from experience that it gets easier the more you do it. The hardest part is putting yourself out there.
If that's something you've been struggling with, here's how to get over your fear of networking.
1) Start Small – Practice With Someone You Know

I wouldn't recommend throwing yourself into a large networking event right off the bat. You need to ease into it (unless you're an extrovert, and most of them don't have a fear of networking!).
Turn to a friend or a coworker you know well and ask them if they can help you act out a networking scenario.
The purpose is to simply get comfortable telling other people about yourself and what you do, along with asking them questions about their career.
You can talk with your friend over coffee or a meal and make it strictly about business. Bring your business cards (if you have them), dress nicely, have a way to take notes, and if it makes you feel more comfortable, bring some prompts for questions.
However, make sure you're talking with a friend who is comfortable networking and has some experience. You don't want to invite another friend who is struggling with the same issues, otherwise you might have an awkward time. This should be a learning experience.
At the end of your networking date, ask them for advice and pointers, and be ready for their honesty. You might not be happy that you appeared nervous or unclear, but the thing to focus on is that you're aware of it and can fix it!
2) Practice Still Makes Perfect

Another route you could try is taking a friend or coworker to a small event with you.
This event doesn't necessarily need to be classified as a career networking event. Maybe you're new in town and want to meet other people, or maybe you're attending a meetup for a hobby you have.
In this case, it doesn't matter if the friend is experienced or not. If they are, you'll likely learn more, but if not, you have someone with you who is in the exact same boat as you, and you can help each other throughout the event.
For example, you could have some friendly competition and turn networking into a game: whoever gets the most business cards "wins." (Although I recommend focusing more on making actual connections when you're really networking.)
Besides making the experience fun, it helps to have someone else to lean on. They can encourage you when you're not feeling confident enough, and they can share their experiences throughout the event so you learn from them. You can provide the same.
Having someone else there instantly makes you feel less alone and less anxious since you always have a backup plan. Just be careful not to overly rely on them.
3) Have an Icebreaker Ready

When you're going to a networking event, it can help to have an icebreaker or two ready to prevent any potentially awkward situations. This can give you some peace of mind going into it.
Icebreakers can be anything from a joke to something very noticeable about your appearance that most people would comment on to offering a compliment. It doesn't have to be cheesy.
For example, I attended a networking conference and had purple hair. I was one of a few people that had an unusual hair color. Was it a conversation starter? Yep. Did it make me stand out? Yep.
Speaking of, using icebreakers to your advantage can be great because they have the opportunity to make you more memorable. In a sea of hundreds and sometimes thousands of people, you want to be memorable, as much as you might want to blend into a wall.
4) Realize That Everyone is There for the Same Reason

Let's be honest – most people are at a networking event to make connections. Their motives may be slightly different, but it all boils down to the same thing.
"Who you know" is very valuable, and networking events afford everyone a great opportunity to connect with people they otherwise might not have interacted with.
When you realize that everyone at the event is there to do the same exact thing as you, it's a little less intimidating. You might feel weird about giving your business card out and "promoting" yourself, but that's just how the game is played. People are looking to connect with other people, why not you?
As long as you follow proper etiquette when networking (i.e. don't shove your business cards into someone's face while they're talking to someone else) and you're pleasant, you shouldn't have much to worry about.
Plus, I can almost guarantee you that you're not the only person there who's afraid. You're not alone, as much as you might feel like you are, so jump in!
5) Figure Out a Positive "Elevator Speech"

Elevator speeches can seem gimmicky, but they're useful to think about, especially if your job is hard to explain.
You want to clearly communicate to everyone you connect with what it is you do, why it matters (especially to them), and why you do it, among other things.
The worst thing you can do is answer, "What do you do?" with, "Eh, most people don't really get what I do, not even my boss, but here's my title anyway!"
You don't have to be overly enthusiastic about your job, but don't downplay it. How you answer this question typically sets the tone for the rest of the conversation.
6) Define a Clear Goal

One way to sort of distract yourself from networking is looking at the smaller picture: what are you trying to accomplish by networking?
Are you looking to go in a different direction with your career? Do you want to move to a different company? Are you trying to get clients? Do you want to gain knowledge?
All of these can require different networking techniques.
Figure out what you want to get out of a networking event ahead of time, write it down, and keep checking on it throughout the event so you stay accountable.
You can name one big goal, three smaller goals – as long as you have some goal, that's better than not having any.
However, the clearer your goal is, the more effective it becomes, and the easier it is to achieve.
"Talk to three people" is an easy goal to have, but what does it really do for you?
"Talk to three people in X company/in Y position/who are connected to Z" is much better and keeps you on track.
7) Just Meet People

While having a clear goal is absolutely important, sometimes it helps to be less uptight about networking events.
Sure, there are a lot of opportunities around you, and you might not want to miss out, but if you're so scared you can't put yourself out there in any way, shape, or form, then what difference does it make?
Instead of approaching it as a "networking event," get rid of the word "networking" and just think of it as going to a giant meetup.
I'm not saying to take it less seriously, though. Don't use this as an easy way out! I'm only saying that it can help to think of events like these as simple opportunities to meet people. As themselves. Without the fancy job titles and everything else.
I can't tell you how many fascinating people I've come across in conversation at conferences. Everyone has a different story – ask about it, and you'll probably either learn something new, be inspired, or make a genuine connection.
____________________
At the end of the day, everyone goes to networking events for the same reason, and you more than likely have one or two things in common with them if you're attending an industry conference, entrepreneur or blogger meetup, etc. Focus on those commonalities and you should have material you can approach everyone with!
If all else fails, it's okay to leave early and take a break. There will be other opportunities.
You may enjoy some of our other career and work-related posts:

Have you had to get over your fear of networking? What did you do to get more comfortable with it?