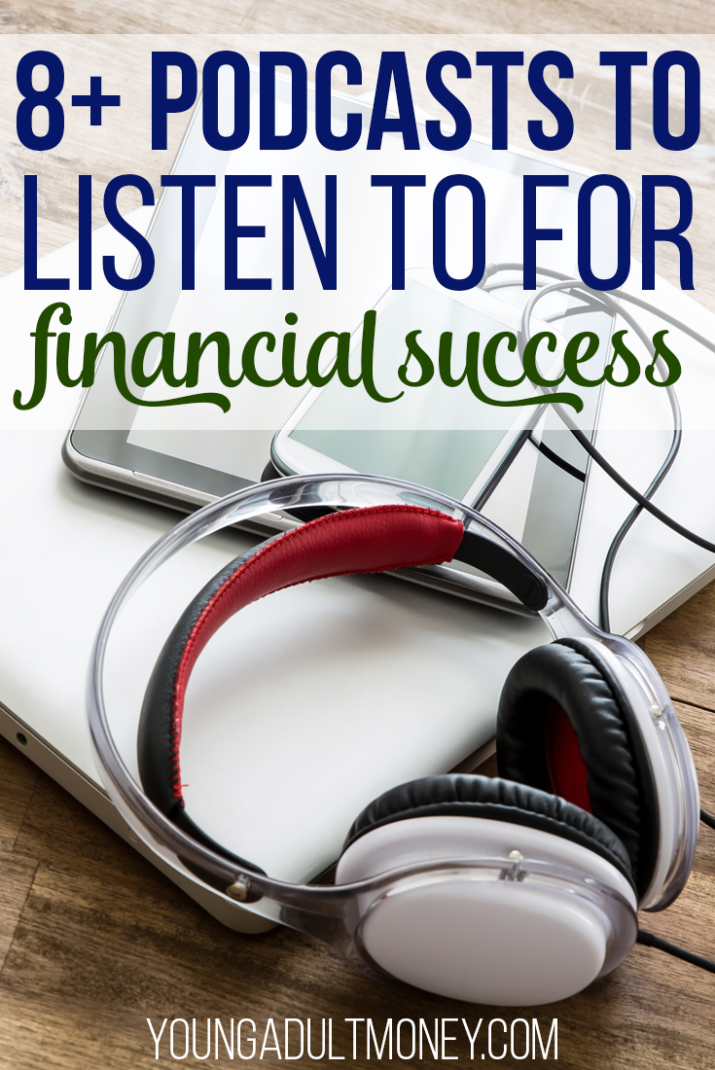 The world of podcasting has expanded greatly in the last few years.
I remember attending a conference for financial bloggers and hearing about everyone's plans to get into podcasting just two years ago.
This past year, at that same conference, I'm fairly certain a record number of live podcasts happened.
It's not hard to figure out why podcasts have become such a huge medium. With so many of us constantly "on the go," we prefer to listen instead of read. Listening allows us to do other things, like commute, clean, or cook.
Not only that, but people's personalities shine through more in podcasts since you can hear their tone of voice.
So if you're looking for podcasts to listen to for financial success, I've created a list of a few that are fun to listen to. You won't find stuffy, stodgy advice in these.

Lots of people were super excited when Paula Pant announced that she was starting a podcast earlier this year, and I can tell you it definitely won't disappoint. If you love her blog, you'll likely love the podcast, because she's so much fun to listen to.
Paula interviews authors, entrepreneurs, and thought leaders, and she also offers her own advice on "ask Paula" episodes (she takes questions from listeners). She's not afraid to ask tough questions, dive deeper into topics, and tell it like it is.
Her episode introduction is a succinct summary of what to expect: you can afford anything, but not everything, and how you decide to spend your most limited assets – money time, energy, focus, attention – greatly impact your quality of life. She's all about figuring out how to make better decisions that will guide you toward your goals.
Whether you're looking for advice on real estate investing, saving, paying off debt, investing, earning more, being more productive – you'll find it, and episodes are normally around 45 to 60 minutes long.

Fun fact: I was with Shannon McLay, the host of this awesome podcast, when she came up with the idea for it at the same financial blogger conference I mentioned at the beginning of this post. In fact, she won best personal finance podcast at the conference two years ago!
If you miss Shannon's blog posts, you'll want to tune in. For those who don't know, Shannon is a financial coach with years of advisory experience, and she covers all sorts of financial topics with advice aimed specifically at millennials…while drinking. (It's called Martinis and Your Money for a reason!) Yes, it's as fun as it sounds.
You'll also find "happy hour" episodes once a month, which feature fellow awesome bloggers Melanie from Dear Debt, Mrs. Frugalwoods, and Tonya from Budget and the Beach. These are probably my favorite episodes, and they run about an hour each. Shannon's other episodes vary between 40 – 60 minutes.

Talaat and Tai McNeely host this show, and they are hilarious and full of energy. If you're looking for financial encouragement and motivation, you should listen to them. Seriously. They are all about helping and inspiring. 
This podcast isn't just for couples, either, despite the title. They interview experts, "average" people like you and me who achieved financial success either with saving or paying off debt, side hustlers, entrepreneurs, and more.
New episodes are published multiple times a week, and most are on the shorter side – around 20 – 30 minutes long – which is great if you have a shorter commute, or if you're doing 20 minutes on the treadmill.

Farnoosh Torabi is a well-known name in the personal finance world as she's an author, television personality, and journalist. It's no surprise she's also a podcaster.
Farnoosh's show is easy to listen to because she interviews a range of entrepreneurs, authors, influencers, executives at financial companies, and more. Their stories are relatable, and Farnoosh asks great questions that elicit insightful responses. It's almost like you're listening in to a chat over coffee.
She also has "Ask Farnoosh" episodes, where she answers a multitude of questions from readers.
Most of the episodes are also less than 40 minutes, which makes it perfect for a commute.

Okay, I'm not trying to toot my own horn here. This may be a podcast that I'm part of, but my co-hosts Kayla (Shoeaholic No More) and fellow staff writer Chonce (My Debt Epiphany) launched this podcast at the beginning of this year with the goal to destroy the taboo surrounding money.
We talk about all sorts of "real" topics like the downsides of freelancing, whether there's such a thing as earning too much money, how to deal with the ups and downs of running your own business, why we should pay off debt at our own pace, how our mentality with money can seriously affect the financial decisions we make, and more.
We don't go into anything at a "what the heck are you talking about?" level. What you can expect is an honest, fun conversation (hence the name) between friends. Sometimes, we get to interview experts as well.
Most of our episodes are around 30 – 45 minutes.

This is likely the most established and well-known podcast on this list, and DC has actually made an appearance on it! Stacking Benjamins is hosted by Joe Saul-Sehy and OG, and often features roundtable discussions with other financial experts on current topics.
It's also probably one of the most amusing financial podcasts out there, and Joe's extensive experience in media makes him a great host. The roundtable guests have a lot of chemistry, so even if they're discussing something like investing and the stock market, you'll find it funny and informative.
You're also likely to find a bit of everything on Stacking Benjamins. They publish three times a week, and since they have multiple segments within an episode, they change topics frequently – something not found on most podcasts on this list.
Most episodes are around an hour long, although if you want more, there's also "The Green Room," an extended version of Stacking Benjamins – with less emphasis on money.

This is another podcast that covers much more than just finance, but as you can guess from the name, it's the perfect podcast to listen to if you're in your 20s and 30s, and even beyond, because when are we ever really "adults"?
Harlan Landes and Miranda Marquit do an excellent job of covering a variety of different topics that concern us. You can expect everything from life, finance, career, and relationship advice in a very honest setting.
They both bring insights from lessons learned into the discussion, whether it's on a simple financial topic like emergency funds or a more complex topic like figuring out if you'll ever find your soulmate.
A lot of their episodes are within that popular 30-40 minute range, making it a great listen for lunch breaks.

Carrie Smith and Cait Flanders make an amazing team. I love both of their blogs, and their podcast is equally awesome.
I also like that they've taken a different approach with podcasting – they have seasons with themes, and each episode is centered around that theme.
They currently have two seasons out: Personal Finances and Being Your Own Boss – which match perfectly with what we talk about here.
Carrie and Cait are both very successful businesswomen who are down-to-earth, and you can tell they genuinely want to help others succeed. They offer personal advice on how they've managed (or mismanaged) their finances and businesses while bantering back and forth with each other.
A couple of their episodes run over an hour long, with more being in the 45-55 minute range.
Honorary Mentions

There are so many good personal finance podcasts out there, so if you can't get enough, or if you've found the above aren't quite the right fit, then check these podcasts out!<
____________________
There are so many personal finance podcasts in iTunes that you're sure to find something you like! So if you learn better by listening instead of reading, why not try a few?
If you don't have iTunes or an Apple device – don't worry, many podcasts are available on Stitcher or other apps that are on the Android platform. Or you can just listen via the media player on a website.

I know I missed some – what are your favorite financial podcasts to listen to?