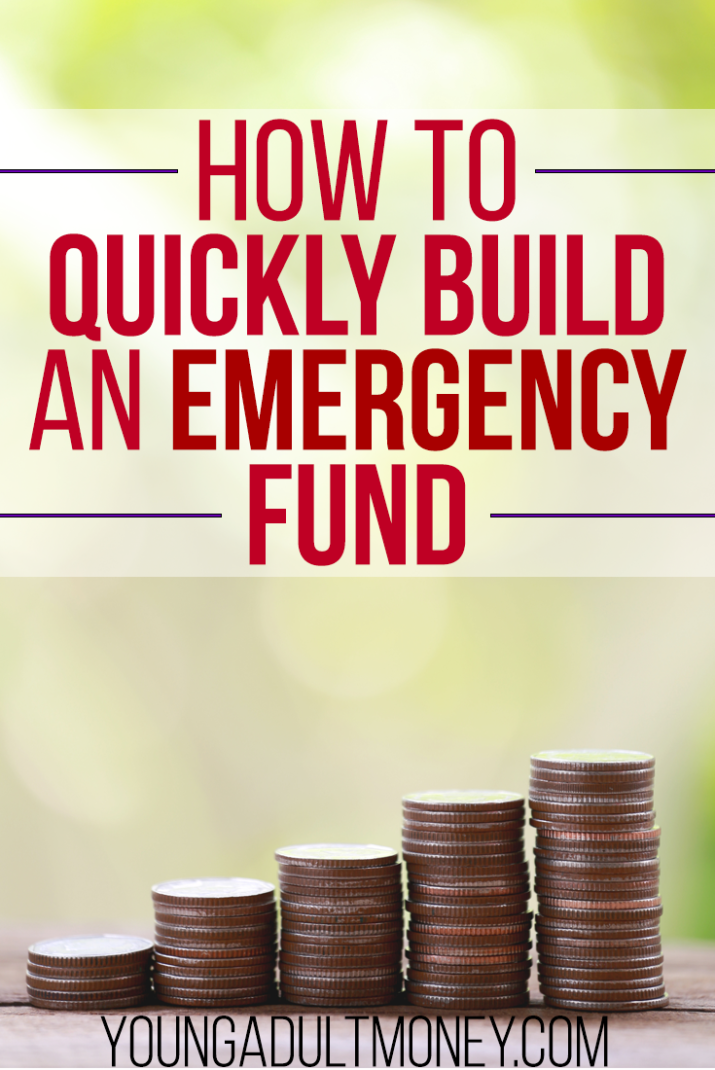 Do you know how you would handle a financial emergency?
Emergency funds are an imperative part of financial wellness. As much as we all would like live without thinking an emergency will happen, failure to prepare can have dire consequences. Uncontrollable situations happen. Being prepared for an emergency will save yourself from financial difficulties or even disaster.
Many millennials see the task of building an emergency fund as daunting. With many young adults having massive student loan debt or a small salary, saving any money can be a challenge.
If you have no emergency fund at all, I suggest starting to save an achievable, but comfortable amount of $1,000. Having even just $1,000 will save you from having to rely on credit cards or loans in case of emergency. 
Whether you're looking to start a fund from scratch or build your current one, here are a few tips on how to build an emergency fund quickly.

Adjust your budget
As we frequently suggest, the first step towards achieving any financial goal is to look at your budget. Create a budget if you don't have one.  If you do budget, check to see how your budgeted spending compares to your actual spending and adjust accordingly.
If you're really trying to cut back, consider what frugal actions you should implement. Should you use coupons to save on groceries? Can you save on your electric bill by being conservative with your usage? Frugality can be tedious, but effective when you need to save money.

Sell your stuff
Chances are you have a few things laying around that you could sell for some quick cash. Take a few hours to look around and organize your house, and you may be surprised at what you no longer need.
Can you sell toys, tools, workout equipment, clothes, or furniture? If you're not sure it will sell, allow potential buyers to bid on it instead of listing a price. Take a quality photo, post it on a website like Craigslist or OfferUp, and wait for the offers to come in.

Pick up a second job
Are you able to take on a second job for some extra money? Though most of us wouldn't love taking on a second job, it can make a huge difference in our finances.
Even if you can only work for a month in a restaurant at night, if you add every cent of that to your emergency fund, you will likely have it half stocked in a very short amount of time.
Not quite ready to commit to a second job? See what odd jobs you can find using your skills.
Whether you choose babysitting, mowing lawns, painting houses, event bartending, or dog sitting, earning a few extra hundred dollars here and there will quickly build your emergency fund.
While you're at it, consider starting your own side hustle for the future. Extra income earned through side hustles, like blogging, is a great way to pay off debt, add more to savings, and secure your financial future.

Go on a spending freeze
If your budget is still not quite as trimmed down as it could be, why not consider going on a spending freeze for a short amount of time?
A spending freeze is a time spent without buying any extras  – no coffee, no shopping, and no eating out.
You will be surprised by how much you save, and you'll also be astonished to see how much you can probably cut back in these areas in your regular budget.
______________
By setting a timeline and a savings goal, you will be able to build an emergency fund quickly. Once you have an emergency fund, you can rest a little easier knowing that you are prepared and then can shift your focus to paying off debt or saving money.

What will you do to build your emergency fund? If you already have one, how did you build yours?