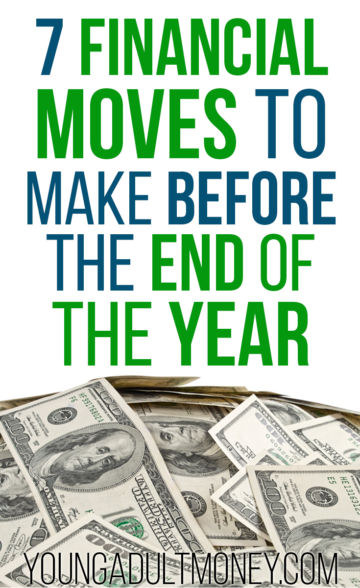 If you were surprised at how fast summer flew by, you'll need to come to terms with the fact there are only 3 months left in the year.
Since the holiday season and New Year's resolutions will be here before you know it, now is the perfect time to consider what you need to do financially before the end of the year.
Instead of calling it a wrap and putting money management off until next year, focus on your current finances by making these 7 financial moves before the end of the year.
1) Max Out Your Retirement Accounts
If you have retirement accounts, why not max them out every year if you have the means to do so? If you have contributions on autopilot and you're forgetting to max out retirement accounts like your 401(k) or IRA each year, you could be missing out some compounding interest.
If you are under 50 years old and have an employer-sponsored 401(k), you can contribute up to $18,000 this year and up to $24,000 if you are over 50.
While Roth IRAs allow you up to contribute up to the tax filing deadline, you can contribute up to $5,500 if you are under the age of 50 and up to $6,500 if you are over the age of 50.
Retirement accounts like your 401(k), 401(b), and Roth IRA are all tax deductible so the more you contribute, the more interest and appreciation you'll end up with.
The money you contribute to a Roth IRA grows tax-free meaning you won't pay taxes on it when you make withdrawals during retirement which makes it a no-brainer to max out your contributions each year.
Don't have an IRA? You can open one on TradeKing.

2) Get Organized
We talk about getting organized a lot on Young Adult Money, but for good reason: it's one of the best ways to both understand and improve your financial situation.
Getting organized can be as simple as taking a proactive action like organizing your student loans in a spreadsheet (we created a free one you can use). Ultimately, though, you are going to want to track your expenses, know your net worth, and have a Budget.
There are a variety of different ways to track your expenses, from using pen and paper to using an app. Here's six different options.
As far as getting everything organized and automated to track your net worth, nothing works better than Personal Capital. You can link all your accounts (they have top-rate security) and log in and see where you are at as often as you'd like.
Having a budget is another way to get organized since you will naturally have to keep good records and reconcile your spending each month. Similar to tracking your expenses, there are a variety of ways to budget. Consider one of these six ways to budget your money.

3) Review Your Beneficiaries
If you haven't done a beneficiary audit this year and you've undergone some changes, make time to do so. If you got married, divorced, had a child, etc., you'll need to check and update your beneficiaries for your retirement plan, insurance policies and so on.
When big life changes occur, sometimes it's easy to put off taking care of the boring stuff like reviewing and updating your beneficiaries. Since I got married earlier this year, I'll need to check my beneficiaries and update my will as well because things have been so busy since the wedding.
This is an important task since you'll want to make sure the right family members are listed as beneficiaries and you're not overpaying for coverage you don't need if your assets have changed.
If you don't have life insurance consider making it a goal to look into it by year-end. DC recently got a million dollar health insurance policy through Policy Genius, which gives free online quotes so you have an idea of what different policies will cost you.

4) Donate
If you have old items that have been sitting around your home collecting dust, pack them up and donate them. Donating not only allows you to declutter your home and give away items that other people may find useful, it also allows you to reduce your tax liability so it's a win-win.
If you have kids, making charitable donations is also a great way to teach them the value of giving back. Each year, my son and I declutter and deep clean his room and our main goal is to find old items and toys he is no longer using so we can donate them before Christmas.
He loves helping my round up lots of items because he knows that if he doesn't, there won't be any room for new holiday gifts.
Need help on how to get started? Read Cat's post How I Decluttered Thousands of Belongings or Erin's post 5 Lessons I Learned From Decluttering.
You can also provide a monetary donation to your favorite charitable organization. If you make charitable donations by December 31 this year, it will allow you to a have a charitable contribution deduction against your income tax if you itemize deductions. Just make sure you hold onto your receipts. You can start small with donating to charity; a little goes a long way.

5) Top Off Your Emergency Fund
Once you get your emergency fund balance to a reasonable number, it's best to maintain it so you may need to replace funds that you use throughout the year. If your emergency fund has taken a hit this year or you still need to reach your goal for the year, make sure you budget to continue making contributions.
If your emergency fund is in a high-yield savings account (as it should be) that will provide even more incentive to save up so you can earn more interest on your contributions for the following months. Plus, having a fully stocked emergency fund will provide you with so much peace of mind as you go into the new year.
Having an emergency fund in a separate account will help you not use it for other things. There's even a bank that is willing to pay you $25 for opening an account.

6) Schedule Healthcare Appointments
Have you scheduled all your preventative care appointments for the year? If you've already met your health insurance deductible, there's little reason to hold off on going to the doctor throughout the remainder of the year. If something has been bothering you, you might as well check it out before the end of the year and your policy terms reset.
If you have a Flexible Spending Account (FSA), you generally have to use the money within the year. Some employers offer a grace period of 2.5 extra months or may allow you to carry over $500 to the next year but aside from that, any money in your FSA that you don't use can go to waste.
Speaking of saving money on taxes, you will want to consider maxing out your Health Savings Account (HSA) if you haven't already. Not only are contributions to an HSA shielded from taxes, it also can serve as a retirement account – a really, really good retirement account.

7) Contribute to Your Child(ren)'s 529 Plan(s)
Funding your child's college education is a priority for many parents. A 529 plan is a great option in terms of socking away enough money for your child to attend college. As an added bonus, it provides a great tax break especially if you don't have many deductions to make in the first place.
Contributions grow tax-free and depending on your state, joint contributions can also be tax deductible. Unlike Roth IRAs, there are no income limits, age limits, or annual contribution limits.
If you contribute anywhere from $14,000 to $70,000 for a beneficiary, you can elect to treat the contribution as made over a five calendar-year period for gift tax purposes.

There's Still Time
While there still may be quite a few financial moves you need to make before the end of the year, the good news is that there is still time. As you prepare for the holidays, don't forget to cross these items off your list just as you cross gifts and other items off your list for your loved ones.
Making sure your finances are organized and you've updated and maxed out your accounts will allow you to enjoy a fresh start during the new year instead of feeling like you're behind.
Here's some helpful articles that will help you improve your finances:

Do you need to make any of these financial moves before the end of the year? Have you already completed anything on this list?