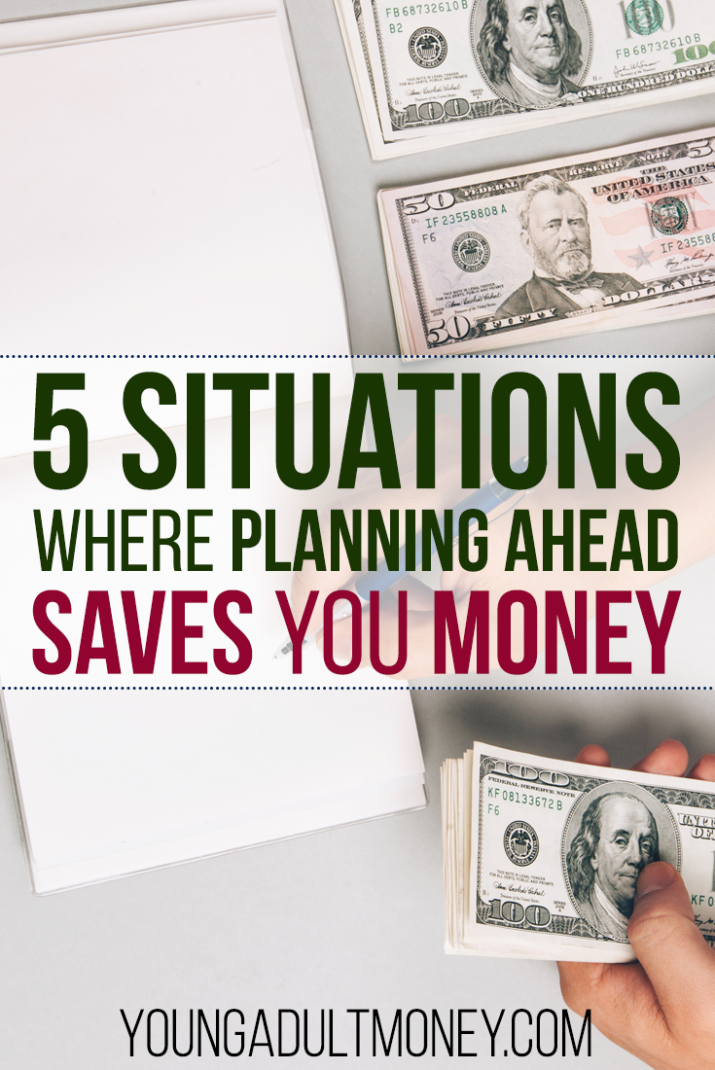 Are you a planner or a procrastinator? If you consider yourself a procrastinator, it could take you much longer to become financially secure versus someone who is a planner.
Why is that? Procrastinators, or people who don't plan ahead, are more likely to be hit by surprise bills, make impulsive purchases out of necessity, and lose control of their budget. 
The secret to getting ahead financially is to plan for all your major expenses. This might sound overwhelming, but surprisingly it is just about as easy said as it is done.
Look ahead at your annual expenses and mark them on a calendar to keep track of wherever you may have to spend money. Not sure which annual expenses you have? Here are 5 specific situations where planning ahead will save you money.
1) Emergencies

As unfortunate as it might be, you should plan to have an emergency and save vigorously in anticipation. If a major emergency comes up, the last thing you want is to be insecure with your finances.
Failure to prepare for an emergency likely means that you put a car repair, medical expense, or surprise bill on your credit card or take out a loan. Either method is costing you major money in interest.
By planning ahead and expecting to have an emergency, you will save money on interest, plus give yourself peace of mind.

2) Insurance Costs

Did you know you may be able to save money on insurance costs by paying ahead in a lump sum versus paying monthly?
Look at your options for renter's, homeowner's, or car insurance to see if you are eligible for a discount by paying in a lump sum. Many insurance companies charge you a service fee for every payment you make, so by making only a few payments a year, you are able to save the service fee.
I personally pay my car insurance twice a year and save $80 by doing it in large payments versus monthly payments. In order to save for these large payments, I take what I would normally pay monthly for car insurance and put it into savings.
3) Holidays and Birthdays

It never fails that holidays and birthdays always seem to sneak up on everyone, though they are the same time every year. It happens to me, too!
Keep a pocket calendar in your wallet and keep gifts in mind while shopping throughout the year. You are more likely to find great deals on items that an individual would actually want, versus scrambling last minute to get your loved one something.
4) Groceries

Grocery shopping might not seem like a major expense, but it is one area where you can always save more money.
Procrastinators make several trips to the store during the week because they forgot to buy a certain item or didn't plan out their meals adequately. Going to the grocery store spontaneously and without a plan is a huge money sucker.
Have you ever looked at what you buy when you forgot to plan versus what you buy when you do plan? Planning gets you so much more for your money!
Even worse, procrastinating on grocery shopping leaves you with an empty fridge. How many times have you gone out to eat instead of cooking at home for cheaper because your fridge was empty?
At the beginning of each week, take a look at your grocery store's specials and plan out your weekly meals around that. Find coupons and make a list of items you need. Avoid impulsive sale purchases and you'll be surprised how much money you save in a month.
5) Your Health

People tend to forget or underestimate how much it costs to stay healthy.
The cost of health insurance is rising, and unfortunately, there isn't much you can do. Make sure you budget annually and expect increased costs.
Contribute as much as you can to your Health Savings Account (HSA). HSA's roll over from year to year and utilize pre-tax dollars, so it makes sense to save for health expenses now.
Again, investing in your health and saving today means you will save yourself from having to spend extra money when a health issue arises.
______________
Planning ahead is a powerful tool to learn in order to achieve financial success. Organize your finances and always be saving and you'll get ahead in your finances and avoid any surprises.


What major bills do you plan for? What are your methods for budgeting for this?