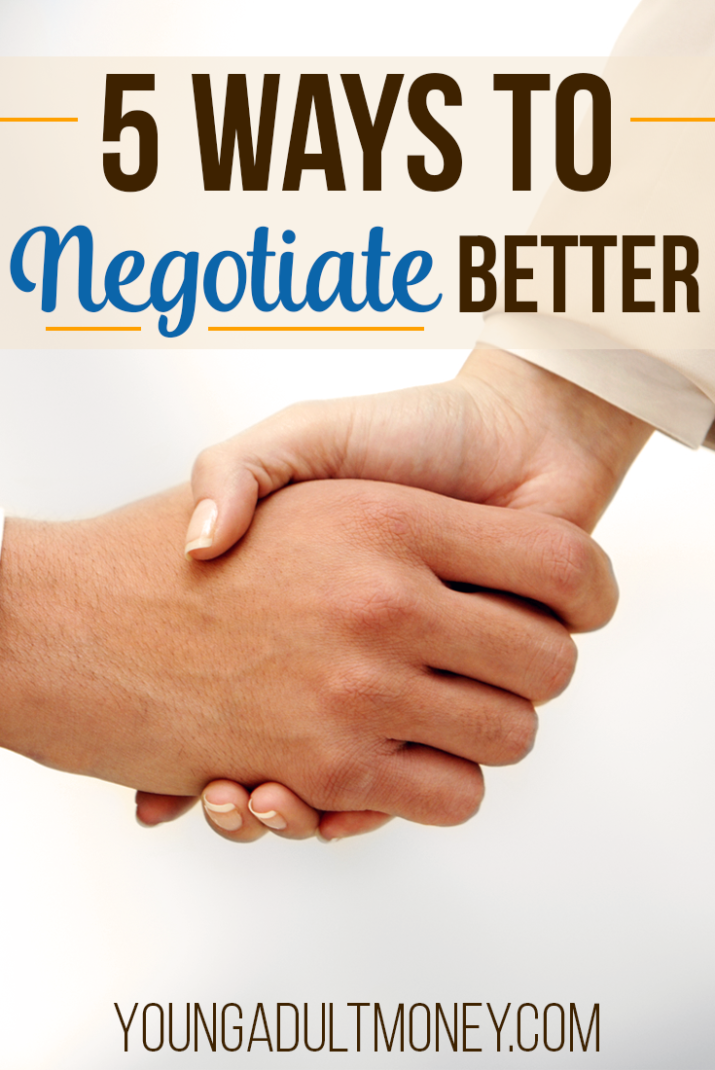 Have you ever heard someone refer to negotiation as an art form?
Successful negotiators go for what they want and get it. They earn more money because they ask for a raise, they get better deals, and they always seem to have people willing to barter with them. Why is that?
To many, negotiating seems intimidating because they aren't sure where to begin or how to initiate the conversation. They would rather take the first option told to them than to ask for the better deal.
Many times, people make you an offer and expect you to negotiate. Failure to do so means you're losing money. Fear of negotiating has the potential to leave thousands of dollars on the table.
Don't let that happen to you! Here are X ways to negotiate better.

Do Your Research
Though you may know what you want, it's important to research to see if what you're asking for is reasonable.
For example, you may be job searching and want a salary of $100,000 for a job as an entry-level office coordinator. Chances are, you won't get hired because your salary expectations are a bit unrealistic. While you should aim high in negotiating, you should still be feasible.
Knowing what something is actually worth gives you a lot of power and prevents you from accidentally offending the other party.
On the other hand, performing adequate research ensures that you aren't short-changing yourself too much. You should still aim for what you want, but in a practical sense.

Know What You Want And Ask For It
Now that you've done your research and have a starting point, don't be afraid to ask for it! Negotiating can seem intimidating, but it's easier when you're prepared and know exactly what you want.
Be bold and straightforward, while remaining courteous. Refrain from beating around the bush and just ask for what you want.
Be as confident as you can. Remember – you did your research and this is what you want. There is no harm in asking for anything.

Stop Talking and Listen
Many people make the mistake of talking too much after asking for what they want. You don't need to explain any further. Continuous talking and a lengthy explanation only make you seem nervous and unsure.
Allow the other party time to think and respond. The ball is in their court now so be patient. If the object of your negotiation is large or costly, this could be a bit of a waiting game.
If they don't agree to exactly what you asked, listen to their reasons. Are they making excuses as to why they can't meet your proposal or are they giving you legitimate reasons? Listening closely allows you to form a proper response.

Look For a win-Win Solution
Remember that negotiating involves a lot of back and forth. Most often, the other party's response is not entirely what you asked for. This is where the actual art of negotiating comes in.
Be prepared to have an alternative offer. Remember, whatever they are offering you is of value, so try to find a solution that makes both of you happy.
Personally, I always look for win-win situations when I am thrifting something from someone on Craigslist. Usually the seller simply wants the object out of their house. So I volunteer to pick it up, haul it away, and negotiate for a lesser price than what they initially listed it for. We both leave happy because the seller had to do minimal work while I got the deal I wanted.

Be Willing to Walk Away
Even with the best negotiator, there is no guarantee that you will come to an agreement that is suitable for both parties. The worst case scenario is that you may have to walk away from a deal.
Walking away from something you really want is never easy. The key is to maintain emotional detachment.
So how do you stay emotionally detached from a potential purchase?
Know that there are other options out there. For instance, if you're interviewing for a job, but the salary isn't what you asked for, you'll have to consider if it's worth it. You remain emotionally detached by reminding yourself that there are other jobs out there that might better fit your needs. The more attached you become to the potential job, the more power you lose in negotiating.
_____________
Negotiating can aide you on your quest to financial freedom if you are able to do it correctly. By remembering these tips, you can master the art of negotiation and ask for anything you want in life.

Would you call yourself a good negotiator? Do you have any stories of when negotiating benefited you?