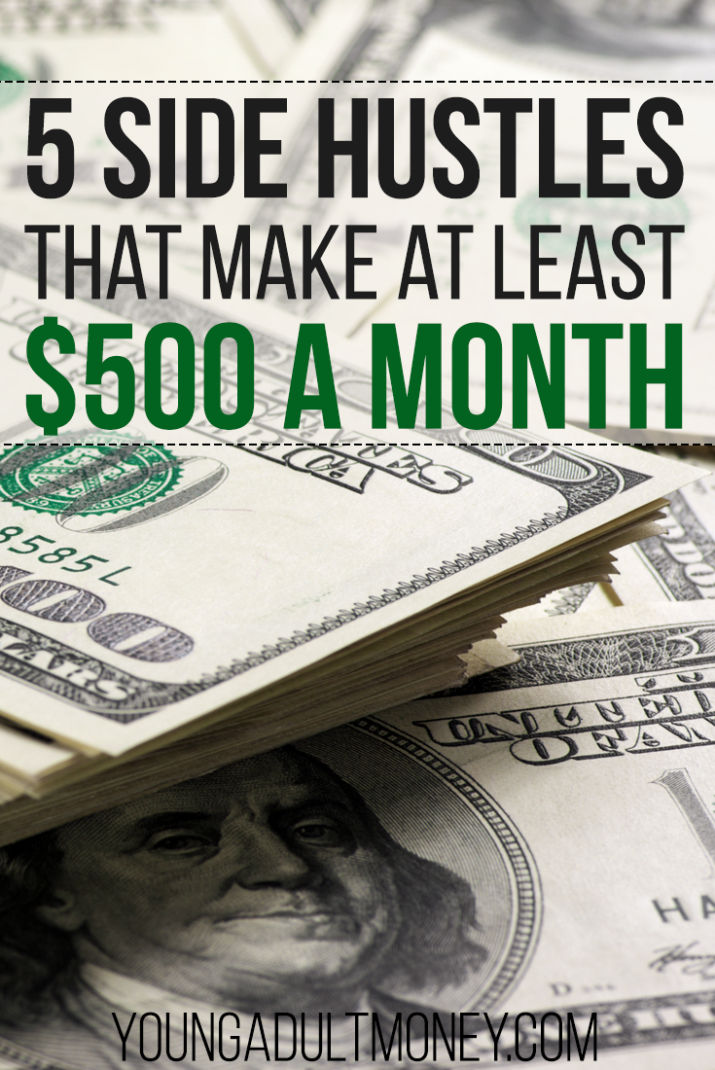 What could you do with an extra $500 every month? Would you put the money into a travel savings account? Put it toward your student loans? Use it to pay a bill?
I'm sure most of us can agree that bringing in an extra $500 each month would be a nice financial boost. One of the best ways to bring in that extra money is by side hustling.
If you haven't joined the side hustle bandwagon yet, it's never too late to conform. When you work a traditional job, the pay and benefits may be nice and you might even get bonuses. I had all that at my last 9-5 job, but my annual raises were not that good.
It wasn't uncommon to work the entire year, and get a $2,000-$3,000 raise before taxes. If you earn at least $500 per month in side hustle income, that's at least a $6,000 annual raise before taxes. Earn $1,000 per month, and that's a $12,000 annual raise.
There have been quite a few posts about side hustle opportunities on Young Adult Money (including this epic list of 50+ side hustle ideas), but I thought it would be helpful to discuss some lucrative ways to earn $500 per month that you may or may not have already heard about, along with how to get started with these side hustles, examples of hourly rates, and what your potential starting investment can look like.
1) Tutor

With school starting back up, students of all ages will be seeking tutors. If you excel in specific subjects or even have a teaching degree, you can try your hand at tutoring other students. You don't even need a degree to get started.
English and math are the most common subjects people need help in. If you are bilingual, you can probably even market yourself as someone who can help students excel in their foreign language classes.
Experienced tutors make an average of $20-$30 per hour when working for most national companies listed on Glassdoor like C2 Education. If you went with that rate, you'd need to work around 16-25 hours per week to earn $500 per month which is typical for a part-time job.
If you decided to give private tutoring lessons independent of a mainstream company, you could probably earn more like $40-$50 per hour. Wyzant is a site that connects private tutors with student in need of their services.
What You Need to Get Started
Like I said, you don't always need a degree to tutor but if you are applying with a company, you should check their requirements. You most likely need a resume or CV to showcase your experience and credentials along with expertise in the particular subject(s) you want to specialize in.
What the Investment Looks Like
There isn't much of an investment for this side hustle since you're leveraging experience and knowledge you already have. Once you find student to tutor, you can start earning money quickly.
2) Narrate Audiobooks

If you'd like to get into voiceover work, you can try narrating audio books on the side. All you need is a clear voice and a gift for storytelling. Audiobooks are available on Amazon through Audible and they are gaining popularity among people who already listen to audio like podcasts and radio shows.
According to data from the U.S. department of labor, audiobook narrators earn annual salaries ranging from $17,000 to $70,000 so even if you work part-time, there's plenty of potential to earn $500 a month if you pick up a few gigs.
What You Need to Get Started
In order to find work, it's best to sign up for Amazon's Audiobook Creative Exchange which connects audiobook narrators with books to narrate. You can create a profile for free, upload samples, and audition for open jobs by recording a few pages of the manuscript.
When you receive an offer, you can agree on deadlines and payment rates. Narrators get paid by check, credit card or electronic payment and tend to earn anywhere from $50-$300 per audio hour when using ACX.
What the Investment Looks Like
It's not required, but you might want to invest in some training or a coach before getting started and recording samples. Just like other types of jobs, voiceover work and narrating are not as easy as they seem and you'll want to make sure you are doing professional work.
Getting help from a coach or course might help you improve your skills and figure out where your voice fits in and how to effectively record demos and audition.
3) Freelance Writing

Freelance writing is a flexible way to earn money on the side and there are so many opportunities out there. If you like to blog or write articles in certain niches, you can most likely earn at least $500 per month if you put forth the effort to find quality clients who can offer you consistent work.
There are job boards like Problogger to help you find gigs and Contently usually provides quality gigs as well even though it might take some time to get noticed.
Beginners can expect to earn around $30 per article starting out and can increase their rate as time goes on. When writing for blogs and other websites, many writers earn an average $50-$100 per article and could earn more if they write for a large corporate sites with higher budgets.
Even if you are earning $50 per article, that means you need to write 10 articles per month to meet your $500 goal or 2.5 per week.
What You Need to Get Started
You may need a resume but above all, you'll need an online portfolio or a blog or website to get started so you can showcase your work. Most clients won't even consider hiring a writer if they don't have a portfolio or blogof their own that demonstrates the type of writing they do.
If you don't have any samples, you can always ask to submit some as guest posts on other sites or submit some Ezine articles online.
Some writers use other tools to help check their Grammar and spelling since accuracy is everything in this field. I recommend using Grammarly which has a free basic profile but a paid premium subscription.
Note from DC – It's highly recommended that you start a blog if you plan on being a freelance writer. As someone who contracts with three freelance writers and has hired over ten the past couple years, I won't even consider someone who doesn't have a blog. Here's a post that tells you how to start a blog.
What the Initial Investment Looks Like
If you set up a website or blog that is self hosted, you will need to cover those fees along with the domain registration but online portfolio sites like Contently are usually free to use.
Just like with audiobook narration, you may need a coach or additional training if you want to get started with freelance writing. A coach or course can help you narrow down your niche, understand the basics of the industry, learn proper techniques to pitch clients and more which can help you start earning money faster.
When I decided to start freelance writing, I signed up for a course and I don't regret it. Freelance writer courses and coaches range in price from $50-$400+ so it just depends on what type of investment you'd like to make and how much you trust the value and resources that will be provided.
While you don't need to take a course or hire a coach to find success as a freelance writer, I made my initial coaching investment back within about 2 months of freelance writing so it's worth looking into if you need that extra push.
If you do decide to take a course, consider taking Cat Alford's course Get Paid to Write for Blogs which has had rave reviews from those who have gone through it.
4) Uber or Lyft Driver

Uber and Lyft allow you to make extra money by driving people around in your area. If you've ever used either of these services before as a passenger, you'll know that they are operated through an app where you can request a driver nearby and pay your fare all from your phone.
Of course, how much you earn depends on how much you drive, but according to Glassdoor, the average Uber drivers earns about $14-$15 per hour and the average Lyft driver makes $16-18 per hour plus tips. If you drive with both companies to increase your earning potential and work about 9 hours each week, you could earn $500 extra for the month.
What You Need to Get Started
To get started with either Uber or Lyft, you need a car obviously and it has to be a year 2001 or newer. You also need in-state license plates, and your car must be registered in your name with the proper insurance.
What the Investment Looks Like
You don't really need to spend any money upfront to get started unless you need to take care of some car repairs so you can pass the inspection. Lyft or Uber won't charge you for their auto inspection but if everything doesn't check out, you may need to make need to spend some money on maintenance and repairs.
5) Virtual Assistant

Becoming a virtual assistant (VA) is another flexible opportunity if you are looking to work from home and have more control over the hours you work.
VAs do everything from checking emails and managing social media, to researching, creating invoices, managing blogs, setting up meetings and more. I also recommend VA work to people who have good computer and communication skills.
VAs earn an hourly rate of anywhere from $12 per hour to $60+ so the pay range varies depending on your experience.
What You Need to Get Started
To get started you need a computer with access to the internet along with a clear understanding of what services you'd like to offer and who you'd like to serve. You can set up a website to promote yourself, but most of your work may come from referrals and cold pitching.
You can also sign up for sites like Zirtual.com to see if you can land any VA gigs.
What the Investment Looks Like
You may have to spend money to upgrade your equipment or purchase new equipment or software that your clients use if they don't reimburse you. There are also courses you can take to increase your chances of finding work and marketing your skills.
Summary

When it comes to earning a consistent monthly income from side hustling, jumping in head first without the proper tools, skills, and resources may not be the best idea. While all these side hustles can help you earn at least $500 consistently each month, you just need to find recurring work and you may need to invest in your education to advance your skills and service offerings.
It's always nice to earn extra money through a lucrative side hustle, but sometimes there are a few crucial steps you need to take in order to get started on the right foot.

Related:


Have you ever spend some money in order to earn some money through a profitable side hustle?