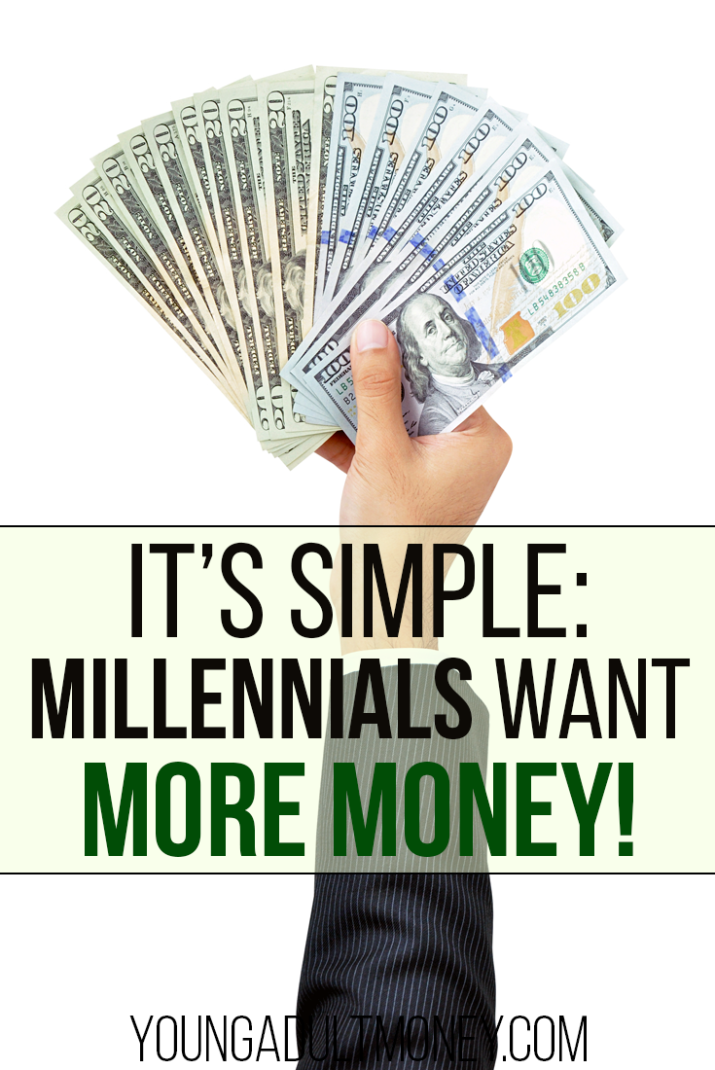 Over the past few years I've spent a lot of time reviewing research that is focused on millennials. In particular I've looked at research that has been focused on millennials and money as well as millennials and careers.
What I want to argue today is this: when it comes to a career and a job, ultimately what millennials want is more money.
Typically what I've heard people argue is that millennials care more about their work environment, work-life balance, and engagement with their job than they do about their compensation.
While I'm not denying that millennials care about lifestyle factors like these, I think that the studies support a very simple fact: at the end of the day millennials want more money.
One of my favorite quotes from a recent #AskGaryVee YouTube show is "my generation – I'm 40 – for the first 10 years of your business career you made sh*t."
The reality is that most millennials don't see the need to grind out a decade of "paying dues" before they can take home a reasonable income. With technology today it's easier than ever to see what skills are in-demand as well as develop and improve those skills. In many cases millennials are the ones with the in-demand skills, such as programming.
Millennials want to increase their income, and they want to do it as quickly as possible. If another company is going to give them a 25% raise to come over, they are going to take it. With tools like glassdoor it's easier than ever to see which companies pay more – or less – for a given job.
Let's start by looking at something that shouldn't be a surprise to anyone who has followed student loan and other recent financial trends: millennials are stressed out about money.
Financial Stress is Real for Millennials
According to PwC's 2016 Employee Financial Wellness Survey, 64% of millennials said they are stressed about their finances. That's two out of three millennials. Two out of three!
Even more troubling is that 37% of millennials said that issues with personal finances have been a distraction at work.
Another PwC study, Millennials & Financial Literacy—The Struggle with Personal Finance, found that 54% of millennials are concerned about their ability to repay their student loan debt. Even more alarming is that 34% of millennials with household income above $75,000 are concerned they may not be able to repay their student loans.
I personally don't think the impact of student loans has been stressed enough. Student loan debt has increased from $0.4 trillion a decade ago to approximately $1.4 trillion today. It's more than tripled. And who is on the hook for most of those loans? Millennials.
If you put yourself in the shoes of someone who has student loans and various financial obligations and combine that with the fact that they are making entry-level pay, is it any surprise that a focus of millennials is their compensation?
Why Millennials Job Hop
The traditional but increasingly abandoned view is that if you put in your time at an employer and are loyal to them, you will set yourself up nicely to move up the ladder. There are no guarantees in business, and sacrificing an increase in pay may actually hurt career prospects down the road.
What if you were one of the 1,000+ employees who got laid off from Target when they divested their Canada division? It would have been better to look elsewhere while still employed as they would have more leverage to negotiate higher pay with a potential employer.
Let's look at what research has shown. A recent Staples Business Advantage Survey found that 52% of millennials who changed jobs in the last 12 months have done so for a salary increase. Additionally, 68% of millennials believed an increase in pay would improve workplace happiness.
Based on all the evidence that millennials are stressed out over finances, it's not surprising that having a higher income is a priority for them and something that they think will improve overall happiness.
Millennials Want It All: Higher Pay AND Control Over their Work
One emerging trend I've noticed is the belief that flexible work schedules and arrangements should go hand-in-hand with lower pay than traditional work arrangements.
I think this either-or belief is going to be shattered over time. First, it's rooted in employer's desire to have a happy work force while also paying that work force as little as possible. If employers can package flexible work schedules as something that necessarily comes with lower compensation, they can win big.
Second, the belief that accepting less pay for a higher quality of life is an acceptable proposition flies in the face of the many "workforce health" initiatives that are becoming popular at many employers. If by working from home you get more sleep, experience less stress, and still do as good (or better) of a job, why should workers be paid less who pursue this option?'
Finally, with the emergence of the "gig" economy there are many job functions that are being shifted towards a contractor basis, much more than in decades past. At no other time in history has it been easier to start a business, create a website, and gain clients. And you better believe that contractors will structure their day and lifestyle on their terms.
Technology, specifically through websites like glassdoor, has already made it possible to view salary data from nearly every mid- to large employer in the United States, putting leverage in an employee's hands. It's becoming more and more difficult for employers to "trick" employees into less compensation.
Millennials will continue to reject the paradigm that you need to accept lower pay for a better work-life balance and setup.
Money = Freedom
I'm sure we've all heard the phrase mo money mo problems, but is it true?
Some people look down on being overly focused on increasing income, but on Young Adult Money it's our primary focus. And I think that's a good thing.
The main reason I think it's great to focus on increasing income is because it can have a huge impact on your freedom. The more money you have the more options are available to you.
Imagine someone with a million dollars in the bank. Now imagine someone (perhaps yourself) who has very little in the bank and $70k in student loans. If they both hate their jobs, who is going to have more freedom to walk away? Or who is going to feel more comfortable proposing a work-from-home setup? The person with a million in the bank.
I strongly believe that the more income streams you have and the better a financial foundation you build, the more freedom you have. You have freedom to do the work you want to do as well as take calculated risks such as quitting your job to focus on a business full-time.
The more money millennials have the more leverage they have to build the work setup that they want. If an employer isn't accommodating, they have the resources available to look for work elsewhere. Or quit and strike out on their own altogether.
__________________________________
Millennials focus on increasing their income isn't about entitlement. It's about being strategic and making sure they are able to make as much money as they possibly can and, in turn, having more options and opportunities.
After all, employers spend a good amount of time and energy finding out what the least amount they can pay their workforce and how they can get the most output from the least number of employees. Millennials – and everyone in the workforce – owe it to themselves to make as high an income as possible for their unique skill set.
Want to increase your income? At your job or otherwise? Here's a few posts to help you get started:

Do you think employers are clueless when it comes to millennials and compensation? Would you turn down a 20-40% raise to leave your current job situation for another employer?