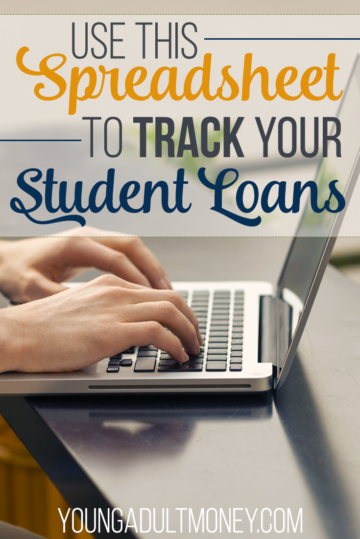 With student loan debt nearing $1.4 trillion and the average college grad leaving school with over $30,000 in student loans, student loan debt is here to stay.
More likely than not you or someone you know has student loans. Keeping your student loan data organized and being aware of how much debt you have are important actions for effectively managing them.
As I mentioned in my book Hustle Away Debt, my wife and I graduated with a combined $100k in student loans.
Having that much in student loans – plus grad school still ahead – forced us to get organized. That meant keeping track of what loans we had, for how much, with which bank, and at what interest rate.
We quickly realized that not all student loans are equal. The biggest disparity we saw was in the interest rate.
Being able to recognize which loans had higher or lower interest rates allowed us to decide which ones to pay off faster and which we were okay paying the minimum on.
Having all this information in one place allowed us to weigh other options, too, like consolidating or refinancing our student loans.
While we regularly use Personal Capital to keep tabs on our net worth, assets, and debt, I also created a spreadsheet that gave us a more detailed view of our student loans.
The Student Loan Tracking Spreadsheet in Excel

The student loan tracking spreadsheet I created allows you to have a quick snapshot of your student loans. Not only does it include data like interest rates, but it also includes outstanding balance and who the lender is.
This spreadsheet has a variety of columns to capture everything you would want to know about your student loans. The columns include:
No.
Loan
Company
Amount
Interest Rate
Variable/Fixed
Person
Last Updated
Notes
You can add additional rows and columns as you see fit, but the current structure should be sufficient for a majority of people.
If you want the free student loan tracking spreadsheet fill in your email address below and then go check your email.
Join our Online Community to Receive your FREE Student Loan Tracking File


If you haven't already, check out some of our popular posts about paying off student loan debt:


How do you track your student loan debt? If you don't have student loans, how do you track your other debt?