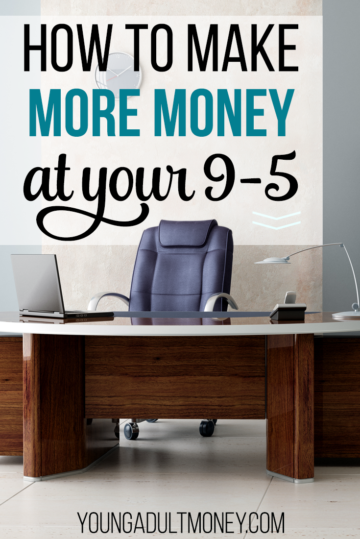 Almost everyone I meet and talk to wants to increase their income.
And why not? Increased income can mean, among other things, paying off debt faster, retiring earlier, having the opportunity to travel more, and having freedom when it comes to how you spend your time.
Here on Young Adult Money we talk a lot about side hustle income. Whether it's our post about 50+ ways to make extra money through an online side hustle or our ultimate guide to side hustles, we have a lot of content and advice on how to supplement your full-time income through side hustles.
In my book Hustle Away Debt I talk about the pre-hustle checklist. One of the things on this list was to spend some time and energy considering whether you can make more money through your 9-5.
After all, most of us spend a significant amount of time at their 9-5. Even if you are hustling hard, you are unlikely working 40 hours a week on your side hustle.
Another myth is that people who make more money at an office work longer hours. This is simply not true, and even if it is the additional hours are usually not material. I know many entry-level accountants who work the same – or in some instances, more – than those making two or three times their income.
This brings us to this reality: in some cases, increasing your income at your 9-5 will have a higher impact on your finances than a side hustle.
If you really want to put your finances into overdrive you will both max out your income at your 9-5 and start a side hustle.
So today let's take some time and go over some action items that you can take to be proactive about making more money at your 9-5.
Evaluate Where You Are At

A little over two years ago I was working in accounting in an area of the company that really wasn't seeing a lot of growth. There had been acquisitions the past 5-10 years, but nothing recently, and no real plans for big acquisitions in the near future.
The biggest focus in our area of the company was cutting 10% of costs for the next two years. This included an aggressive plan to move as much work as possible to our offshore teams in India. When someone left their role, their responsibilities were absorbed by the rest of their team. In short: there was no clear path to move up and really no future job openings expected.
After taking a long hard look at where I was at in the company and what sorts of opportunities (or lack of opportunities) there was, I realized it was time to move to another part of the company. I moved to a growth area of the company in a finance role, moving up a level in the process. After being in this area for about a year, I was promoted. I now work in an area where there is constant growth and challenges.
Evaluating where I was at in my career and within my company helped me step outside my comfort zone and, in the process, increase my income at my 9-5.
What I'd encourage you to do is this:
Take some time to reflect on where you are at in the company and your career – Do you see potential to move up in your current position? Are you qualified for higher-paying jobs within your company? Is your company growing? Is it time to consider outside opportunities?
Look at salary data

Read my post about how to find and compare salary data and spend an hour (or more) looking at salary data for your company, other companies in your area, and figure out whether you are getting paid appropriately. If you have been at your company for a long period of time there is a good chance that you have an opportunity to make more by leaving your current employer.
List out the pros and cons of applying to internal job postings

If you like your current employer but think you should be at a higher level, list out the pros and cons of applying for an internal job posting. My most recent promotion came largely due to the fact that I had applied and was interviewing for a position that was a step up from where I was currently at.
When it comes to careers most people do not like to spend the time and energy evaluating where they are at and what they can do to move themselves forward. Taking some time reflecting on this may light the fire to take more proactive action that will result in you making more money at your 9-5.
Look at Job Postings

Looking at job postings every month or, at minimum, every three months, is advice I've been giving for years. I have done this myself and it has greatly helped with determining what skills and experience to focus on.
The reality is that most people only look at job postings when they need a new job. They are either unemployed (if you recently lost your job here's 5 things you should do right away) or really dislike their current job situation. This is not the ideal time to look, though, and here's why.
Job postings provide good insights into what hiring managers are looking for. Some hiring managers are looking for people who can run meetings, give presentations, and work well with others. Other hiring managers may be more focused on finding someone with specific technical skills (i.e. "expert" or "advanced" Excel skills, SAS programming skills, etc.).
Whatever the skills may be, you will likely start seeing a pattern the more job openings you look at. Write those skills down and make a plan for how you can focus on learning those skills within your current work arrangement. Obviously some jobs offer more or less freedom, but regardless the ideal way to learn these skills is on-the-job, long before you are applying and interviewing for jobs.
If you are unable to learn these skills on the job, consider looking for other ways to learn them. This could include joining Toastmasters to practice giving speeches, taking courses on Lynda.com, or purchasing a book on Amazon to go through. You may even be able to make a side hustle out of learning and improving a skill, which is what I've done with writing (by starting a blog), public speaking (by doing podcasts to promote my book), and Excel (by being a spreadsheet consultant).
This may take some time outside of work, but think of it as an investment the same as starting a blog or spending time and energy fixing up your home. There is a clear return on investment (ROI) and that should serve as motivation to put in the time and effort.
Talk to Recruiters

Talking to recruiters really can't hurt you, and they may result in an unexpected job offer or "in" at a company you otherwise wouldn't have. Worst case scenario you may have some takeaways of things to work on to become a more attractive candidate.
While recruiters are naturally biased towards promoting the company they are working for, they also have a vested interest in making sure you are a good fit for the company. And sometimes good fit simply means are highly qualified and will succeed in the role.
If a recruiter doesn't seem to think you are a good fit or has some reservations about your application for a specific job, they can give you feedback that others are unable or unwilling to give you. Perhaps a company cares greatly about having an advanced degree, or they want someone who has had extensive experience giving presentations or running meetings. This is good feedback that you can help you focus your time and attention at your current job.

________________________________
Like most things, the more effort you put into advancing a career and making more money at your 9-5, the more likely you are to succeed. But what if you are already maxed out at your 9-5? Or what if you already do all these things?
Then you are ready to side hustle! Check out these posts and purchase my book Hustle Away Debt to get started.


If you have a 9-5, what have you done recently to increase income at your 9-5? If you are a freelancer/student/part-time worker, what do you do to increase your current income and set yourself up for future opportunities?