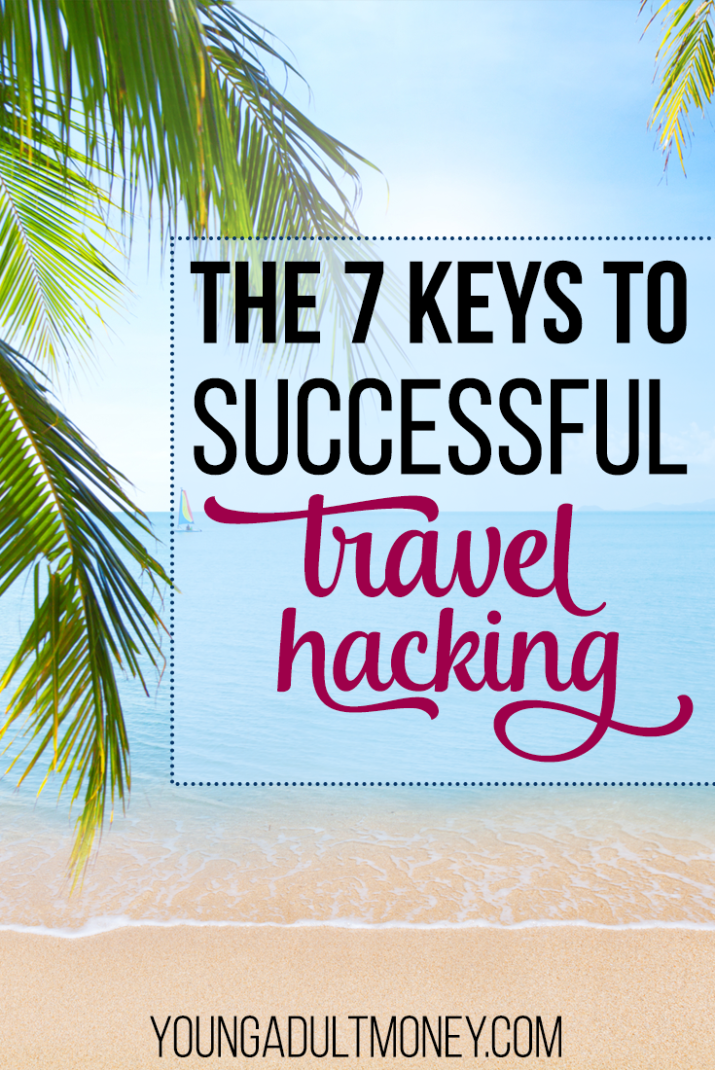 I've been travel hacking for a few years now and it's allowed my wife and I to travel while saving hundreds or even thousands on hotels and flights.
The more I travel hack the more motivated I get to continue to travel hack.
I mean, think about it. People get excited (myself included) when they save $20 on a grocery bill. Can you imagine saving thousands of dollars on travel?
And we aren't talking cutting your bill by 20%. We are talking about paying almost nothing for flights that would have potentially cost you $1,000+.
You get the point. Travel hacking is awesome! But only when it's done right.
Here's 7 keys to successful travel hacking.
1) Having No Credit Card Debt

When it comes to travel hacking it's absolutely essential that you don't have credit card debt. Getting sign-up bonuses and earning miles isn't worth it if you are carrying debt on a credit card. The high interest rate on credit card debt eliminates any benefit you would gain from travel hacking.
I know this might not be a popular message. I find it surprising how rare it is to see travel bloggers mention this in their posts.
Even if this isn't what you want to hear, it's not the end of the road. The sooner you get out of credit card debt the sooner you can join the world of credit card churning bliss that is travel hacking. In the meantime read my post explaining what to do if you are in credit card debt as well as how to afford travel without credit cards.
2) A Good Credit Score

Having no credit card debt is a good start but I think you should take your credit a step further before you start travel hacking. Before you start travel hacking you should have a good credit story and a solid credit history.
So how do you know that you have a good credit score? First, get your free credit reports from the three credit reporting bureaus. You can do this once a year. Besides that, if you have a credit card you can typically get your credit score for free in the dashboard when you log into your account.
In general if you are travel hacking you will want to be well-educated on what impacts your credit score. You will want to avoid mistakes and bad advice, understand what does and doesn't impact your credit score, and take the proper actions to improve your credit score.
3) Knowing Your Goals

What's your ultimate goal with travel hacking? Do you want a long weekend in Vegas? Or are you trying to get free flights to Europe or somewhere else in the world?
Knowing your goals can be important when it comes to travel hacking. For example, you may or may not know that a lot of people who travel hack will sign up for a credit card that has the annual fee waived the first year, get the promotional bonus, use the bonus, and close the card before the annual fee is due. Knowing what you plan on using a bonus for can help you avoid the costly annual fees that come with most credit cards.
With that being said, you don't have to know the exact days you will travel or the full itinerary for the trip before signing up for a travel rewards card. If you have a general idea that is usually good enough. I signed up for the Marriott Rewards Premier card whose sign-up bonus is two free hotel stays. I don't know exactly when I will use it, but I do know that I will use it for a weekend getaway with my wife.
4) Having Time on Your Side

A friend recently asked me for some advice about travel hacking. He and his wife were planning on going to Hawaii in about seven or eight months and were looking to save money on the flights (ideally get them for free).
I did some research and found that one-way flights to Hawaii around the time he was going were ~25,000 United Miles. If he signed up for the Chase Sapphire Preferred® and got the 50,000 Chase Ultimate Rewards that translate 1:1 to the United MileagePlus program, he'd have one free round-trip flight. If his wife did the same thing, they'd have a second free round-trip flight. Altogether they'd easily save $1,500+.
The issue here is time. You have to spend $3,000 to churn the Chase Sapphire Preferred®. So most likely he'd have to sign up, put all their expenses on it, and then three months later his wife would need to sign up and go through the same three-month period of putting all their expenses on her card.
There is also a lag time between applying and getting your miles, actually having the miles credited to your account, etc. Factor in all of these things and you really need a decent amount of time to churn credit cards, especially if you are booking flights.
The lesson here is simple: the earlier you can start the better.
5) Doing Your Research

There are literally hundreds of credit cards out there. Reading up on all of them can be exhausting and overwhelming.
I put together my list of the top 10 travel rewards credit cards, and I think using that post as a guide could save you hours of research (because I already did the research for you – the post took forever to put together!).
While my post – and other content on credit cards – may be useful, you should still make sure you feel comfortable with the rewards you are getting with the card, what exactly the rewards translate to (a free flight to Paris is a lot different than a free flight to Chicago), and finally what the terms of the promotion are. Only then should you sign up for a card.
6) Being Organized

Travel hacking is really just an exercise in organization. You have to put the right spend on the right card in a fixed period of time. You also typically want to close a card before the annual fee is due.
One thing I recommend everyone do regardless of whether they are travel hacking or not is to track their income and expenses. By tracking your expenses you will have a record of how much you spend in a typical month and you will have the added benefit of knowing when bigger expenses like a twice-a-year auto insurance comes due.
This will help you know exactly what spend you will put on your card to make sure that you unlock the sign-up bonus. It also will let you know quickly if it's even realistic to hit some of the spending requirements (the Chase Ink Plus® Business requires $5,000 of spend within three months).
I also recommend people use a spreadsheet (here's one I created) to track when they signed up for cards, when the annual fee will come due, what bonus they received, and more.
7) Executing – and Being Flexible When Needed

It can be fun to think about travel hacking or dream about taking free flights, but if you don't follow through and execute it really means nothing. Remember that a lot of the "work" of travel hacking is just being really organized and having all your ducks in a row. Doing your research, having a plan, keeping good records…all this comes into play.
One final note I have is to be flexible. My wife and I had what we thought was a solid plan to go to Europe for free this Summer. We had an $800 United credit and enough miles for three one-way flights. So the only thing we had to do was find a reasonable one-way flight to Europe that we could use the credit for. After the Paris attacks the cost of a one-way flight to Europe was $2,500+.
Ultimately we had to be flexible. Instead of going to Europe this Summer we used the credit for two free round-trip flights to Florida and will spend some time building up our United miles for next Summer.


Are you interested in travel hacking or do you currently travel hack? Where in the world would you fly to if you knew you could go for free?