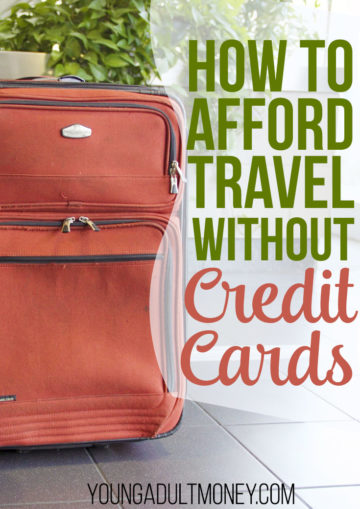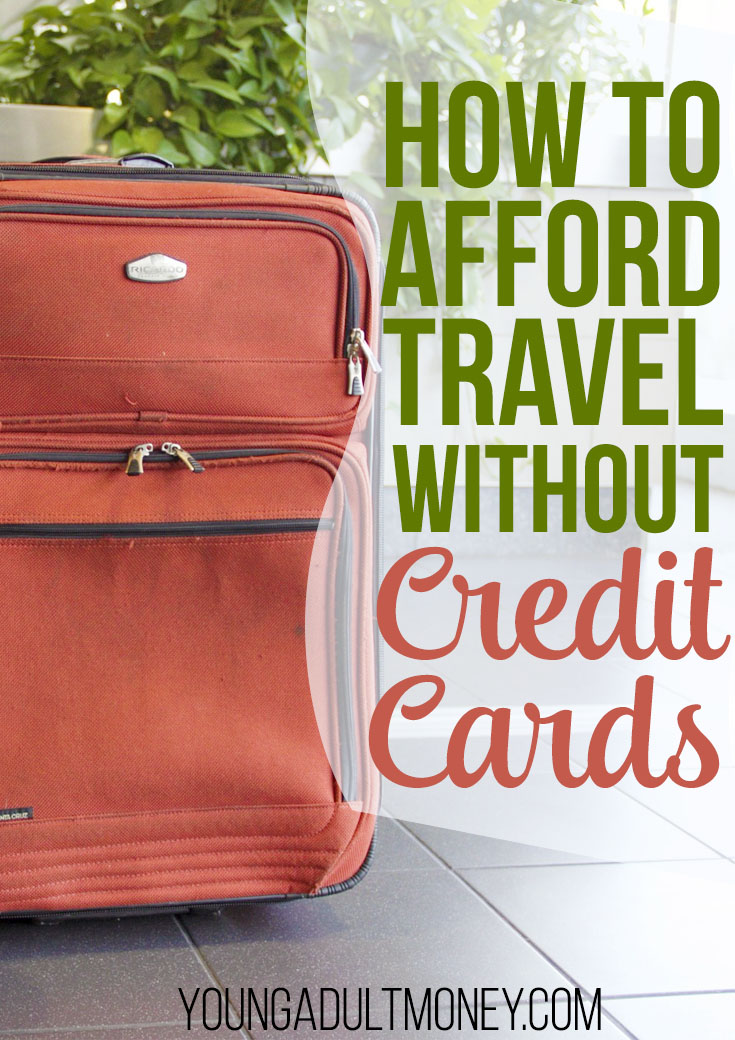 Editor's note: Today we have a guest post from my long-time friend Liz Peterson. She's a travel blogger and an American Expat living in Barcelona.
Recently we've talked a lot about using credit card rewards to travel for free or cheap. In just the past couple weeks we've shared a free spreadsheet to track credit card rewards, the top 10 travel rewards credit cards for 2016, and 5 things to do before travel hacking.
Today Liz will be taking a different perspective. She'll be talking about how to afford travel without credit cards.
This is a great option for anyone who is trying to build up their credit history, are paying off credit card debt, or simply don't want to deal with credit cards.
I hope you enjoy hearing her perspective and tips on how to afford travel without credit cards.

Let's face it, there are loads of articles out there about travel hacking with credit cards and the story usually goes like this:
Sign up for these three credit cards and get a big bonus to use on a specific airline
Spend thousands on each card and accumulate more points for airlines, hotels, and cash back
After six months of spending, get your dream vacation for a few hundred dollars
Sounds great, right? But what if you don't want to deal with signing up for loads of credit cards, remembering to pay them off, and canceling them before annual fees start to kick in (not to mention the potential adverse effect on your credit…)? I'm right there with you and I have an alternative.
No matter your income, you can afford to travel and you can do it without credit cards. A few years ago I was living in San Francisco, making $40,000/year and even though a huge chunk of that income went to rent, I still managed to save enough money to take an epic 3-week trip throughout Argentina (here are 10 reasons I recommend that trip).
It wasn't easy, but it was worth it. I wrote a whole workbook that you can use to make your dream vacation a reality and here's the summary of what you'll need to do:
Here's how to put each of those steps into practice:
Make Travel a Priority
This sounds basic, but it's important. To make travel happen, it must be a priority. You're probably going to have to make some small changes to your lifestyle. Some won't be too painful, but some may feel more difficult.
You must keep travel top of mind and you must truly believe that it is the most important thing to be able to afford in the short term. If you can't commit to step one, the rest is going to be tough, but if you're still with me, move on to step two.
Make a Budget
How much money did you spend yesterday? Last week? Last month? Chances are you're not sure and that will need to change. To be able to save more money, you need to know how you're spending what you currently make. Here's how to do it:
Write down every expense you have for the next month. Once you've done this, you can start to figure out where all of your money is going and where you might be able to make some changes to put more money away.
I know this is tedious. If you use credit or debit cards to pay for everything, you can look at a past month's statement, but that's risky if you ever spend cash as you'll likely be missing the biggest opportunities for changing your spending habits.
Young Adult Money recently shared 6 Options for Tracking Your Expenses, which will give you a few ideas of how to make tracking your income and expenses easier.
Save More Money
Look through the list of items you spent money on last month. Highlight anything you bought because you wanted it, not because you needed it. Be liberal with the highlighter. Netflix? Want. Happy Hour? Want. Eating lunch out at work? Want.
Groceries, your rent, and your water and utilities bills? Those are things you probably need unless you're planning to get another roommate or only shower every other day (not recommended), but just because you pay for something monthly, doesn't mean it's something you need, so check yourself as you go through the list.
If there are any monthly expenses you can do away with, go into your accounts and cancel your subscriptions right now. Write down how much money you will save each month by eliminating these expenses.
Now onto the harder stuff. Think about what experiences you can do away with next month so that you can afford your trip. This might be daily coffees, weekly dinners out, shopping trips, etc. Figure out what these things are, write them down, and commit to sticking to your plan.
If you need to change habits with friends, suggest alternatives like doing a rotating dinner party at home instead of happy hour. And think of creative solutions for yourself. In my case, I invested in a fancy french press and now make my daily morning coffee at home (it paid for itself in two weeks!).
Make More Money (Without Changing Jobs)
Alright, so you've figured out where you can save more money each month, which is great. Chances are, however, it's not enough to get you on your trip any time soon. That's okay. In today's sharing economy there are so many ways to make money outside of traditional employment and these are now going to be your best friend.
Here are some of my favorite ways to increase the amount of money I make each month:
Ebates

With Ebates you will earn cash back on online purchases you're already making (think of is as getting everything on sale). This is the easiest way I know to make more money. Unfortunately, it's like credit cards in that you have to spend money to reap the rewards, but if you have to buy your sister a birthday present anyway, why not buy it online through Nordstroms and get 3% cash back at the end of the quarter?

Unless you're spending loads of money (which is counterproductive) this won't give you an extra hundred dollars every month, but it will add up over time. As an added bonus, when you first sign up you'll get a $10 bonus. If you install the chrome extension, it'll remind you whenever you're on a site with cash rewards, and once you "click to activate your rewards," any purchases will apply to your Ebates cash back account.
Airbnb

You're going to take a trip, right? Who's going to be in your apartment while you're away? It'll be empty? Tsk, tsk. Airbnb is a great way to make more money every month. Once you set up an account, you can list your apartment whenever you're away (some hosts even list single bedrooms if they have extra space in their home) and earn significant income every night.

For me and my fiancé, this typically covers our accommodations wherever we're traveling, so we think of it as making our trip $100 cheaper each day. Pretty awesome. If you're a new host, you'll get a $50 bonus the first time you host and $20 the first time you rent.
TaskRabbit / Upwork / Fiverr

Do you have extra time? Companies like TaskRabbit, Upwork, and Fiverr make it easy to supplement your monthly income. On TaskRabbit you can do everything from helping someone plan a party to grocery shopping for an agreed upon fee.

At Upwork and Fiverr you'll be able to do more computer-oriented tasks ranging from copy writing, to recruiting, to graphic design. Chances are you have a skillset that someone is looking for and if you position yourself appropriately and are willing to put in the work, you could make hundreds each month in supplemental income.
Housesitting / Dog sitting / Babysitting

Ah, bringing you back to your teenage years? These are still great ways to earn extra income. Do your friends or your parents' friends need help watching their pets, plants, or homes while they're away? Great! They'll pay you to do it and often you can stay at their home (which means you could also be renting yours).

If you need to find clients, check out sites like MindMyHouse and TrustedHousesitters. Both are great for getting connected in the house sitting world. Site like DogVacay and Rover are great for dog sitting, and if you're looking to find kid sitting jobs, check out Care.com and SitterCity.
These are my favorite ways to earn more money, but there are loads of companies out there making it easier and easier for people to make money outside of traditional employment. Decide which options are best for you, invest a little time in getting started, and once your profiles are set up, watch the money start rolling in.
Alright, so you've made travel a priority, you have a budget, and you know how you're going to save and earn more money. Now you need to stay accountable and I have two suggestions for you:
1) Tell others about your new plan
2) Create a separate savings account.
Tell Others
When you tell your friends you've decided to save more money so that you can travel, they'll probably commend you and then ask you if you want to go grab a coffee. You're going to have to remind your friends about your plan, and telling them about it in the first place opens the door for you to offer to have them over for dinner instead of going out and watch a movie at home instead of going shopping.
More often than not they're going to be respectful and maybe even inspired by your dedication. Who knows? Maybe you'll even find a new travel buddy!
A New Savings Account
If you're like most people, if you have money, you'll spend it. Luckily, however, that also means that if things are out of sight, they're also out of mind.
I know that if I have $200 sitting in the bank at the end of the month I'm probably going to think, "Great! I can buy those boots I've been wanting and go out for a nice dinner tonight!" That is why it's crucial to set up a separate savings account for your travel funds.
Remember that monthly amount you decided you could save while highlighting your monthly expenses? Set that much money to automatically transfer to your travel savings account when you're paid each month. You're making extra money through set up an account and Ebates? Link those automatic payments directly to your travel savings account.
There are a number of free accounts you can set up, but I really like Capital One 360 Savings Account. It's separate from my normal bank, so I'm not constantly reminded of the balance, transfers are free and easy, and they pay a bit of interest. As an added bonus, you'll also get $25 for setting up a new account.
Whew! I know this is a ton of information and might feel like a lot to do, but break it down step by step and soon enough this will be your view: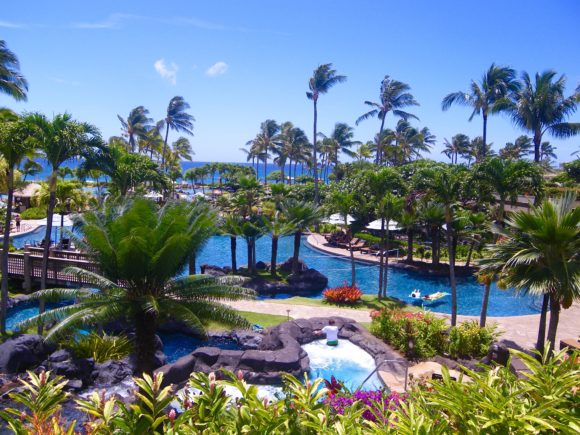 Or this: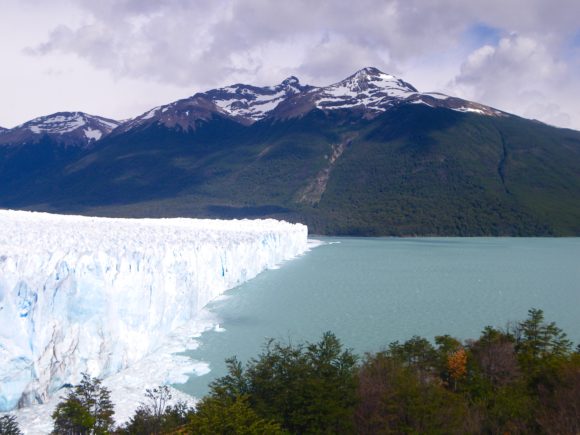 Or this: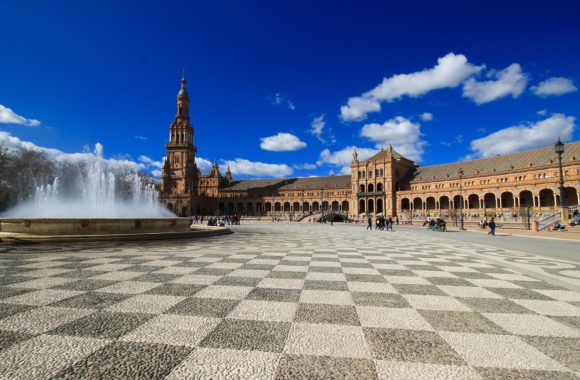 If you want the step-by-step workbook to plan your travel budget including how much to save, and more ideas on how to do it, you can download it here.
Do you make travel a priority? What have you sacrificed to make travel possible?
Bio: Liz Peterson is an American Expat based in Barcelona who loves to experience new cities on bike and on foot. She runs a travel blog www.california2catalonia.com where she shares tips on how to travel better to save you time and money. You can follow California2Catalonia on Facebook, Twitter, and Instagram.