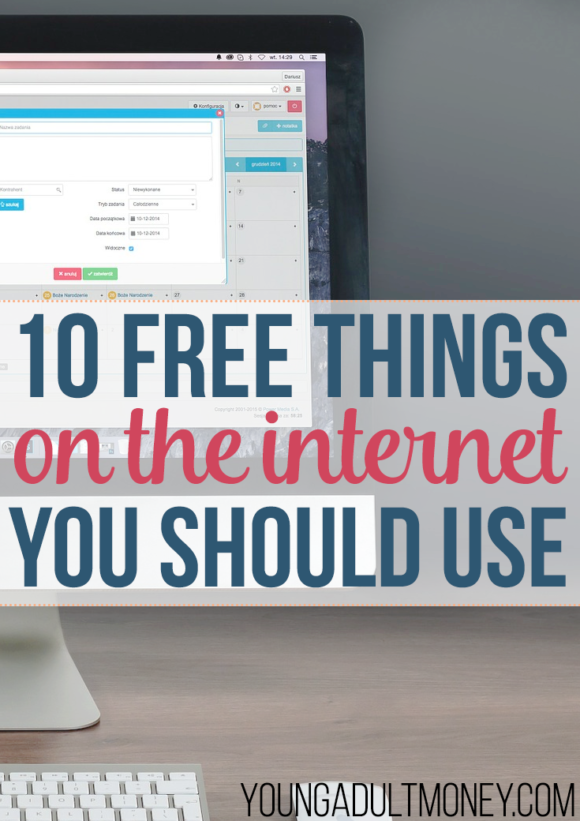 When you stop and think about it, we live in a pretty amazing time.
We basically have unlimited access to a ton of information right at our fingertips, thanks to the internet.
What's even better is that the majority of this information is free.
So if you want to get resourceful, finding free alternatives to products and services that would otherwise cost money is pretty easy.
It's even easier with this list of free things on the internet you should be using!
Everything is broken down into categories so you can easily find what you need.
1) Free Education Sites
These are first on the list because they're truly valuable resources. If you love to learn, you don't necessarily need to go back to college and take classes. Instead, there are MOOCs – Massive Open Online Courses. The list below contains both learning platforms and sites that have curated free courses offered on a certain subject.
The list doesn't end here at all, either. If you're interested in learning about a specific industry or skill, I recommend searching for a learning platform dedicated to it!
2) Free Trials for Memberships
Almost every subscription based service or product has a free trial. The best part is you can usually get something for free in exchange for referrals.
The one caveat with this is to remember to set a reminder for yourself to cancel if the free trial requires a credit or debit card upon sign up.
Hulu+: There's a standard one week free trial to Hulu+, but if you search for specials, you might find ones that last a month or longer. Get the most out of your free trial by binge-watching a few shows.
Netflix: Can't decide between Hulu+ and Netflix? You might want to start with Netflix first as it offers a more generous one month free trial period.
Hello Fresh: Want to give a food delivery service a try? Hello Fresh gives you recipes and all the ingredients you need to make great meals for dinner, and they offer 3 meals for free.
You Need a Budget: This is a super popular budgeting software that normally has a monthly fee, but you can try it free for 34 days.
Lynda.com: You get a 10 day free trial with Lynda.com, and it has just over 4,600 courses available if you're interested in learning about photography, programming, video editing, etc. There's not much it doesn't offer!
3) Free Music Services
I can't even remember the last time I bought a CD. Can you? These days, it's just so much easier to stream a wide variety of songs right from your phone or computer.
Besides curating your own playlists, you can also listen to a huge amount of radios for free as well.
Pandora: One of the first services to offer music streaming for free, Pandora allows you to discover tons of music you otherwise might not have heard. You search for music you like, and it plays music it thinks you'd like based on that. You can tell Pandora if you like a song or not by giving it a thumbs up or thumbs down.
Spotify: I prefer Spotify to Pandora only because I can be a little picky about music recommendations. I prefer to create my own playlists and search for specific songs that I can save. That's not to say you can't discover new music, though. Spotify also offers recommendations and it has plenty of playlists to look through depending on the day, time, and your mood.
Slacker: At first glance, Slacker looks very similar to Pandora. The difference is that you can create and share your playlists with Slacker, and it promotes playlists curated by experts. Pandora uses algorithms to determine if songs are similar. Slacker further enforces its "human-powered" concept by allowing celebrities of all sorts to take over the station.
Radio station streaming: Lastly, your favorite radio most likely has an online streaming service so you can listen to it on your computer at work.
4) Free Entertainment
YouTube: Where would we be without it? From cat videos to tutorials to troubleshooting and learning, you can find pretty much anything you want to keep yourself entertained. YouTube could even go under the music section as it's incredibly easy to create playlists, and it often has singles and remixes that might not be available elsewhere. There are even content creators who have formatted shows.
Crunchyroll: If you like anime and manga, then you'll find most everything you need by tuning into Crunchyroll. The free version is a bit limited, but at least it's offered!
Twitch.tv: Twitch originally started as a platform to watch game play, but it has evolved over its short lifespan to include board games and artistic hobbies as well. If you're into crafts, cosplaying, or watching people have fun while playing games, you can tune into any stream for free.
5) Podcasts
What's not to love about podcasts? Most of the time they're commercial free, and plugs for sponsors don't last nearly as long as radio commercials do.
You can download a variety of podcasts, so if you're looking for comedy, education, or actual scripted shows, you'll find it here. I personally enjoy listening to music podcasts because I get an hour or two of non-stop mixes of the latest tracks.
6) Free Open Software
There are free alternatives to popular software out there if you know where to look. If you've built your own PC before, you know how annoying it can be to buy all the programs you need.
A great example of open software is one you've probably heard of: Open Office.
We can't mention free tools without mentioning Google's suite of products. Google Docs, Sheets, Slides, and more all have great functionality for basic users, and the fact that everything is saved in the cloud means you can access it from anywhere.
Want to take it a step further? If, for some reason, you find yourself without an operating system on a PC of yours, or you want to dual boot, Linux can be a great option. It's a completely free OS, and it's pretty and very functional. You can use it as you would regularly use Windows, and for the nerds out there, it has a separate distribution that offers an interface for command-line prompts. It also comes with its own suite of programs, so you'll have a word processor and graphic design software.
Speaking of, while I love Photoshop, I realize some people would rather not pay the monthly fee to have access to it. In that case, GIMP, Canva, PicMonkey, and InkScape (alternative for Illustrator) are worth looking at.
7) Free ebooks
I don't know about you, but I love to read. I practically grew up in a library. While you can get books for free by borrowing them, sometimes finishing them by the due date can be a challenge (especially if you're busy). However, if you're not the type of person who reads books multiple times, buying can sometimes be a waste.
Instead, look for free eBooks! There are plenty of sites that offer selections, and even though some exclusively offer classics, you could decide your life needs a little Pride & Prejudice.
Project Gutenberg: There's over 50,000 ebooks on this site, and you can search by most popular and most recent. Be aware that many are older because the copyright has expired on most of them.
SpringerOpen Books: Springer provides access to scientific documents and journals, so if you're looking for something a bit more academic, you'll find it here. All research is peer-reviewed.
OpenLibrary: The purpose of this project is literally in the name. OpenLibrary's model is similar to Wikipedia – they want to catalogue every book ever published. That means you can create pages for your favorite books and share them with the world. You can also download free, out-of-copyright books, and borrow books that are in copyright.
Smashwords: This site has a selection of books you can buy along with its free books. Most of what you'll find in the free section are books published by indie authors. There's every genre you can think of along with essays, poetry, and screenplays.
8) Actual Freebies
What would a list about free things to use on the internet be without mentioning the fact you can score a bunch of freebies online?
There are many websites that will send you free samples of things to try, and these products may even be full-size samples:
A great list of birthday freebies to sign up for
Don't forget to check the "free" section of Craigslist!
9) Free Money Management Tools
I'd be remiss if I didn't mention money management tools in this article being that this is a personal finance website! Thankfully there are quite a few free ones to choose from.
Personal Capital: We've reviewed Personal Capital before, but like Mint, it's a one-stop-shop for all your finance needs. You can review your spending, the performance of your portfolio, and see if your retirement savings are on track.
Mint: I'm sure you've heard of Mint by now, but it automatically tracks and categorizes your spending, you can set up spending goals/limits for a budget, and receive alerts when you're nearing your limits.
Digit: This is a great, free tool to use if you're not a natural saver. Digit analyzes your spending patterns, takes a look at your bank account, and figures out how much you can afford to save. It then transfers that amount to a separate savings account. Digit promises to never overdraw your account and offers a guarantee on it.
Penny: This app is a relative newcomer to the personal finance scene, but it's great for people who are on the go or need a little encouragement. Penny might be an app, but it functions as a coach, as it will have actual text conversations with you about the state of your money.
10) Free Cash Back Sites
Last, but not least, we'll round out this list of free things you should use with a few places where you can earn free money. Well, it's not totally free – you do technically pay with your time – but it beats getting nothing!
Swagbucks: This is a great site to use in your spare time or while you're watching TV. You can earn Swagbucks by performing a variety of tasks on the website, such as taking surveys, watching videos, and using its search engine. You can redeem your Swagbucks for gift cards. A lot of people use this strategy around the holidays to reduce the cost of gifts.
Ebates: If you're going to be shopping for something, you might as well try to earn as much for your purchase as possible, right? You can do that by shopping through Ebates. There's a huge selection of popular retailers to choose from, and when you shop using Ebates, you earn cash back for your purchases. You can redeem the cash back once you reach a certain threshold.
Credit Card Portals: Do you have a rewards credit card? Then chances are, you can earn even more cash back with your card by shopping through a rewards portal. It functions essentially the same way as Ebates.
Bonus Free Stuff
Because who doesn't want more free stuff? Here are just a few things to look into if you're a little bored:
______________________
Who ever said there wasn't anything free in life? Blogs are a great example of free information, too. ;) As anyone who goes online knows, there's a ton of free stuff to be found if you're willing to look for it. Hopefully some of these resources are useful for you.
What are some of your favorite free things you use on the internet? Are any from this list?