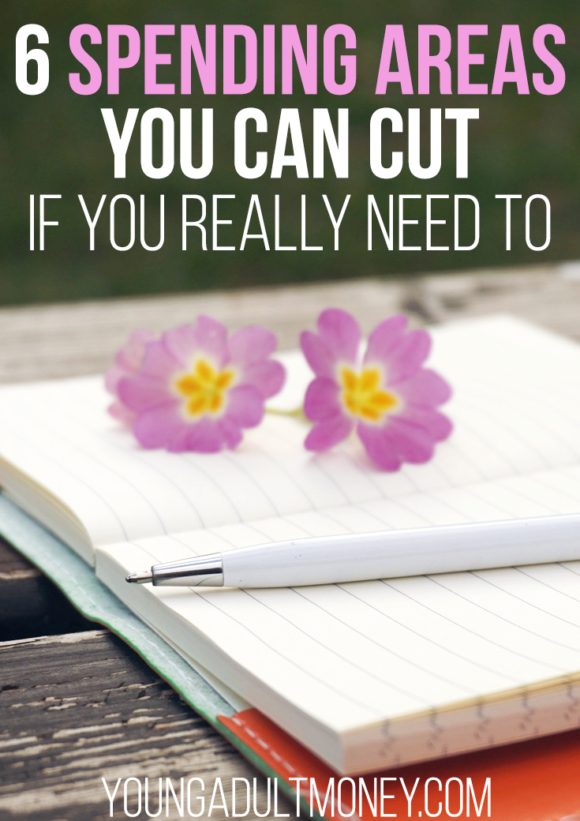 For many young adults, affording basic necessities can be a challenge.
If you're underemployed, your living expenses (like rent) may be taking a huge bite out of your income.
After all of your bills are accounted for (especially student loans), do you find yourself struggling to make it to the end of the month with what you have left?
While we always recommend trying to earn more (as your earning power is unlimited), it can be worth it to look at what you can cut from your budget first. After all, cutting an expense can be done right now, and finding a side job or creating a side hustle might take time you don't have.
Go through the following spending areas you can cut from your budget and evaluate how much you have left once you do.
1) Subscriptions of Any Kind

Did you see that one coming? Subscriptions, or recurring monthly payments that aren't a necessary bill (such as utilities) are extremely harmful to your budget.
Why? Because they're recurring! We're not talking about one-time shopping sprees; we're talking about possibly paying over $1,000 per year on various items.
Gym memberships and cell phone bills are classic examples of things you can cut from your budget – or at least, cut down on. When you look at it from a monthly payment perspective, it might seem harmless. However, I challenge you to total how much you're paying per year. You may be surprised.
I was paying $90 per month for my cell phone at one point…until I added up how much that was costing me over a year ($1,080!) and realized I could be putting all of that toward my student loans instead. I promptly switched to Republic Wireless and have been paying almost $800 less per year for my phone.
It's a good idea to comb through your expenses for any subscription services you might have forgotten about, too. Did you sign up for a free trial and forget to cancel the payment? Is there anything you're paying for that you're not using? Cut it!
2) Dining Out

Okay, I'm sure you saw that one coming. Hear me out – you don't have to cut dining out completely, as long as you value it appropriately. That means if you absolutely love trying new cuisines or spots in town, or simply enjoy the art of it all, then maybe you should look at other spending areas to cut.
However, if most of your dining out expenses are occurring because of convenience, you have a different problem to address. Are you running out of time in the morning to throw something together for lunch? Or are you coming home to an empty fridge because you don't have the time (or energy) to go food shopping? Either of these cases can lead to needless spending on food.
I'm not saying you need to become a hermit and turn down every single invitation to a meal, but carefully consider what's causing your dining out expenses to be on the higher end, and get to the root of the problem.
There are a number of strategies you can use to combat this, like meal planning, buying (and cooking) in bulk, or even buying the same groceries week in and week out so you're not faced with decision fatigue.
Either way, there's no reason to be eating out more than you have to. It's one of the categories in your budget that's super easy to cut as long as you're mindful about it.
3) Entertainment

You might think I'm asking you to become a hermit now, but the answer is still no. With so many free entertainment options available, you don't have much of an excuse on this one.
I get that going out – outside of your house – is much more fun, but you pay the price when going to a bar, comedy club, sports outing, or concert.
I hardly ever pay for entertainment because, well, my group of friends is usually enough. That might sound lame, but we figure out other ways to have fun, whether that means having a board game night, going on a hike, hanging out in someone's backyard near a fire pit, going to a festival, or holding a potluck.
Can't come up with anything? Take the easy way out: identify what activities your family or friends enjoy doing the most, and create a frugal (or free) alternative.
4) Cable

Do I really need to elaborate on this? Most millennials I know hack cable with a variety of streaming alternatives like Netflix, Hulu+, and Amazon, or they use an over-the-air antenna or DVR.
For a full list of options, check out how you can give up cable and still watch your favorite shows.
5) Groceries

While cutting your costs on restaurant spending can be good, the best thing for almost everyone to focus on is groceries, since it's an expense we all incur.
I mean this in the context of food waste and not paying attention to sales or deals. I'm not saying you have to eat a certain way (everyone has their diet preferences), but the key is to think about how you can still save within that context.
Do you shop with a list? Do you know sale prices well enough to compare across stores? Are you okay with trying store brands? Would you (or your family) benefit from a warehouse club membership? Do you use coupons? (There are e-coupons available if you hate clipping them like I do!)
If you're someone who tosses stuff in the cart with no thought to how it's going to get used before it expires, then it's worth trying to plan out your shopping trips a bit more. Do a little meal planning in advance, go with a list (so you don't buy anything you don't need), and stick to sales (search through flyers).
Oh, and take this from me – cutting out snacks will do wonders for your bill. I'm completely guilty of loving cookies and chips, but snacks add up quickly. You're better off putting that money toward filling meals.
6) Living Expenses

We said if you really have to, right? If you're running the risk of being late on payments and can't find the money in your budget anywhere, then you might benefit from thinking about cutting your rent in any way you can.
This might mean moving back home, downsizing, or getting a roommate. I know, it's not fun. You may feel like you're giving up a bit of independence (or status) by making these moves, but your credit score and financial well-being should take precedence.
I lived with my parents through college until I was 23 because rent is outrageous where I lived. Most of my friends are still living with their parents years later. If you have a good relationship with your family, it's not anything you need to be ashamed of.
I managed to save a five-figure emergency fund because I only had to pay my parents hundreds of dollars for rent as opposed to thousands. It's the financially sound move to make if you're in dire straits – don't let pride hold you back.
Remember, Cutting Back is Limited

Going back to what I said in the beginning, it's useful to focus on earning more because you can continue doing so; with cutting back, you're limited. After a few years of being super frugal, I realized there were no other places for me to cut back.
Where was I supposed to go? My income was the problem. I was only earning $13/hr and paying $600 in rent (my half) every month, along with $200 student loan payments, groceries, insurance, and gas. Those first two expenses wiped out one paycheck for me. Not good.
Once I learned the value in earning more, I never looked back. I'm still frugal, but in practical ways. I spend on my values, and that's it. So if you're looking for additional places to cut, then do away with anything that doesn't matter to you, and work on finding balance with increasing your income.
There are plenty of ways to trim your budget without feeling the sting. The best way to do that is to get clear on how you want your money to work for you. Spend on what makes you happy, and forget the rest.


When you were in a tight spot with your money, what were the first spending areas you cut back on? Which ones did you refuse to budge on?