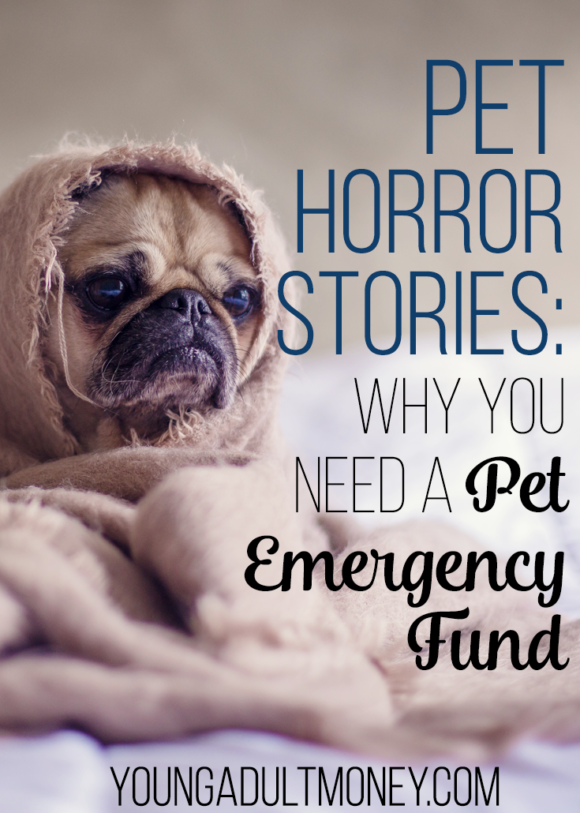 This post is by our regular contributor, Kristi.
Are you a cat person or a dog person? Both? Neither?
Chances are, if you're a pet owner, you will go to extreme lengths to care for your pet, including paying for both regular and emergency pet care.
It seems that there are quite a few animal lovers in the United States. According to the humane society, there were an estimated 79.7 million households in the United States who had pets from 2015-2016. The average amount spent on veterinarian care for the 163.6 million cats and dogs in America was $1,288.50.
There's no question that pets are expensive. You can be as frugal as possible as a pet owner, but there's no telling when or how your pet might have a medical emergency, and emergency care is expensive.
A growing trend among pet owners to help cover both the expected and unexpected costs is to pay a monthly rate for pet insurance coverage or simply to have savings from which they can pay for any pet emergencies.
If you're a pet owner with neither pet insurance nor a savings fund, the following pet horror stories (and the huge costs these pet owners faced) may just persuade you to have a backup plan for any pet emergency.
Pet horror story with pet insurance
Rachael Jovero of Minneapolis, MN is extremely grateful that she opted in for the $20/month insurance continuation after her free month of Petwatch pet health insurance that came with the adoption of her cat, Omar. She felt that it was a small cost which provided ease of mind.
About 3 weeks after adopting him, Omar became very ill, slept constantly, and wanted no food. After Rachael had taken Omar to the vet, they discovered that he had immune-mediated thrombocytopenia, which is an extremely rare and expensive medical condition in cats. She needs to continue to monitor his platelet count and pump him with steroids to maintain his counts to keep her cat healthy.
Luckily, due to having pet insurance with only a $100 deductible and 20% co-pay, she has saved about $1500 in veterinarian costs so far. Having Omar's insurance has made all the difference. Because they had the coverage, they didn't have to worry about making the tough decision to continue trying to figure out what his diagnosis was. They are able to keep Omar, and take care of his medical needs.

Pet horror story with an emergency fund
Lindsey Olson of Minneapolis, MN has a golden retriever with a penchant for eating things he shouldn't. While attending a tailgate party, their dog decided to swallow a corn cob whole. After a week of acting abnormally, they brought him to the emergency vet. Imaging showed that the corn cob was lodged in his bowel, cutting off blood supply to his organs. By midnight that night, their golden retriever was in emergency surgery to have the corn cob removed.
Luckily the surgery went fine, and he was as good as new, but Lindsey had to pay a $3,000 emergency pet surgery bill. Lindsey didn't have pet insurance at the time, but she was able to pay out of pocket from her general emergency fund.
After the corn cob incident, however, Lindsey says, "With our next pets, we will definitely get pet insurance. Especially since we have paid for our other two dogs to get both of their ACLs fixed, and have incurred additional expenses for various incidents beyond normal check-ups and care."
Laura Craig of Minneapolis is also grateful for having an emergency fund large enough to cover any contingency, including vet bills. Even after spending $4000 on vet bills and continued care, she believes that having an emergency fund is cheaper than paying for pet insurance in the long run.
She suggests having a portion of your paycheck automatically deposited into an emergency savings account. She says, "It's amazing how quickly it adds up and is so easy. That's my emergency fund for whatever may happen, including pet problems."
Jamie Kauppi of Minneapolis wishes that he had pet insurance for his dog Elsie. She first had heartworm from the rescue she came from and was on medicine for the heartworms which caused hemorrhagic gastroenteritis (bloody diarrhea). Between the heartworms and the medicine itself, he had to deal with a lot of vet trips and even a three-day stay in the animal hospital for Elsie. All said and done, he ended up paying $2100 for Elsie's care and treatment. Jamie was able to use some savings, but the rest had to be put on care credit, for which he applied in the vet's office.

Deciding on pet insurance
If you decide that pet insurance is an expense that you're both willing and able to afford, to help protect yourself from the costs of devastating medical disasters with your pets, then you'll have a ton of companies to choose from.
According to ConsumerAdvocate.org the following companies are the best Pet Insurance companies: Healthy Paws, PetPlan, Trupanion, Embrace, PetsBest, and Petfirst. You can also pay for a pet health insurance policy through regular companies such as Progressive or Farmers Insurance. It may be worth looking into whether or not you can get added coverage for your pet in a bundle with your car or home insurance.
Make sure to get quotes from at least three different companies and compare the product that they're offering. When you're armed with lower quotes from different companies and have a list of the services that are included in that rate, then you may be able to negotiate a lower price with a different company. Insurance companies want your business, and they are usually able to haggle on the price to either keep you or secure you as their customer.

Deciding on a pet emergency fund
If you decide that pet insurance simply isn't worth the cost, then you'll definitely want to consider either starting a separate pet emergency fund or beefing up your catch-all emergency fund.
You don't want to be left making the choice of not being able to save your furry family member because you can't afford the medicine or procedure necessary to keep them with you longer. Decide before hand how much you would be willing to pay for medical treatment and try to put that much into savings for a pet emergency.

Choosing a combination of the two
You may even want to consider purchasing a basic pet insurance plan with a low monthly fee and a reasonable deductible while having a smaller pet emergency fund on the side as well. If for example, you're able to get a pet insurance plan for $20 a month with a $200 deductible, you would only need to have $500 or so in your pet emergency fund. You'll know that you'll be covered both for basic shots and medical upkeep, as well as the chance of a bigger pet emergency.

Are you willing to fund the liability of having pets?
Remember, no matter whether you decide pet insurance is worth the cost or not, and whether you decide to start a savings account specifically for pet incidentals, it's a good idea to have at least $1,000 set aside in your general emergency fund.
Life is full of emergencies, and pet care is just one of them. Give yourself some breathing room in your budget, either through insurance or savings, so that you can make the best decision possible for both your family and your pet. You don't want to have to face the impossible decision of not being able to afford much-needed care for your furry family member.
Have you ever dealt with an expensive pet emergency? Do you have pet insurance or wish that you had pet insurance? How do you deal with your emergency veterinarian bills?