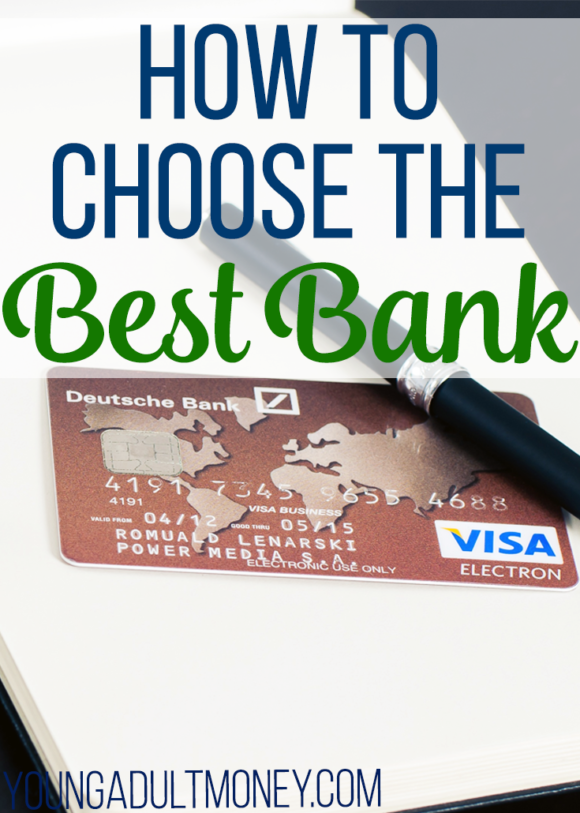 This post is by our regular contributor, Erin.
When's the last time you thought about switching banks?
Is the bank you have now the one you started with years and years ago?
A lot of people never think twice about their banking situation for a number of reasons.
It can be a hassle to switch to another bank, or maybe you've figured out a way around the fees that many banks charge.
Regardless, it's always good to look into optimizing your banking situation to make sure your money is working smarter and harder for you.
I had to switch banks when I moved as my local community bank didn't exactly cross state borders. Now that I'm moving again, I switched to an online bank to avoid the hassle in the future!
So what exactly makes for a good bank? Here's what to look for and what to avoid.


Look for Low or No Fee Accounts
The biggest banks love to nickel and dime their customers by hammering them with fees.
Whether it's an overdraft fee, foreign transaction fee, monthly maintenance fee, account opening/closing fee, minimum balance fee, or returned deposit fee, there are a number of ways banks can get you if you're not careful.
At one of my old jobs, I used to review business bank statements, and I was constantly amazed by how many bank fees companies racked up. It's no surprise that banks are profiting from fees so much!
The easiest way to avoid getting hit with silly fees is to choose a bank account that…has none! And yes, there are quite a few out there. They typically have "no fee checking/savings account" right in the name.
Some traditional banks offer "beginner" accounts that have little or no fees associated with them, while online only banks may offer a full suite of banking products with little or no fees attached. Online only banks don't cost as much to run, so they don't have as big of an incentive to charge you for everything under the sun.
At the very least, make sure you look for a bank account that doesn't require a minimum balance, or has requirements you can easily meet to get the monthly maintenance fee waived. If you get your paycheck direct deposited to your account, that's usually enough to waive this fee.

Look for the Ability to Create Multiple Savings Accounts
One of the things I love most about my current bank is the ability to create multiple savings accounts whenever I want!
I always read personal finance articles that advocated multiple savings accounts for each savings goal you have, but I could never create a new savings account on the spur of the moment with my old community bank. I either had to go down to the branch location to open it, or it had to be approved.
No thanks! Glad I don't have to deal with that anymore. I went a bit crazy with this a few months ago and made about six different savings accounts – all for different goals.
As someone who is pretty frugal with her money, it's important for me to "earmark" funds for certain purposes. It's a psychological thing, but it makes it easier for me to part with my money when it's already set aside for something.

Look for Higher APYs
While the highest APYs on savings accounts aren't anything to write home about these days, a couple of dollars here and there can make a difference.
I know it might sound silly, but when I had a brick and mortar bank account, I was earning next to nothing every month, even though the balance was on the higher side.
Now that I have an online only bank, and multiple savings accounts, I actually notice the interest accruing every month, and it's somewhat exciting! Even if it's just a few dollars, that's a few dollars more than I was generating before.

Look for Flexibility to Avoid ATM Fees
Who likes ATM fees? Going to the nearest ATM and receiving a warning that you'll be charged $2.50 for taking money out is so much fun, right?
There's no reason to be paying this fee, and it's the one people run into the most.
Banks have been catching onto this, and many reimburse up to 5 ATM fees per month, or they just don't charge any ATM fees at all.
Online only banks have great options to avoid ATM fees since they give you access to a huge network of ATMs across the country. No matter where you are, you're bound to find one (which is great if you're traveling).
There's nothing better with banking than not having to worry about being in close proximity to a branch location, or having to go out of your way to get to one before running errands.

Don't Place Too Much Importance on Relationships
It used to be that people went to their bank to obtain a loan. You already had an existing relationship there, and if you had a community bank or credit union affiliation, you might have been able to get great terms.
Nowadays, there are an abundance of online only and peer-to-peer lenders that are more than willing to give you decent terms for less work. You can get pre-approved within minutes, applications can be filled out online (there's no need to run to a branch or make an appointment), and some have online chat features available. They're all about convenience.
Online only and peer-to-peer lenders have lower overhead, and these companies pass the savings onto customers by way of lower (or no) fees, better interest rates, and the approval of those with less-than-ideal credit.
There's no harm in having a bank that has great interest rates on various loans, but it's not an absolute necessity, nor is it something that should make-or-break the institution you decide to bank with.

An Example of a Great Bank
Now that you know what makes a good bank, let's take a look at one in action so you know exactly what to look for.
Featured here is Discover's Savings Account. It has:
an APY of 0.95% (not bad, especially compared with 0.01% from traditional banks)
a $500 minimum opening deposit (a little on the high side)
no monthly fees to worry about
interest compounded on a daily/monthly basis
no fees for bank checks, expedited delivery of checks, incoming wire transfers, or early account closure
a $15 fee for deposited items that are returned (many banks charge a $30 fee for this)
a $15 fee for excessive withdrawals (according to Federal law, you can only withdraw from your savings account six times per month, so this is something most savings accounts have)
a $30 insufficient funds fee, at a maximum of one fee per day (this way, if you're out shopping at multiple places, you'll only get charged for going over once; a $30 fee is around average)
Discover prides itself on not having any hidden fees or surprises for consumers, which is great. It also shares its account guide online so you can quickly compare it to your current banking situation.
This is a good example of what to look for in a potential savings account, and many of the same principles apply to checking accounts as well.

___________________
Where you bank matters insofar as how many fees you get charged per month, but don't stress if your bank doesn't highlight other financial products such as mortgages, auto loans, and personal loans. There are plenty of other lenders out there that can fill that void.
Have you carefully considered what institution you bank with? Did you choose a bank with minimum or no fees? Do you like having multiple savings accounts?