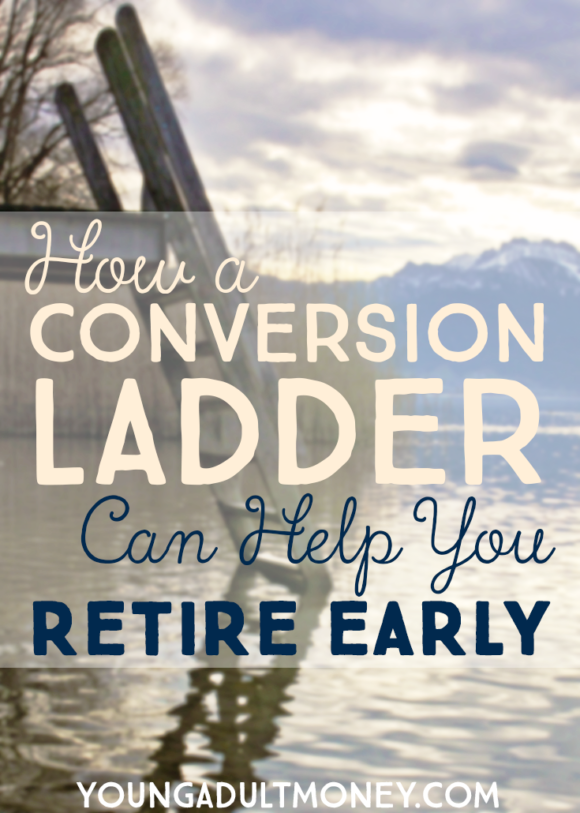 This post is by our regular contributor, Kristi.
People who want to retire early, or, at least, earlier than 59 ½, worry about how they'll be able to fund their early retirement. After all, there are huge tax disadvantages to withdrawing retirement assets early.
What if I told you that there is a way that you can have your proverbial retirement cake and eat it too?
The IRA conversion ladder method will help you retire early by giving you access to the funds that you need, sooner than 59 ½.
A conversion ladder isn't an overnight solution, though.
First of all, you need to have money in a traditional IRA. You also will have to plan ahead and be willing to wait for five years before you're able to access your money.
If you're willing to wait, five year is a small price to pay for avoiding the 10% early withdrawal tax typical of retirement accounts. By planning to use an IRA conversion ladder in advance, you'll avoid that 10% tax, have access to your money, and be able to fund an early retirement.
What is an IRA conversion ladder?
The IRS permits any person to withdraw money tax and penalty free from their retirement accounts if that money was converted from a traditional IRA to a Roth IRA. It's not a free for all, though. You have to wait five years from the time of conversion to withdraw the money, and you have to pay income taxes on the full amount converted at the time of conversion.
The idea behind a Roth IRA Conversion Ladder stems from this tax and penalty free withdrawal after the five-year wait.  To take advantage of this 10% tax avoidance and make the conversion rule work for retirement, you'll have to continue converting money every year until you're 59 ½.
Convert one year of living expenses from your traditional IRA to a Roth IRA, and pay the taxes at conversion. After five years you can withdraw that amount from your Roth IRA without penalty. Withdraw one year's worth of living expenses from your Roth IRA, and continue making and taking conversions until you reach 59 ½.
How much will you need annually in retirement?
For a conversion ladder to be able to help you retire early, you have to know how much money you will spend  each year in retirement. If you have no idea, Personal Capital is a great tool to help you figure it out. Use the app or website to track your expenses and create an estimated annual budget.
You could also input your information into a retirement calculator. Either way, for a conversion ladder to be a successful strategy, you need to know how much money you will need to have access to.
Set up your conversion ladder once each year
If you want to be able to live on your Roth conversion money, you'll need to set up your conversion once each year until you reach 59 ½.
Let's say that you reach 50 and decide that you want to retire in five years. You would need to convert enough money each year for five years before you want to retire, as well as the 4 ½ years before you reach traditional retirement age and could access your account.
If you decide that your annual expenses are $30,000 per year, you'll need to convert $30,000 each year starting at age 50. For example, going with that plan, you're conversion ladder would look like this: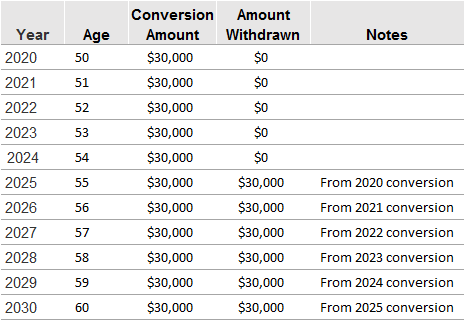 Once you reach 59 ½, you can withdraw whatever you want.
Setting up a conversion ladder is pretty simple
Setting up your conversion ladder is a process that shouldn't take more than 15 minutes each year. If you're pretty savvy with your retirement accounts, you can do it yourself. If you feel like you need assistance, contact your bank or speak to someone with your brokerage account and ask them to help make a conversion from a traditional IRA to a Roth IRA for you.
Once you start building your ladder, you'll be able to access the money after you've met the five-year wait limit and start funding your early retirement.
Do you want to retire early? Have you ever looked into establishing an IRA conversion ladder? If not, how do you plan to fund your early retirement?