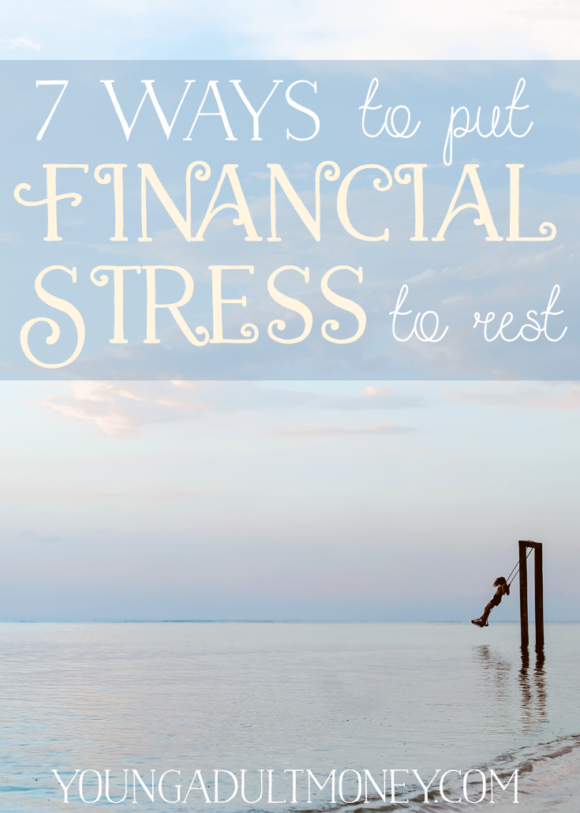 This post is by our regular contributor, Erin.
Who hasn't felt stressed about money at some point in their life?
72% of adults feel stressed about their finances at least some of the time, while 26% feel the strain most or all of the time, according to a study by the American Psychological Association.
If you're reading a personal finance blog, I'm going to guess money is on your mind more often than not. Welcome to the club. ;)
While it's good to be mindful of your money, being obsessed with it isn't healthy.
Stress affects us in ways we don't even notice until it's too late, and it's a huge mental burden to carry around.
Tired of constant money woes? It's time to put financial stress to rest – here are 7 ways to do it.
1) Start Tracking Your Spending
I'm going to go through this step-by-step as much as possible. Many Americans are simply worried about not having enough money saved for X. We'll get to establishing an emergency fund, but it's important to talk about tracking your spending first.
I wouldn't even suggest budgeting without knowing where your money is going. Why? Because without that knowledge, you're missing a key ingredient in your financial plan.
How can you know if you have money leftover at the end of the month to dedicate to your various financial goals without being aware of where it's going?
Do you use a credit or debit card for most of your purchases? Then get yourself set up with Personal Capital – it will automate the process for you. You just need to connect your financial accounts there, and it will grab the data and display your recent transactions.
You can then go through and see if your spending is completely out of whack compared to your expectations (prepare to be surprised!). This is one of the most eye-opening things you can do when it comes to being financially prepared.

2) Figure Out a Spending Plan
Most of the time, stress comes from a lack of knowledge or perceived lack of control over your situation. It's time to conquer that by creating a spending plan.
You are in control of your financial choices. You can choose to buy X and forgo that extra payment on your student loans. You can choose to become a homeowner without having an emergency fund. You can choose to throw caution to the wind and live life to its fullest by spending your life savings.
Or you can choose to be responsible. (It's not as boring as it sounds, I promise.)
Creating a spending plan for yourself sets you up with a stable foundation. Take the information you learned from tracking your spending and set a realistic goal of how much you want to spend each month in each category. Or do something as simple as the 50/30/20 rule.
Whatever you do, give yourself guidelines to follow, but don't lock yourself in a prison to the point where you regret it. As you're going through this, try and focus your spending on your values. Cut out the things that don't matter to you so you naturally spend less. The goal is to give yourself some breathing room.

3) Establish an Emergency Fund
A Gallup poll found that 60% of Americans were very/moderately worried about not having enough money to pay for medical costs in the event of a serious illness. We covered 10 unexpected expenses you need to watch out for already, but establishing an emergency fund is the best way to deal with this worry.
An emergency fund is reserved for true emergencies, like your car breaking down, a vet visit, a home repair, etc. It's not used for when you're "broke" and want new shoes. Typically, the advice given is to save 3 to 6 months of expenses, but you can start small with $500 or $1,000 and come back to it when you're ready.
Trust me when I say that having an emergency fund is completely worth the sacrifice you may have to make to save. It gives me peace of mind, which translates to not stressing as much when something comes up.
Speaking of saving, we have a list of ideas here that you can use to be smarter with spending!

4) Become a Conscious Consumer
What I mean by this is start questioning your purchases. Start with this list of six questions to ask yourself when you're contemplating buying something, and then try practicing delayed gratification.
If you're an impulse shopper, this will greatly help reduce the amount of spending you do. If you've been worried about not being able to pay your rent or mortgage, other regular bills, or making the minimum payments on your debt, you need to keep your spending in check.
Think of it this way: if stressing less about money is important to you, you need to do right by yourself and your wallet. The initial pain of forming new and good spending habits is worth it in the long run if you want to keep your sanity.

5) Get Clear on Your Financial Goals
Many people try to do this "money thing" without a plan. That's setting yourself up for failure immediately.
Take time to think about what's causing you the most stress. Is it your debt? Is it not having enough money saved? Is it that you think you're behind with saving for retirement? Do you want to move, but can't afford it? A combination of some of these?
List out these stressors from biggest to smallest. A lot of times, money isn't logical – it's emotional. Some people choose to pay off debt instead of focusing on saving because they want it gone more than anything in the world.
Pick your #1 stressor and focus your efforts on it. Create a plan so that every financial action you take gets you closer to accomplishing the goal. The pieces of the puzzle should start falling into place.

6) Form a Support System
Sadly, sometimes the people we surround ourselves with are the cause of financial stress. Do your friends ask you to hang out at fancy places? Encourage you to go on shopping sprees with them? Tell you to go on vacation with them even though you can't spare the change?
Evaluate how the people in your life are influencing you financially. Often, having a great support network can help to lessen the financial stress you're experiencing. When most of the people in your life are on the same financial page as you, it makes things easier.
This is critical if you're married or in a serious relationship, too. A saver/spender dynamic can be a challenge to conquer, but it's not impossible. Make sure you're taking these steps with your significant other!
If your situation is more complicated, something to consider is hiring a fee-only financial advisor to help you straighten things out. Perhaps you're overwhelmed with all the goals you want to accomplish and have no idea where to start. They can provide a road map for you to follow, which takes a bit of stress off of you!

7) Educate Yourself
At the end of the day, it comes down to educating yourself. As I mentioned before, financial stress is sometimes caused by a lack of knowledge. There are a lot of moving pieces when it comes to money management, but once you start learning, things will become clearer.
Reading blogs and seeing how others deal with their financial situation is a great source of inspiration. Just remember that one size doesn't fit all! You have to experiment to find a system that works for you.
____________________
There's no reason to let money control you to the point where you're worried about it constantly. The best thing you can do is take control of your situation. Educate yourself and take the necessary actions toward leading a better financial life, and your stress will naturally lessen. The hard work is absolutely worth it in the end!
What worries you the most about your financial situation? What steps have you taken to lessen that burden? What advice would you give others who are stressing about money?