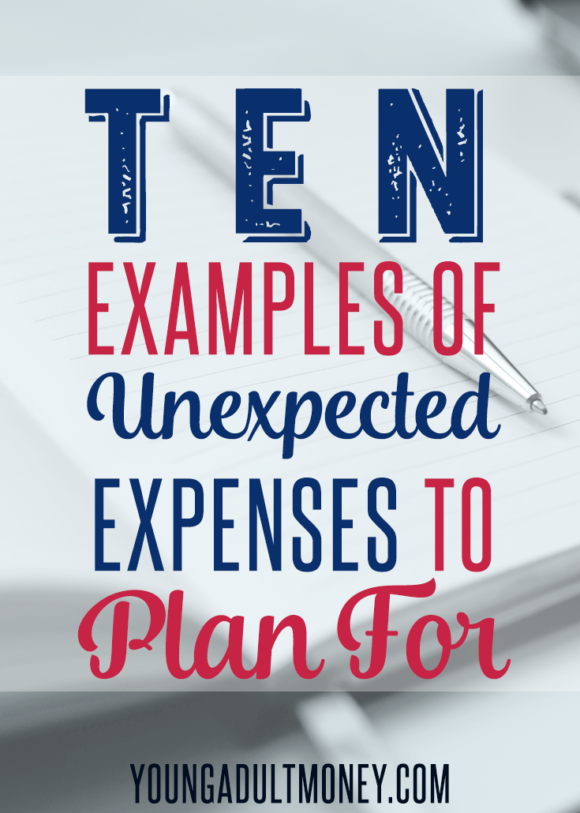 This post is by our regular contributor, Erin.
I don't think any of us are strangers to unexpected expenses.
It's Murphy's Law in action at the worst times: anything that can go wrong, will go wrong, and when you least expect it.
Have you ever been slammed with bill after bill in one month because you weren't prepared?
Insurance premiums, taxes, inspections, a parking ticket, medical visits – yikes!
I don't know about you, but I'm envisioning $ signs flying out the window.
The good thing about most unexpected expenses is that, contrary to the name, they can be planned for.
I'm Type A, and if I can plan for something, I will. (Hence my rather large emergency fund.)
You don't need to go crazy like I do, but consider the list of following "unexpected" expenses you should plan for by way of your emergency fund or separate savings accounts.
1) Medical Costs

About two years ago, one of my wisdom teeth started killing me out of the blue. Unfortunately, I wasn't covered under dental insurance at the time. I started panicking about how much it would cost to get it extracted.
I tried waiting it out, but in the end, the pain won. You should never have to battle over money or your health, either. It pays to have a little set aside for emergencies like this if you're not covered under insurance.
I can't tell you how thankful I was for my emergency fund during that time. The initial estimate had been around $500, but somehow, I didn't need anything more than local anesthetics. The bill came to around $275. Still, that's $275 I didn't have to go into debt for.
2) Your Pets

Pets, while absolutely adorable and very much worth having (in my opinion, anyway), can still be extremely expensive. Especially when something major goes wrong.
Sadly, most of us don't communicate in dog or cat, and we can't tell what's wrong with our pets. Trips to the vet are rarely inexpensive, and the cost of surgery can skyrocket quickly.
If you're a pet owner, a pet emergency fund (or possibly pet insurance) is an absolute must. Watching your pet suffer is one of the most horrible things to go through, and I saw so many tragic endings during my time working at an animal shelter because of a lack of funds. Please be a responsible pet owner and set money aside for these things.
3) Technical Difficulties

As young adults, many of us are attached to some form of technology, whether it be our phones, tablets, laptops, or PCs. Unfortunately, that attachment isn't actually physical. I've seen more broken screens than I care to count as things tend to fly out of our pockets, or we misplace them.
Depending upon what you use, replacing a phone or a laptop can run you anywhere from $300 to $1,000 or more. Ouch! Plus, I highly doubt you want to go more than a few days hours without it. (If you're a freelancer, your computer is pretty much your life, so that's non-negotiable.)
Having that money set aside allows you to make a (hopefully well-researched) purchase immediately without the stress (or debt).
(Funny side note, my mom actually texted me while I was writing this to let me know their TV just died. It happens!)
4) Car Troubles

My 2002 Civic has been fairly trusty throughout the almost seven years I've owned it *knocks on wood*, but there was a period of time just two years ago where it was giving me a panic attack.
I went to start it and something didn't seem right. As I drove away from my apartment and tried getting onto the highway, it would.not.accelerate.
Thankfully, I lived 2 miles away from my job, so I babied it until I made it to work. Long story short, it could have been a serious engine problem, but it needed a new $50 part and the battery terminals needed a bit of cleaning.
Moral of the story: if you heavily depend on your car to get you to your job, you should have it covered. I have a $20/week transfer set up from my checking to my car savings account in case a random repair is needed again. (Or worse, if it needs to be replaced.)
Oh, and don't forget car insurance, property tax on your car, regular maintenance (like oil changes), and inspections!
5) Home Maintenance and Repairs

I'm not a homeowner, and to be honest, the unknown cost of repairs kind of scares me! Growing up, my parents lacked savings, so whenever something went wrong, it went on the credit card.
The HVAC unit malfunctioned and died a few times, the washing machine overflowed, the plumbing needed to be fixed, termites invaded, etc.
It was stressful and I didn't even have to pay (well, I helped out when I was older). Save yourself the worry and bulk up your emergency fund for home repairs.
Take inventory of your home and consider what might need to be replaced in the short and long term. Major/minor appliances, the roof, pipes, plumbing, electric, etc. all need to be factored in.
6) "Hidden" Work-Related Costs

I put hidden in quotation marks because they're not truly hidden; these are costs we don't typically think about until we're in a certain situation.
For example, when I got my first full-time office job out of college, I needed to buy a professional wardrobe. I hadn't been anticipating that, and I spent at least $300 on various items in one go.
Another example: what if an awesome conference/networking opportunity arises, but has a $400 price tag attached to it?
On a not-so-nice note, some employees are expected to front the cost of travel expenses and get reimbursed from their company later on. Could you handle something like that?
Lastly, worst-case scenario here, what if you're injured or become ill and need to miss work? Do you have disability insurance? Do you have enough of a cash buffer to go a week or more without paid time off?
7) Replacing Stolen Items

About a year and a half ago, my car was broken into. In this case, nothing was stolen, but I still had to replace the driver's side window as it was shattered.
There are a lot of expenses associated with theft. Trust me when I say it's enough to feel violated, you don't need to feel overwhelmed about replacing stolen items or fixing broken windows/doors.
Make sure you're covered, whether it's with insurance or savings. Take inventory of your most expensive possessions, store pictures of them in a safe place, get them appraised, write down the values – do whatever you need to do to make it easier on yourself should things ever get stolen.
8) Gifts for Any Occasion

Lots of people go into debt during the holidays because they didn't save for the expense over the year. Don't do that.
Instead, plan out birthdays, anniversaries, holidays, and any other events (is anyone you know getting married or giving birth soon?) that might happen during the year. Figure out how much you want to spend per person/event, and put savings toward gifts each month.
This is a great tip for any of you who tend to forget important events and need to buy a gift at the last second!
9) Insurance Premiums

This definitely isn't unexpected, but if you pay every 6 months, you might forget when your bill is due. Just as with gifts, total the amount you'll need to pay for the year, divide it by 12, and save a bit each month so you're less overwhelmed.
10) Save More as Your Kids Grow

Most parents know they need to keep savings set aside for their kids, but you might want to consider increasing how much you save as they grow (aside from college savings).
Extracurricular activities, travel for sports, theater, ballet, or chorus, school field trips, class dances – they all add up over the years. I know one of the toughest financial years was my senior year in high school.
Our year book, class ring, dances (prom), senior trip, college applications, trips to visit colleges, and graduation attire cost a pretty penny. Take some time at the beginning of each school year to try and anticipate what costs may be headed your way.
___________________
There you have it – 10 instances in which you need to consider adding to your savings. Not all of these will apply to you, but it's a good list to reference when in doubt!


What unexpected expenses seem to get the best of you? Was there ever a time when an unexpected expense threw you for a loop? How did you handle it?