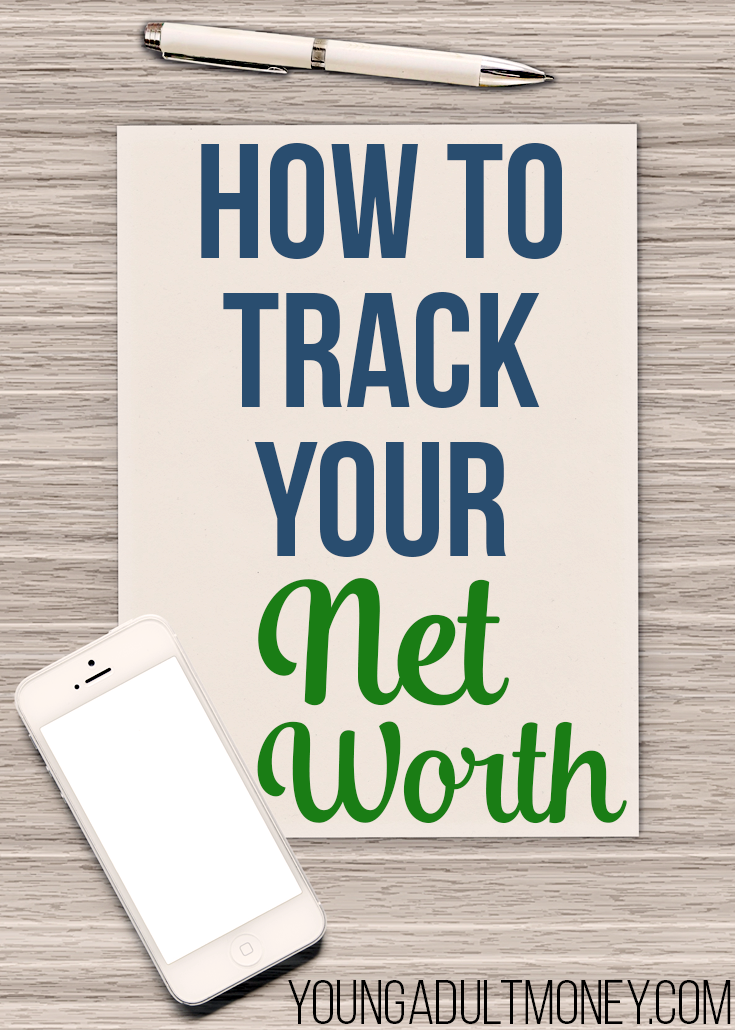 This post is by our regular contributor, Erin.
Do you know what your net worth is? Or how to calculate it? Do you even care what the number is?
I've been torn on the "net worth" debate for a while. Some people live by it, others barely think about it.
So we're on the same page, your net worth is your assets minus your liabilities. Things like your savings, house, car (debatable) are considered assets, and liabilities include any debt you have.
For young adults, net worth can provide an easy measurement of progress toward financial success. If your liabilities exceed your assets, you know you have to work out of being in the red to being in the black.
Let's take a look at why and how you can track your net worth, and review a handy tool that does it for you – all for free.
Why You Should Track Your Net Worth
As we said, knowing your net worth gives you a quick look at how well you're doing financially-speaking. If your liabilities greatly outweigh your assets, you need to work on balancing the scale.
Sadly, many of us graduate college and immediately have a negative net worth thanks to our student loans. Unless we made saving a priority in college, we probably don't have a crazy high net worth just yet.
If becoming debt free and working your way toward a secure life (and retirement) is your goal, then tracking your net worth will guide you toward where to go.
I'm a big fan of knowing your numbers. Without them, you can't form a plan.
People are often way off the mark when trying to "estimate" how much they have in savings or debt. You might even be forgetting some accounts you have!
That's why it's useful to have a tool that does the tracking for you.
How to Track Your Net Worth
Personal Capital is a completely free tool you can use to track your net worth, along with your spending, investment portfolio, and debt. It's an all-in-one deal that goes beyond what Mint is capable of.
This makes it a fantastic tool for investors, or those who want to take managing their finances to the next level beyond just tracking their spending.
If you're familiar with Mint, it works in much the same way. You link your various financial accounts to Personal Capital, and it aggregates them all into one simple, easy to navigate dashboard.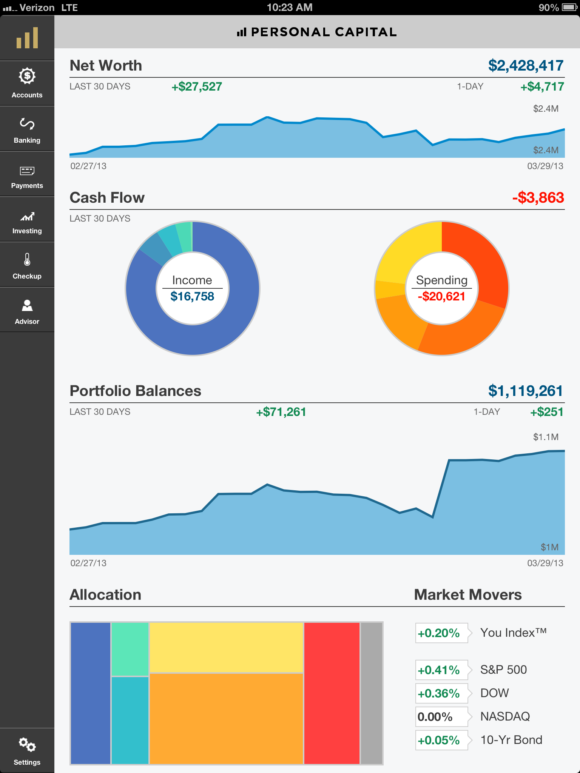 Some people are skeptical of this approach, but Personal Capital has military grade security. If you use multiple devices to check your account, you'll be required to register each of them for an added layer of protection.
Beyond giving you a snapshot of your income and your expenses when you log in, as you can see, you'll also have a net worth graph where you can track your progress to ensure you're headed in the right direction.
Sometimes, a visual representation of our finances is the kick in the butt we need to get serious about making progress. Perhaps you don't realize just how much debt you have compared to your assets, or how little you have saved, making retirement a distant reality.
Get the Whole Story
I'm not always on board with the whole net worth argument because I don't necessarily think it's a good idea to focus so much on one single number.
It's great if you want to check in on your financial progress and get motivated by seeing that number go up, but to improve your financial situation, you need to take a look at where your money is going, and how much of it is coming in.
Thankfully, Personal Capital offers a transaction history and cash flow analysis, as well as spending and income reports. You can also set spending targets for certain categories like you can in Mint. This makes it super easy to track everything.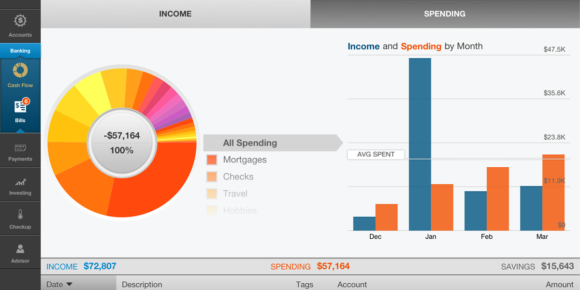 Tracking your spending, along with your net worth, will get you on the right path when it comes to your financial goals. (Plus, these graphs are pretty to look at, aren't they?)
Plus, if you're an investor, or have plans to become one (which you should!), Personal Capital really outshines Mint. You can analyze your asset allocation, see what kind of fees you're paying for what you're holding, and have those fees analyzed. You can also see how your portfolio is performing by comparing it to similar indexes.
On top of that, there's an "investment check-up" and "retirement planner" option for those that want to dive deeper. You can get (automated) advice on how to maximize your returns, and get a feel for where you are on the timeline for retirement.
All of This…For Free?!
Yes. Personal Capital is a completely free tool if you're simply using it for the purposes listed above.
So how does it make money? It has financial advisors you can choose to use if you wish, and you'll pay a fee for this service.
I've heard that some people get contacted about choosing an advisor to work with, but I've seen others say that once they decline, they don't get bothered again.
Do your own research into what's best for your situation. You don't want to be paying more in fees if you don't have to.
Who is it Good For?
Personal Capital offers a whole lot more than Mint does with the addition of the investment side of things, but if you don't have a big portfolio to manage, that's okay!
Simply put, it's free, so there's no reason not to try it if you're looking for a way to automate your finances and easily track where you're at.
Maybe you tried Mint and didn't like it, or maybe you're not quite ready to hire a financial advisor and need some assistance in painting a fuller picture of your finances.
The interface is simple to navigate, you can set alerts for when things change so you stay in the know, and you can check on your accounts from any device. It's available on iOS (even on the Apple Watch), on Android, on tablets, and on PCs.
Even if you're not heavily involved in the investing side of things, Personal Capital can grow with you. It goes a great job of managing the basics (like Mint), and when you're ready to add your portfolio to the mix, you can!
________________
Personal Capital is a useful tool if you have a number of accounts and are having a hard time managing them all. Don't let one slip through the cracks. Tie everything together and use Personal Capital as a one-stop-shop to track your net worth, spending, cash flow, and investment returns.
Do you use Personal Capital, or another financial "account aggregator" like it? What do you enjoy most about it, or why do you use a different method? Do you believe in tracking your net worth?