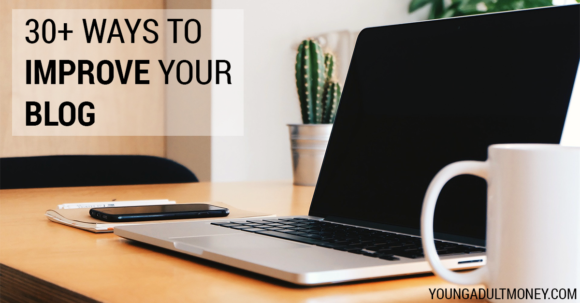 In my 7+ years of blogging and 3+ years of running Young Adult Money, I've spent a lot of time trying to figure out the best way to improve my blog.
It's not always obvious what you can do to improve your blog, especially for new bloggers or bloggers who are just starting to get serious about their blog.
I mentioned to a friend a couple years ago that I was planning to re-invest a chunk of my blog revenues back into my blog. He looked puzzled and asked how do you invest in a blog?
If you are looking to improve your blog it's no different than improving any other business. There are always things to improve and ways to make your blog better.
The important thing to keep in mind when attempting to improve your blog is that it's going to take either additional time on your part or paying someone else to do the work. Improving your blog and creating a more valuable asset doesn't happen without work.
Don't have a blog? Here's a short guide on how you can get started today!
I had a lot of fun making this list of 30+ ways to improve your blog mainly because there is so much I can do to improve my own blog. It reminded me what I need to put on my blog to-do list for the next 6-12 months and what actions I can take today to start improving my blog. I hope you are able to use some of these tips to improve your blog as well.

1) Post More Often
The primary value that most blogs provide to people is their content. Typically the more content you have the more value you provide. The websites that people are visiting daily for content, such as The Huffington Post, ESPN, and Politico, are providing an overwhelming amount of content.
Now I'm not saying you have to publish 50 blog posts a week, but generally the more content you have the better. Not all your posts will be relevant to all your readers, so having more content allows them to pick and choose which posts are relevant to them and ignore the others.

2) Write Longer Posts
If we think of the content of your blog as the chief provider of value to your readers, it makes sense to write longer posts. Longer posts typically go into more detail on a topic and keep the reader on your site and engaged for longer periods of time.
An added benefit of longer posts is that they historically have ranked higher on Google searches. While many blogs today are focused on building a community and reader/fan base, there is nothing quite like having the consistent traffic of high-ranking blog posts.

3) Add Internal Links to Posts
In my opinion the primary goal of blogs should be to keep readers on your site. The likelihood of a reader staying on your site and viewing multiple posts goes up exponentially when you have lots of internal links in your blog posts.
I like to think I'm pretty good at this, but Erin, one of our contributors, is an expert at it. Not only are her posts long, but they also link to a ton of other blog posts on our site.
Only have a few posts on your site? See Post More Often.

4) Make "List" Posts that are More Likely to be Shared
Virtually everyone knows of the website BuzzFeed. Besides making some pretty good recipe/cooking videos, they are primarily known for making "list" posts that are highly shareable. You've most likely shared at least one of their posts on social media.
If you want your post to have a better chance of getting shared on social media, make a list post. Some examples of list posts that have done well for me are 5 of My Small Business and Website Failures, 8 Ways to Make Money Blogging, and 7 Reasons Millennials Need Life Insurance ASAP

5) Create More Original Content
Let's face it: with hundreds or even thousands of blogs in every niche imaginable, it's not easy to think of original content. It's okay to have some or even most of your content be straightforward or "basic," but the more original content you have the better.
Some of my best-performing posts are somewhat strange and out-of-place posts, but they all had a common thread: they were very original. Some examples of these posts are Why Living in Hawaii Sucks, How To Clean Your Gutters Without A Ladder, The Costs Involved in Sinus Surgery, and 10 Things I Learned from Working at Pizza Hut.

6) Keep a Running List of Blog Post Ideas
A challenge that every blogger faces is continually thinking of new topics to write about. The more posts you write the more difficult it becomes to continue to think of new content. Each blogger approaches this problem differently, but there are a few general best practices.
Because you never know when a topic idea will pop into your head, download an app like ColorNote that can be used to quickly add topic ideas on the go. Keeping a notebook with you at all times is another idea. Another idea is to set aside specific time each day and week to brainstorm topics. Finally, make sure that you have a primary or central location that you keep your list (mine is in OneNote).

7) Plan Content in Advance using an Editorial Calendar
Many new bloggers get in the habit of writing blog posts the night before they go live. I think this is a big mistake and contributes to the high burnout and quit rate of new bloggers.
Three years ago I started using an editorial calendar. It's been a huge benefit for my blog, especially as I have added additional contributors. I like to have topic ideas planned out at minimum a couple weeks in advance. I created my editorial calendar in Google Spreadsheets and it's worked really well. You can download the 2016 version here.
I should point out that some blog niches, such as sports or politics, can be extremely time sensitive where you truly are posting blogs immediately after they are written. I still think an editorial calendar can provide value, though, even if it just has high-level topics listed on a given date such as "recap Vikings game" or "Republican debate write-up."

8) Create "Resource" Pages
Resource pages are pages on a blog that are in addition to regular blog posts. For example a personal finance website might have a resource page dedicated to credit cards. This page may be referenced on a blog's header or part of a drop-down menu on the site.
Many bloggers are guilty of neglecting resource pages, myself included. Even though resource pages may not be as visible as blog posts, they can be highly valuable for a blog. For one, they can be referenced extensively in new blog posts. They also can drive affiliate revenue and at minimum can keep readers on the site longer.

9) Get a New Logo
I recently got a new logo on elance and it was a huge win. I only spent ~$60 and the process was painless. I am still working through a redesign so if you are reading this you may not see it, but having a good-looking logo can create or boost brand equity, in turn improving your blog.
Having a good-looking logo can give your brand more legitimacy and make advertisers more likely to work with you. It's also relatively low cost and easy to outsource.

10) Redesign Your Site
While I think content is much more important than the way a site looks, there's something to be said about the value provided from having a good-looking blog. You can either redesign your blog yourself or you can outsource it to someone else.
I personally have spent a lot of time trying to find a good WordPress designer, and have found it very difficult to find one with a good track record. There are many free and paid themes that can give your site an instant upgrade, but I do think customizing those themes or paying a professional can greatly improve your blog.

11) Learn HTML, CSS, & PHP
Regardless of whether you are planning on doing design work yourself or outsourcing it, it still can be valuable to learn HTML, CSS, & PHP. I'm not sure how other bloggers do it but I've always written my blog posts in the code section of the blog post. I like having full control over the HTML that goes along with a post, and I've become very familiar with it over the years.
When I was first starting out with my blog and going the DIY route with virtually everything, including tweaking themes, I struggled through editing the CSS and PHP code. As I said earlier, there is a ton of value in understanding this code and being able to fix your site if anything goes wrong.

12) Research and Utilize WordPress Plugins
One thing I wish I spent more time on was researching and learning about WordPress Plugins. I use a variety of plugins, but I spend virtually no time looking into new plugins that could be used to improve my site. The irony is that plugins are extremely important for any successful blog, so using the best should be a priority for any blogger.
I rely greatly on a few plugins such as BackupBuddy, SumoMe, and Pretty Link. Without plugins it would be much more difficult to manage my blog and have things display and work correctly.

13) Post & Engage on Social Media More
Big brands and businesses typically have someone devoted entirely to social media. The biggest brands have entire teams working on social media full-time. Needless to say there is a ton of value in having a solid social media presence.
Nothing makes a company or brand look insignificant than a lack of a social media presence. Even worse is having an account on a site like Twitter but never updating it. People are giving more of their time and attention to social media these days which translates to an opportunity to capture new readers for your blog and remind existing readers that you exist.
Posting daily is a good idea for most social media websites, especially Twitter and Pinterest. Additionally it makes sense to engage on social media. Engagement is the time-consuming aspect of social media, but most people react positively to a person or brand reacting to their social media posts. If you have the time and capacity, posting and engaging on social media will improve your blog through increased traffic and brand recognition.

14) Schedule Social Media Posts
Social media doesn't have to be done on the fly, at least when it comes to publishing tweets, pins, and other social media posts. I've been using the paid version of Buffer for a couple years now and it has greatly improved both my Twitter and Facebook pages.
For Pinterest there is a service called Tailwind that allows you to schedule pins. While some people swear by it, I haven't found it quite as useful. It's still fairly time intensive to schedule pins, but it does give the added benefit of not having to pin on the fly as well as tells you optimal times to pin. If you want to test it out they offer a free trial.

15) Improve your Images
First of all if you don't know where to get free photos and images to use for your blog, check out Flickr's database of Creative Commons 2.0 images These photos can be used for commercial purposes free of charge as long as you reference back to the original creator (typically just through a link). There are many other databases online that provide either Creative Commons 2.0 images or public domain images.
So when I say "improve" your images, what do I mean? I mean creating images that are tailor-made for social media. When I create images for my post or have Erin create images (which is the case with this post), I do it with Pinterest, Facebook, and Twitter in mind. You can use Photoshop or a service like PicMonkey to edit your images. Brighter images are better.

16) Use Original Photos
If you like photography you have a leg up on other bloggers because you can use original images as opposed to the stock images that every other blogger is using. Using original photos goes along with writing original content: the more unique or original your content is, the better.
Not only will readers like original images better, but so will advertisers. On one particular advertiser/review network I'm a part of they actually ask for links to posts where you used original photos. They want to know that you are capable of taking unique photos that show their products in a positive light.

17) Comment on Other Blogs
One of the biggest mistakes new bloggers make is not commenting on other blogs in their niche. This is such a critical part of blogging that I still (3 1/2 years later) treat it as a top priority.
The reason blogging is so important is because it provides traffic to your blog, a network of bloggers who will likely help you out if you ask, and is a great way to meet like-minded people. You may even become good friends with some of the bloggers you meet. We met up with a couple of bloggers in Las Vegas last Summer and it's been fun to get to know them and other bloggers through commenting and Facebook.

18) Research and Promote Affiliate Programs
Regardless of what anyone else tells you, affiliate marketing is NOT easy. It can be very difficult to make affiliate sales, and a large majority of the things you try with affiliate marketing will fail. Another issue with affiliate marketing is that affiliates are on a variety of networks or even have their own stand-alone tracking system. Needless to say a lot of time can be sunk into it without much to show for it.
I personally took a short break from affiliate marketing this year and made it a low priority. The past couple months I've spent some time getting organized and now have a Google Spreadsheet where I house all my affiliate information. This spreadsheet includes the company, product, payout, URL, and other information relevant to the affiliate. Having everything in one place has made it easy to grab affiliate links and quickly integrate them into post.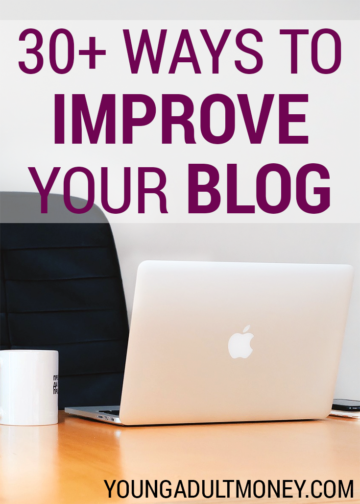 19) Experiment with Facebook Ads
Another thing you can do to improve your blog is experiment with Facebook ads. You can spend as little or as much as you'd like on a campaign, and it's easy to track how many clicks and likes you get through the campaign.
Some of the bigger blogs and content websites pour a lot of money into Facebook ads. To me this is a sign that Facebook ads can be an effective way to improve your blog. It obviously drives traffic to your site but can also lead to other desirable outcomes such as new social media followers or even affiliate conversions.
Keep in mind that if you are going to "boost" a post on Facebook using their ads your image must only have 20% text. If your image is over 20% text Facebook will deny the boost. I learned this through trial and error ;)

20) Look into Ways to Monetize your Site
Even if making money isn't the main motivator behind someone starting a blog, they typically end up making it a top priority. With that being said it's important to keep in mind that most blogs will not make much money – if any – the first 6 to 12 months.
The good news is that there are many ways to make money blogging. Earlier this year I shared 8 ways to make money blogging which goes through a number of options for monetizing your blog.
One thing to think about if you're trying to make money blogging is to have a clear "contact" link/button somewhere on your site (ideally at the top). While most emails I get don't pan out, some have turned into $1,000+ deals. Don't ever discount an advertiser/marketer that emails you and always respond to emails quickly.

21) Hire Writers
I've had writers for over 2+ years now and it's been a huge benefit. From a blogging perspective it gives some diversity as far as voice and opinions. It also allows me as a blog owner to focus on other activities like emails, commenting, social media, and all the other things that come with blog ownership.
When it comes to hiring writers I've found it to be easiest to either ask others for referrals or to simply mention it on your blog and social media. I typically create an ad in Google Spreadsheets (like this one) and blast it on social media. I would highly recommend only hiring people who have a social media presence and a blog of their own.

22) Write a Book
As regular readers of Young Adult Money will know, I have a book coming out in May 2016. I shared How I Got a Book Deal in a recent post and it's been a great experience going through the process of writing my first book.
Writing a book can improve your blog in many ways. First, being a published author gives your blog legitimacy and helps back up your image as an "authority" in your niche. Second, people who read the book will likely go to your site, providing a boost in traffic and new regular readers. Third, it's a product that you can sell through your blog that provides a new income stream.
While writing a book inevitably takes time away from your blog, I think the long-term upside of writing a book outweighs any short-term downside.

23) Create a Product to Sell
While you can definitely make money blogging simply from traffic and advertisements, I think every blogger should have a goal of creating a product to sell through their site. A book is one such product, but certainly not the only product you can sell.
A great example of a product a blogger made is the course Get Paid to Write for Blogs. This course was put together by Cat Alford, who is actually a former contributor to Young Adult Money. Creating an online course about something you are an expert in can be a truly passive income source, which is why I think it's an ideal way for bloggers to monetize their blog.

24) Rewrite your "About" Page
Rewriting my about page is something I've put off for a long time, and it's likely hurting my blog. Having a really great about page can be the difference between someone leaving your site quickly after arriving or converting them into a lifelong reader. While that may sound a bit dramatic, it's also true.
Your about page is typically the first link that a new reader will click on. If it doesn't give them a good impression of your site and your brand, they likely won't see much reason to stick around. Blogs are competing with millions of other brands and companies for people's attention. If you want them to give you their attention you need to show them that you are providing them value.

25) Become More Knowledgeable about your Blog Niche
One of the biggest problems I see bloggers run into is trying to become an authority in a niche that they are not experts on. If you want to be treated like an expert, you need to do your homework.
Reading books, blogs, and magazines on your niche should be a no-brainer weekly activity that you schedule time for. In addition to that it's important to gain the deep understanding of your niche that only time and effort can provide.

26) Offer Something for Free that is Unique to your Site
I already mentioned how writing a book and creating a product to sell can help improve your blog, but there is also value in providing something for free. Many bloggers create short guides or even e-books that they offer for free, hoping that it helps convert people to long-time readers.
When it comes to free offerings, I've focused primarily on spreadsheet-related tools. For example I offer a coupon database in Excel, a spreadsheet for the 52 week money challenge, a 2016 editorial calendar, and a dividend income analysis spreadsheet all free of charge.

27) Ask Readers for Feedback through a Survey
A year or so ago I posted a survey on my site to gain feedback from readers. The questions ranged from what type of content would you like to see more of to how often would you like to see new posts.
The insight gained from this survey can't be understated. It told me that readers overwhelmingly cared about content related to making more money over content related to general personal finance topics. It provided other useful insight that really helped steer the direction of my blog from that point forward.
I suggest using SurveyMonkey for your surveys and trying to keep the question count to 10 or less. Be sure to reflect on the answers to the survey and use them to dictate the future direction of your blog.

28) Sync your email to Outlook & to your Phone
Syncing my blog email to Outlook on my laptop as well as to my phone's email software has been a huge win for my blog. Having email synced to my phone has made it very easy to reply to emails on the fly instead of waiting until I am logged in on my laptop. Some emails are time sensitive and it's allowed me to respond to those as quickly as possible.
I have never used the default webmail that came with my hosting and have always had my email synced to Outlook. Outlook makes it much easier to reply to and organize emails. If you have bluehost as your web host (and if you don't, you should) then you can simply follow these directions to sync your email address to Outlook.

29) Track Income & Expenses Better
Regardless of whether your company is a blog or a mid-size company with 50 employees, every company struggles with tracking income and expenses, and every company can do a better job of it. It's particularly difficult for one-person businesses because there is incentive to put it on the backburner until tax time comes.
If I had unlimited time to improve my blog I would improve my finance and accounting processes. For the second year in a row I've fallen behind on reconciling my monthly finances in a neat Excel format that can be used as backup for my reported tax income.
I currently track advertising details in a Google Spreadsheet and use that data combine with PayPal data and bank records to reconcile my income and expenses. It's not perfect but it's worked for me the past few years.

30) Form an LLC
Forming a limited liability company, or LLC, legally separates your blog from your personal finances. This provides a variety of protections and is something every blog owner should pursue. There really isn't much downside to forming an LLC and there's a lot of downside to not forming an LLC.
You can form an LLC on LegalZoom for $149 plus whatever your state filing fee is. Forming an LLC typically ends up on the bottom of most blogger's to-do list, but it's difficult to argue that it doesn't greatly improve your blog.

31) Open a Business Checking Account
To make it easier to keep track of your blog finances, consider opening a business checking account. Virtually every bank offers business banking and some will even waive the monthly fee. I opened a business checking account for my blog a few years ago at a local bank. Because I had been a customer for years and years they waived the $10/month fee.
You may not end up using your business checking account that often, but it's nice to have. This allows you to deposit checks made out to your business. For example if someone writes a check to Young Adult Money, I am unable to cash or deposit it without a business checking account that matches the company the check is made out to.

32) Identify what sets your Blog Apart
There are thousands of personal finance blogs, so what sets Young Adult Money apart? This is a question I need to think about on a weekly – if not daily – basis. If you don't set yourself apart in the blogosphere there is little chance that your blog will succeed.
If you are looking to improve your blog it makes sense to first know what direction you are going. My site has a few defining characteristics such as it's focus on the millennial demographic as well as the major focus on increasing income. Beyond that I need to continue to identify what makes my blog stand out and what I want to do to stand out in both the short- and long-term.

33) Create a Media Kit
Many advertisers have asked me for a media kit, and I'm embarrassed to say that I still have not made one. A media kit showcases your blog and points out key facts and figures, such as how much traffic you get on a monthly basis, what demographic you target, and other relevant information.
Having a media kit ready to go will help avoid the back-and-forth of advertisers requesting information about your site and will likely result in more closed advertising deals. Having a media kit shows that you are serious about your blog, and not having one gives advertisers the impression that you do not value advertising relationships.

34) Organize Better
Blogging is typically done in people's spare time. Spare time is limited, so bloggers are forced to only focus on their highest priority tasks. Unfortunately that means things like organizing get overlooked.
If you want to improve your blog one way to do so is to get your data, files, and tracking documents organized. I know I'm not the best at saving files in logical locations, nor have I ever made it a priority to have everything organized well. I hope to focus on this more in 2016 so that I can easily find files and utilize data.

35) Network and Make Connections
One huge benefit of having a blog is that you have a reason to connect and network with bloggers, advertisers, and others in the media. You have something that connects you to thousands and thousands of other people who work or do business in your niche. You never know who you will meet through your blog or where the connection will take you.
You need to always be prepared to talk about your blog. At a wedding I attended recently I sat next to a guy that works at Capital One. Unfortunately I did not bring up the fact that I have a personal finance blog. Because he works in business development for the Capital One Cafe storefronts, I could easily see how this would have led to a large advertising deal.
The big takeaway here is to do what you can to make connections with others who are related to your niche, and always be prepared to talk about your blog. It also makes sense to have business cards and a follow-up plan whenever you connect with others.

36) Start a Second Blog
Are you good at managing and improving your blog? Do you want to make more money? If you answered yes to these questions it might make sense for you to start a second blog.
Having more than one blog allows you to improve all your blogs simultaneously. If you hire a writer for one blog they may be able to write for all your blogs. Since you are giving them a higher volume of work, there's potential to negotiate a lower rate per post. The same can be said about virtually everything on this list. The more sites you have the more leverage you have when outsourcing.

If you found this list useful please share it on social media using the social sharing buttons below. Thanks!
________________________
I think this list shows that there is a huge number of ways you can improve your blog. Just like any business there is always something "more" that can be done to create value.
Best of luck as you try to improve your blog and make it better!
Bloggers: how are you improving your blog? Non-Bloggers: when will you take the plunge and start a blog?