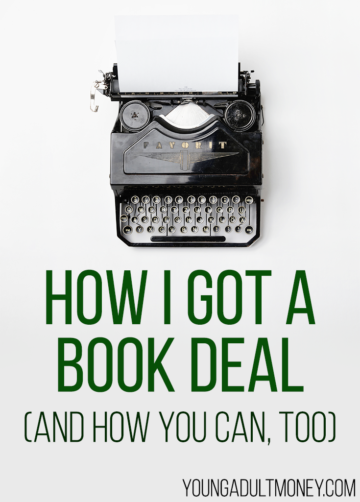 As some of you know I have a book coming out in May 2016.
(Update: The book has been released! Hustle Away Debt is available at Amazon and at Barnes & Nobles!)
Just a couple weeks ago I submitted the final draft to my publisher.
Not surprisingly, many people have asked me the past few months how I got a book deal.
Many people like the idea of writing a book. They don't know where to start, though, and many would prefer to have a publisher than go the self-publishing route.
If I hadn't worked with a publisher I would not have written a book. As far as I was concerned getting a book deal was a necessary first step for me and really a prerequisite to writing a book.
Today I'll share how I got a book deal and how you can too.
How I got a Book Deal
This past Summer I spent many hours studying for, and then taking, the GMAT. I then applied to a part-time MBA program, signed up for classes, and even studied and took a waiver exam.
In August a sales rep for a publisher emailed me asking if I had ever thought about writing a book to go along with my blog. I told her that it's something I'm interested in. We then proceeded to have a call with both her and the SVP of sales.
During that call it was decided I would pitch a book idea to them. This included writing an introduction and table of contents for the book. I took this a step further and wrote (and rewrote) the introduction numerous times as well as wrote a detailed outline of what the book would entail.
After submitting my pitch the publisher decided they wanted to move forward with the book. And that's how I got a book deal.
Tips for Getting a Book Deal
There were many things I learned going through the process of getting a book deal. Here are a few of the things I would suggest people do if they want to get a book deal.
Start a Blog
If you want a book deal the absolute best thing you can do right now is start a blog.
Without a blog I would never have been given an offer to write a book.
My blog is the sole reason a publisher is wiling to work with me. Without it a publisher would have never reached out to me, nor would they have been interested in my pitch. They like the fact that I have an established website/platform to sell the book, a solid brand, and a social media presence.
The bigger your online presence, especially in the form of a blog, the easier it is to sell a publisher on your suggested book. With that being said make sure you start a blog in a niche that is related to your book. A publisher would be much less likely to give me a book deal if my pitch was about something unrelated to my blog niche.
Having a blog also gives you practice with writing on a regular basis. Many people I talk to who do not blog find the idea of writing a book daunting. Bloggers are used to writing on a regular if not daily basis, and this makes it much easier for them to conceptualize what sort of time commitment and effort is needed to write a book.
Read my post on how to quickly and easily start a blog.
Know What You Bring to the Table
It's important to know what you bring to the table and what you don't bring to the table. Over the past couple of years I have shifted my blog to focus on the millennial demographic, specifically the college grad and 20-something demographic. Beyond that I have put a huge emphasis on increasing income over virtually any other personal finance topic.
My book's target demographic aligns with my site's target demographic. Pointing this out in my pitch and explaining how these synergies would exist showed the publisher that I "get" the marketing/sales aspect of the process and I'm thinking ahead to who will be buying and reading the book.
I also made sure that the publisher was aware that I have plans on plowing thousands of dollars into my blog over the next few months. A full redesign is in the works and I have plans laid out of how I plan to grow my blog over the next five months. This shows that I'm serious about making my brand as valuable as possible, which is a good sign for them as they are essentially signing up to co-brand with me.
Finally I made it clear that even though I am a first-time author, I am willing to put in whatever efforts necessary to make the book a success. If that means spending hours each night working on marketing efforts, doing interviews, and whatever else I can do, I'll do it.
Remember, the goal here is to minimize the risk for the publisher.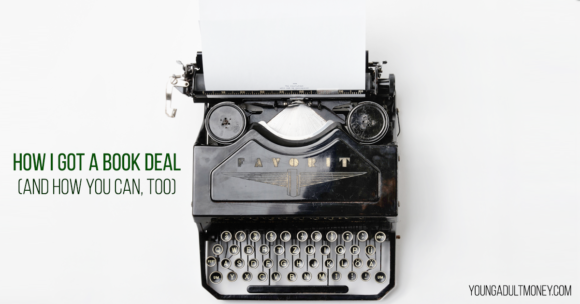 Be Flexible
If you've been writing for a while or you started a blog in the past you know how important it is to be flexible. Especially with blogging where revenues can vary quite a bit from month-to-month, or a topic idea may come to mind last minute, or a big request with a tight deadline could come up, it's important to always be as flexible as possible. Writing a book is no different.
As I said earlier, I was all set to start my MBA this Fall. The book deal came up right before the semester started (which I now view as a blessing), and I knew I had to take advantage of the opportunity. Was it ideal timing? No. But you have to prioritize opportunities.
I was also given a tight turnaround time, approximately three months. I had to be flexible because I knew the publisher was taking a gamble on me as a first-time author.
Don't Be Afraid to Pitch to Publishers
I waited until a publisher reached out to me before pitching a book. I think this helped motivate me because my thought immediately went to oh, they WANT me to write a book? I better make this pitch as good as I possibly can. I didn't want to blow the pitch because it had a higher likelihood of any other pitch to be successful since they were the ones asking me.
You don't have to wait, though. If you have an established blog and brand there is no reason you can't put together a pitch and reach out to publishers directly. I would highly recommend this route if you are anxious to get your first book out there and already have a concept of what it would be, who it would be targeted at, etc.
I think it's also important to always have a pitch ready. I got on the phone with a sales rep and the Senior Vice President of marketing for a publisher to learn about their process. If I was smart I would have prepared a pitch for that meeting. I wasn't smart.
Have a topic and outline for your book ready to go. You never know when you will have the opportunity to pitch to a publisher and it could happen quickly. Your odds of landing a book deal go up dramatically the more serious the publisher thinks you are about writing and selling a book. If you have something ready to go the second they reach out to you they will know you are serious about your book.

If you want to get a book deal, the best thing you can do is start a blog. I can't stress this enough. I honestly believe that if you don't have an online presence you have little to no chance of getting a book deal. Publishers are willing to gamble on new authors, but they want their bets to be as safe as possible. People who have an online presence are much safer bets than those who do not.
Self-publishing has become an increasingly popular choice, especially for new authors, so it would be unfortunate for me to wrap up this post without mentioning it. Self-publishing has it's place, but I think it should be more of a last resort than a first option. Working with a publisher has been a huge advantage for me because I barely had time or capacity to write a book, let alone do all the work for sales, design, editing, marketing, and everything else that goes into a book.
Most people who are writing their first book are not full-time authors. Writing the book won't be your full-time job. With that in mind it makes sense to try to get a book deal instead of self-publish. You will have more time to work on the writing of the book and are much more likely to follow through with actually finishing a book. If it doesn't work out with a publisher you can always go the self-publishing route so you have nothing to lose by first reaching out to publishers.
_________________________
Hopefully me sharing how I got a book deal provided some insights into the process. If you have any specific questions please do not hesitate to leave them in the comments below or reach out to me via email.
Check out some of the other posts I've written about how to build a following through blogging:

Have you written a book? If not, is writing a book a goal of yours? Why or why not?