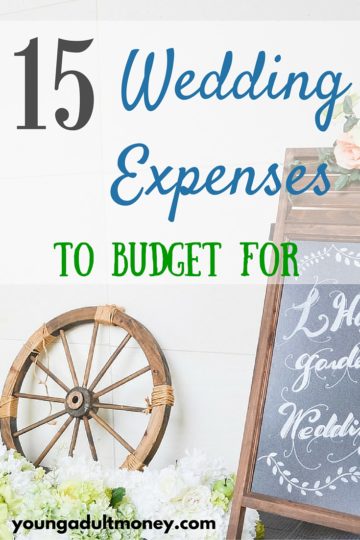 This post is by our regular contributor, Kristi.
Your fiancé just proposed (or you popped the question), and the answer was a resounding, "YES!"
Before you can say "I do," however, you'll have quite a few expenses to budget for.
There are always ways to keep wedding costs down, but a traditional affair can cost as much as a down payment on a house. Some couples are even choosing to spend more than $30,000 to get married.
However much you decide to spend, you will need to create a budget. Use this list of 15 wedding expenses to plan for to help you decide where and how you want to spend money on your big day.
1) Planner/consultant

Some people think that a wedding planner or consultant is a needless expense. I disagree. Wedding consultants are privy to deals and discounts not available to individuals. Especially if you're planning a big wedding and reception, the consultant fee will more than pay for itself in the money that they'll help you save.
2) Bridal attire

There are as many different bridal attire budgets as there are brides. No two budgets will look the same. Here are some of the items/activities that many brides like to budget enough money to cover on their wedding day.
Dress
Unique or professional makeup
Hair styling
Shoes
Jewelry
Garter
Manicure/pedicure
Spa treatments
3) Formal attire

The groom and his groomsmen will need to budget for special attire. Whether he chooses to go with a full tuxedo with tails, or just a new suit, the groom will need to look, well…groomed.
Suit or tuxedo
New Tie/bow tie and matching ties for groomsmen
Cufflinks
4) Wedding Rings

You may choose to go with simple, undecorated bands for your wedding rings, or you could choose elaborate pieces of jewelry that may require insurance. Whichever you decide, make sure that you include the final the cost of the rings in your budget.
5) Rehearsal Dinner

Traditionally paid for by the groom's family, the rehearsal dinner is a time to run over the plans for the wedding, as well as give the sides of the family a chance to meet in a more intimate setting. Some couples choose to cover this expense themselves, though, so make sure to talk to the groom's family and see if they're interested in helping with this part of the wedding budget.
6) Ceremony

The ceremony itself can include a few expenses as well.
Site rental – Either a use of space fee or a donation is usually an expected expense unless you're getting married in a public space or park.
Officiant Fee – Even if your officiant doesn't require this, consider building this expense into your budget. It's a nice gesture to give the officiant something for their time and efforts.
Marriage license – The cost of your marriage license will vary by city and state, but they're usually between $15 and $30.
7) Reception

The reception will by far be your biggest wedding expense. The more people you invite, the more it will cost, of course, so choose your guest list with care. These are just a few of the general expenses you can expect to pay for when hosting a reception:
Facility Rental
Catering/Food
Beverages/Bar fees/Bartender tip
Tax & Gratuity
Photography/videography
Linens
Silverware/China
Tents/Canopies
Chairs/Tables
Dance Floor
Many of these are included in the cost of rental if you decide to book at an all-inclusive reception location. If you choose to have a tent wedding, however, you'll have to budget for each of these individually.
8) Flowers

Flowers, while certainly not necessary, add an elegant touch to weddings. These are the typical flower arrangements wedding parties budget for:
Bridal bouquet
Bridal party bouquets
Corsages for mothers and grandmothers of the wedding party
Boutonnieres for the groom and groomsmen
Ceremony/altar flowers
Any reception flowers
If you want flowers for your wedding, but don't want the high cost, choose in-season flowers. Your florist will help you decide which flowers will work well for your budget.
9) Miscellaneous

Weddings inevitably have unexpected costs. Keep in mind the miscellaneous items mind when building your wedding budget. For example, these are a few extras that you may decide to pick up for your special day.
Unity candles
Toasting glasses
Guest book and pen
Heirloom cake knife and server set
10) Stationery

Surprisingly, stationery can become a significant expense. When choosing your wedding stationery, remember that higher quality paper and ink will cost more than average level options, and while ten cents per invitation difference doesn't seem like much, it adds up when you consider how many of each type you'll need to purchase.
Announcements (i.e. save the date cards)
Invitations
Wedding programs
Menus
Thank you notes
Postage
Every item of stationery on this list is fairly typical of traditional weddings, but really, invitations, thank you notes, and postage are the only necessary items.
11) Music and entertainment

Don't forget to include the cost of entertainment at your wedding. If you decide to forgo structured music, make sure to invest in a good set of speakers for your mobile phone or digital device so that everyone will be able to hear clearly any music you play.
Ceremony (church organist, string music, etc.)
Reception (Live music or a DJ)
12) Favors

Favors fall into the "not necessary" category for wedding expenses, but they're definitely a nice gesture for guests who have incurred considerable travel expenses to attend your wedding.
13) Wedding Party Gifts

Again, another "not necessary" expense. However, your wedding party will have spent a considerable amount of time and money to take part in your day. Gifts give you a chance to show your wedding party how much you appreciate their standing beside you as you say "I do."
14) Transportation

Whatever method of transportation you decide to use for your big day, make sure to get an accurate price quote from the companies you're looking at using. You don't want to be blindsided by hidden costs for insurance and tax etc.
Limousine
Car rentals
Flights for a destination wedding
15) Honeymoon

Be sure to include all of the hidden costs of travel and activities when planning your honeymoon. There's no bigger downer than being on your honeymoon and not having enough money set aside to truly experience the location you'll be visiting.
Transportation (Uber etc.)
Passports
Accommodations
Food
Daily spending
Activities and outings
When deciding on your wedding budget and going over expenses, remember that your wedding is as expensive as you choose to make it. You don't have to have all the frills, bells, and whistles to have a special day.
If you're willing to make concessions like downsizing the number of guests or choosing the less expensive location, you'll be able to spend more money on the things that matter most to you.