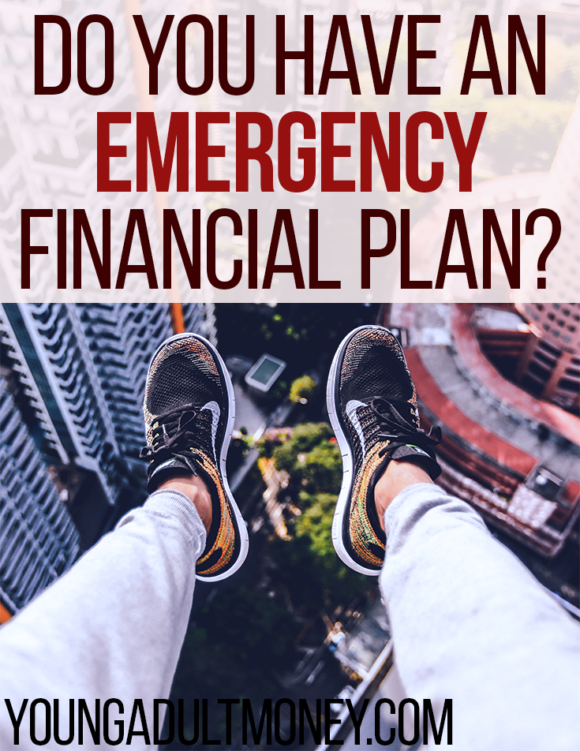 This post is by our regular contributor, Erin.
Have you thought about what you would do if you lost your job? Or became disabled to the point where you couldn't work?
What if you were in a severe car accident that left you in the hospital for a week?
It's a scary and overwhelming thought, especially if you're young, single, and worried about having enough money to cover everything. But it could happen to anyone at any point.
Having an emergency financial plan is essential to give yourself some peace of mind. We're going to review some ways you can prepare in advance to lessen the blow of a financial emergency occurring, and I'll share what my personal emergency financial plan is.
The Importance of Having Side Income
There's nothing that will help you cope better with the loss of a job than having other streams of income to rely on. That's why diversifying your income is just as important as diversifying your investments. You're reducing your exposure to risk!
If I ever return to working full-time at a 9-5, I would still keep some of my freelance gigs because it's so important to have extra earning power. If you've been thinking of starting a side hustle to earn more and work toward having freedom, you can check out our ultimate guide here.
Of course, it's even better if you already have side income set up, like having a rental property that's been cash flow positive for a few years, or a blog that's been producing income every month from ads/affiliates.
Additionally, if you become disabled and unable to perform your job because it's physically demanding, working from home doing lighter work may provide another solution.
Think About Prioritizing Your Debt
If you lose your job or a major source of income, credit card debt can get in the way very fast. It's easy to feel like you're drowning because you can't afford to pay for your mortgage/rent and utility bills on top of everything else.
Let's not talk about the fact emergencies always happen when you least need them to!
Unfortunately, your creditors don't care – those bills need to be paid, too.
Hopefully you're in a good situation right now. If you're dealing with a lot of consumer debt (on top of student loan debt), you should strongly consider prioritizing it while you can.
Getting it out of the way now means having more breathing room if you ever lose your job.
At the very least, see what repayment options your creditor extends to borrowers. Some may be willing to work with you and lower your interest rates if you've been a long-time customer.
Preventative Maintenance is Key
Another thing you can do to lessen the chance of an emergency happening out of the blue is to keep up with preventative maintenance on things like your home, car, health, and pets.
A lot of people are guilty of ignoring ongoing issues out of fear of cost. I've been there, and I've seen my parents do the same.
If you're already in debt, the last thing you want to discover is your house needing a new roof, your car needing a new set of tires, you needing a root canal, or your pet needing pricey surgery.
It's a huge blow – no one likes receiving that kind of news. However, it's better to know beforehand because that usually means the "fix" won't be as expensive.
If you start hearing a weird noise in your car and choose to ignore it, that could result in your engine calling it quits down the road. A small noise might not seem like an emergency now, but it could lead to one.
Ignorance isn't bliss when it comes to the things you rely on every day. Take care of your property, your family, and yourself now so you don't have to stress about it later (when you're possibly in a worse financial position).
The Ultimate Emergency Fund
Typical emergency funds are meant to be used for one-time things that pop up, and then you replenish the fund to prepare it for the next thing that may hit.
Unfortunately, in the event of a death, an emergency fund isn't going to cut it. Even if you have five figures saved up, it won't be enough to sustain your family depending on the circumstances.
That's where life insurance comes into play. You never want to worry about how your family will cope after you're gone; you want to know they'll be taken care of. Likewise, if your spouse passes away, you don't want to worry about how you'll make ends meet while grieving.
Estate plans, wills, and life insurance are all key parts to any financial plan for those who have dependents or cosigners on loans.
My Emergency Fallback Plan
I've seen what not having a plan can do when my dad was laid off several years ago. My parents had been struggling to pay off consumer debt and were living paycheck to paycheck. Any amount they managed to save up (usually around $1,000) was wiped out by home repairs.
Sadly, that was partially because they didn't have enough money to make repairs when necessary. That's why preventative maintenance is so important when it comes to your larger assets!
So what would I do if everything went wrong right now, and all my clients (and my fiance) disappeared?
First line of defense: I have a healthy emergency fund because I'm a freelancer (and a worrier). I have 6 months of living expenses saved up.
I'd go down to a bare-bones budget to cut down on dipping into my savings. I'd look to gain new clients by reaching out to all my contacts, letting them know about my availability.
If, for some reason, work was still scarce, I'd move back in with my parents. It's not ideal, but it beats being stressed out about paying rent.
I'd continue looking for work, picking up a part-time job if needed. Living with my parents would mean being responsible for my student loan payments, cell phone bill, car insurance, gas, my cat, some food, and personal care items. I'm fairly sure I could keep that all below $500 per month, which means my savings would be good for more than a year.
In a worst case scenario, I would apply for some sort of repayment assistance for my student loans so I wouldn't have to make payments for a few months.
I know – I'm lucky I don't have kids or a house, so my emergency financial plan is simple and realistic. For others, that's not the case, and that's why life insurance can be a good thing to have.
____________________
Creating a financial plan in case everything goes wrong might seem a little extreme, but after witnessing the chaos that can ensue, I wouldn't be without one. Then again, I'm a realist, and preparing for the worst is a tendency of mine! I'd rather be safe than sorry.
Do you have an emergency financial plan? What would you do if you lost your job or a huge source of income? How do you think you can prepare to bounce back easier?