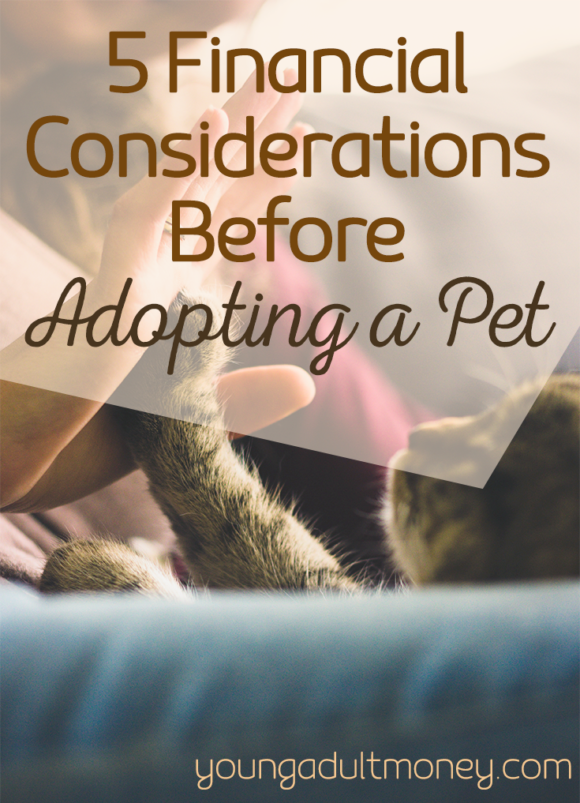 This post is by our regular contributor, Erin.
Have you ever visited an animal shelter, a rescue organization, or a breeder when looking to adopt a pet? It's really hard to say "no" when adorable puppies and kittens are vying for your attention in the most adorable way, isn't it?
I get it. I worked at an animal shelter, and I always wished I could give all of the dogs and cats there a home.
While I appreciate people's enthusiasm for wanting to adopt a pet, sometimes the enthusiasm leads to neglecting the financial aspects of adoption.
You fall in love with a dog or a cat and want to take it home immediately. Maybe the upfront adoption costs aren't enough to make you think twice, but pets can be downright expensive to have, especially in the future when they're older and experiencing health problems.
I could tell plenty of stories from my time working at the animal shelter of people who were financially irresponsible and couldn't afford to take care of their pet anymore. That's a situation no one wants to be in. Please take these financial considerations before adopting a pet to heart before taking one home.
1) Vet Bills
This is the first and most important. If your pet is having any problems, then they need to go to the vet. You could get a bill that's less than $100, or your pet could need a series of ongoing treatments that total well over $1,000. Surgery could cost a few thousand dollars.
Thankfully, there's pet insurance, but it's not a magical solution by any means. More often than not, basic insurance doesn't cover routine things like physicals, and it won't cover the entire cost of a surgery or any pre-existing conditions your pet is determined to have. You'll still have out of pocket expenses (and a deductible) that need to be planned for.
I highly recommend saving a separate emergency fund for your pet should anything happen to them. If you can't afford to treat your pet, you probably shouldn't have one. You might be able to provide a home, food, and love for a pet, but you also need to make sure you can provide the proper care for them.
"But my puppy/kitty is healthy!" Sure, but dogs and cats often don't know any better when it comes to making good decisions. You know, curiosity killed the cat and all…
One of my former coworker's dogs decided to eat a bunch of fast food wings that were left on a table one day. My aunt's dog ate an entire loaf of bread that was left on the counter. DC's friend's dog ate a corn cob and the surgery cost $5,000. My dog used to love going through the garbage.
Pets are unpredictable, especially when they're younger and enjoy getting into all sorts of mischief. It's best to be prepared.
2) Food Costs
Processed food from the grocery store has been proven to be garbage for pets. It's like the equivalent of eating ramen constantly. Unfortunately, grain-free, wet food, or raw food can be ridiculously expensive, depending on how many pets you have and how large they are.
It can be worse for pets that need prescription food. At one point, DC was paying $730 per year for cat food. Most of the "high-end" brands of cat food I've looked at and purchased are between $30-$40 for a larger bag (over 10 lbs), or $1.50 – $2 per can of wet food. It's not impossible to pay $1,000 per year for pet food, especially when dogs are in the picture.
However, I think it's worth splurging on food. Just as it's better for us to eat well for our long-term health, it's worth it for our pets.
3) Vaccinations and Spay/Neuter
The shelter I worked at provided all the "starter" shots and vaccinations pets needed when they were in the shelter, so upon adoption, most of them were good to go. The shelter also had a vet come in who took care of all the spaying and neutering.
If you adopt from a place that doesn't provide these services, you might be looking at a hefty first vet bill. A lot of people don't realize how much these procedures cost, or aren't aware they need to do them.
I'm not going to debate the merits of getting your pet spayed or neutered, but pets do require ongoing vaccines for things like rabies, distemper, FeLV, and bordatella. How often is up to the discretion of your veterinarian (for example, indoor cats face less exposure to disease than indoor/outdoor cats), but it's a good idea to go for an annual exam regardless.
Plus, if you board your dog, it needs to have the vaccinations required by the boarding facility. On the chance you want to adopt another pet, most shelters and rescue organizations will do a veterinary check to see how often you treat your pets and if they're up to date on their shots. Preventative care is key with pets.
4) Miscellaneous Costs – Boarding, Grooming, Etc.
Do you travel frequently? It helps to have a friend or family member nearby who's willing to check up on your pets, or take them in while you're gone. Otherwise, petsitting and boarding costs can add up quickly. If you can, take turns watching your friends' pets so you can all benefit anytime someone goes away on a trip.
Do you work long days at a place where dogs aren't allowed? You might have to invest in a dog walker or someone to check up on your dog during the day when you're not home. It helps if you can use your lunch break for this, but that's not always possible.
You can choose to groom your dog, but certain breeds are more high-maintenance than others. My aunt gets her Bichon groomed at least once per month to keep him looking handsome.
What about hiring a trainer to work with your dog if it has behavioral issues? Or choosing to go to a class to socialize your dog?
These are just a few costs most people don't think about when adopting a pet.
5) Research the Breed
Lastly, it's important to research the breed of dog or cat you're considering adopting beforehand, as each breed has different medical conditions they're prone to. For example, many Labs need hip surgery due to hip dysplasia, and Pugs often have respiratory problems.
Lifespan also differs across breeds, which can help you determine how much you need to save. Beyond that, larger dogs typically cost more at the vet. When I worked at an animal shelter, most of our services were priced by weight tiers.
________________
Adopting a pet can be one of the best decisions you make, and they're great additions to any family. Just don't adopt blindly. Take these financial considerations seriously so you can be the best pet owner possible for your furry friend.
What unanticipated costs have you run into with your pet? Do you include pet-related expenses in your budget? Do you have a separate savings account for your pets? What's the best thing about having or not having a pet?