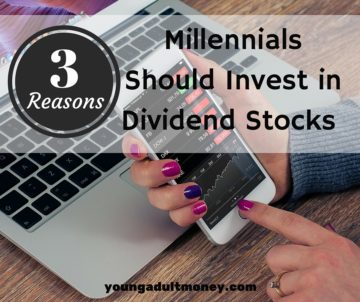 This post is from our regular contributor, Kristi. 
Dividend payouts are a way for companies to reward shareholders who invest with them, and they also generate trust with shareholders that their company is profitable.
Dividend stocks pay a portion of the company's earnings back out to the shareholders.
As with all areas of the stock market, there are pros and cons to every kind of investment. Every investor should take pause before diving into any new investment strategy.
That being said, millennials who are just starting to explore the market should definitely consider dividend stocks as one of their stock options.
Here are three main reasons that millennials should invest their money in dividend stocks.
1) Dividend stocks can be low risk, long term investments
There are many investors who don't trust or take part in dividend paying stocks. Part of this could probably be attributed to Lehman brothers paying out to their shareholders weeks before folding the company back in 2008, and giving dividend stocks a bad reputation.
Even in a Forbes article which cautions about the risks associated with dividend stocks, the author, John E. Girouard, writes "As long as your time horizon is 10 or more years, you could very well reach your financial goals." Millennials have the 10 or more years necessary to make dividend stocks work for reaching their financial goals.
Most dividend yields per stock are inconsequential, literally pennies (or dimes) per dollar. Added together and compounded over time though, they can start to snowball into a sizable nest egg for retirement or transferring into other investment options.
Note about yield percentages
When choosing to invest in dividend stocks, look for reliable dividend yield increases. Dividend yield equals the annual dividend divided by the stock price. If you choose your stocks well, the company's dividend yields will be well-established and offer reliable increases every year.
Remember when picking out stocks that dividend yield and company share price are directly correlated. If the share price drops considerably, the dividend yield percentage will shoot up, making the share look like an attractive stock option. Everyone wants high paying yields, right? Attractive high yield percentages could be the direct result of falling stock prices and lowered share value. Don't get caught in the trap of buying low value shares with high yield percentages.
If you aren't sure what your earning potential could be, use a dividend yield calculator to better understand your stocks' dividend yield potential.
2) Dividend stocks can be a source of steady Income
There aren't very many ways to earn money by doing literally nothing at all. With dividend stocks, once you invest, you will see a cash return on every payment date. If you get to a point where you have invested enough, you may even be able to live off of your passive income created by your dividend stocks.
Because companies are legally required to share reports of their earnings on a quarterly basis, most companies pay out dividends to their shareholders on a quarterly basis as well. So essentially every quarter after investing, you will see a return on your money.
Some companies choose to pay out dividends monthly however, which is an attractive feature for people who are looking for a steady source of income from their investments. Quarterly or even monthly payments aren't too shabby for a passive income strategy.
3) Compounding your dividend stocks can maximize your earning potential
If you are more interested in compounding your earning potential long-term, instead of using your dividends for a cash payout, look into establishing a Dividend reinvestment plan (DRIP).
Many companies offer the option of automatically reinvesting your dividends as new shares into their company with these reinvestment plans. DRIPs allow investors to automatically reinvest their dividends (usually) commission free and at a reduced rate from current share prices. Meaning, your investments will cost considerably less than if you were to buy the same number of shares outside of a DRIP. By using a DRIP you will be maximizing your compounding earning potential.
It's important to note that dividends are considered income. So, one disadvantage of automatically reinvesting your dividends with a DRIP is that you will be taxed annually on money that you never had in hand.
Things to consider
Pay close attention to the ex-dividend date
Two terms to understand when looking to invest in dividend shares are the "ex-dividend date" and the "payment date." It is absolutely essential that you look at the ex-dividend date carefully when buying stock.
In order to receive the next available dividend payout, you must buy your shares prior to the ex-dividend date. If buy your shares after the ex-dividend date, the person or company from whom you purchased your shares will be the ones to receive the dividends instead. The payment date is the actual date on which shareholders will receive their dividend payments.
How to pick dividend stocks 
When looking to invest in dividend yielding stocks, it can be tempting to choose based off the dividend yield alone. Remember that some high paying yields, which are attractive to new investors, may not be sustainable long-term.
Use your dividend stocks to reach your financial goals
Millennials have a definite advantage when it comes to investing in dividend stocks. We have time on our side to help iron out any bumps in the long term health of our investments. Dividend stocks, compounding over the course of your career, could become steady source of income by the time you're ready to retire.
If you pick your dividend stocks carefully, your dividend yield payments could be a way for you to fast track your way to financial independence and finance your ideal lifestyle.
Check out our dividend calculator tool to figure out how much money you would need to live solely off of dividend income.
Are dividend stocks part of your long-term investment strategy?