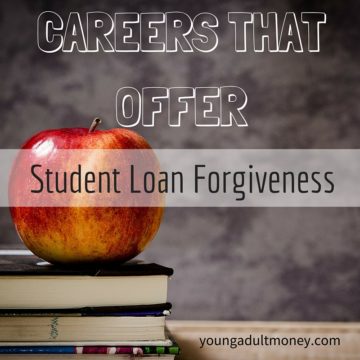 This post is from our regular contributor, Kristi.
Please note: This post presents only a general summary of information regarding student loan forgiveness opportunities. It does not presume to be authoritative or complete, as student loan information changes periodically.
Not having enough savings for college, combined with skyrocketing tuition costs means that college students are looking at an average of $30,000 in debt by the time they receive their degree. As reported by CNN Money 40 million Americans and counting are saddled with student loan debt.
Those high costs of tuition can have a negative effect on certain job markets. No one wants to graduate college with $30,000 in debt only to take a $30,000 a year job in low paying or high risk public service job. In order to fill these necessary community roles, federal student loan forgiveness opportunities have emerged as a way to entice new workers into less than appealing job markets.
Most student loan programs require a minimum period of employment in exchange for debt repayment, cancellation, or forgiveness. Exchanging two or three years of employment for a less than stellar job opportunity may be the answer to your student loan debt repayment problems. Keep in mind that you will not be eligible for any of the below student forgiveness programs if you aren't current on your payments or if your loans are in default.
That being said, here is a list of careers and their programs that offer student loan forgiveness opportunities.
Public service workers with Federal Perkins Loans
Federal Perkins Loans offer loan cancellations for full-time public service employees, whose loans have not been consolidated. Family and child services employees, law enforcement and correctional officers, and public defenders can all seek cancellation of their Perkins loans.
Public Servants with loans other than Federal Perkins Loans can see loan forgiveness through the Public Service Loan Forgiveness Program (PSLF). The PSLF is available to any worker of a government organization at any level (federal, state, local, etc.), tax exempt organizations, or for-profit organizations with a qualifying service. Workers for labor unions, political parties, and for-profit organizations that don't offer a qualifying service are not eligible for PSLF.
In order to receive PSLF as a public servant with a qualifying loan, you need to have made at least 120 qualifying monthly student loan payments. Even if you have reached 120 qualifying payments, PSLF is not guaranteed, and you will still need to apply. The PSLF program is still being developed, and the applications will be available prior to October 2017. Debts forgiven through the PSLF program are not considered income, so you will not be held liable for tax on the forgiven amount.
Federal Agency Employees
Federal agencies that are having a hard time finding new employees are allowed to offer student loan repayment assistance. New employees who are hired with loan assistance provisions must work for the federal agency for a minimum of three years. The agency is allowed to pay up to $10,000 per year per employee, but the total assistance given cannot exceed $60,000.
Volunteer organization workers
Certain volunteer organizations offer loan forgiveness. For example, AmeriCorps, Peace Corps, and Volunteers in Service to America (VISTA) all have student loan awards or repayment options after you have completed your term of service to the organization. Visit their websites to learn more about student loan programs for volunteers.
Teachers
Teacher Loan Forgiveness Program:
Teacher loan forgiveness is for Direct Subsidized Loans, Direct Unsubsidized Loans, Subsidized Federal Stafford Loans, and Unsubsidized Federal Stafford Loans.
If you have any of the above loans, and you teach in a low income school district, as a special education teacher, in an underemployed subject area, or in a teacher shortage area, you may be eligible for the Teacher Loan Forgiveness Program through the federal government. Depending upon your skill set and years of service as a teacher, you could receive between $5,000 and $17,500 in loan forgiveness through the Teacher Loan Forgiveness Program.
Teacher Cancellation Program
If your student loans were obtained through the Federal Perkins Loan Program, you may be eligible for the Teacher Cancellation program. If you're eligible for the Teacher cancellation program, you could potentially receive cancellation of up to 100% of your Federal Perkins Loan.
In order to qualify, you need to teach at a low income school, teach an under-employed subject area, or serve as a full-time elementary or secondary school special education teacher.
Once you qualify, you will receive a 15% cancellation of your loan for the first and second years of teaching, 20% cancellation for the third and fourth years, and 30% cancellation for the fifth year. Each amount canceled per year also includes the cancellation of any interest that accrued during the year.
Visit the Federal Student Aid website to learn more about whether you could qualify for student loan forgiveness or cancellation.
Nurses
Registered nurses, advanced practice registered nurses such as nurse practitioners, and Health Professional Shortage Area (HPSA) facility nurses all may be eligible for student loan repayment through the Nurse Corp Loan Repayment Program. Preference for this loan repayment program is given to nurses with the greatest financial need, the type of facility at which they work, and the HPSA designation of their employer.
Nurse Corps Loan Repayment Program participants will be given 60% of their qualifying student loan balance, in exchange for a minimum 2-year service commitment. Qualifying participants may receive an additional 25 percent off of their original loan balance for a third year of service. The full loan award amount is taxable, so bear that in mind if you apply for the program.
Download the Nurse Corps Loan Repayment program PDF to better under the qualifications and fine print of the program.
SEMA – Automotive aftermarket industry manufacturers
Automotive aftermarket industry manufacturers who are employees of the Specialty Equipment Market Association (SEMA) can apply for the SEMA Loan Forgiveness Program.
SEMA members can apply to receive a minimum $2,000 award to apply for any outstanding student loans. The top recipient picked each year receives a $5,000 award.
To be eligible to apply for the program, you must have been a SEMA employee for at least a year, hold a degree or certificate of completion from a college or technical school, have at least a 2.5 GPA, and you must have at least $2,000 of outstanding student loan debt.
The next application process for the SEMA Loan Forgiveness Program begins November 1, 2015.
A new career could help you pay off your loans faster
It can feel impossible to understand student loan repayment and forgiveness options, because each program has their own convoluted set of qualifications and eligibility requirements. Really make sure you do your research and truly understand your options before making any decisions about pursuing a student loan forgiveness program.
Qualifying for one of these student loan debt forgiveness programs through your employer could be a life-changing way to unsaddle yourself from burdensome student loan debt. If you don't qualify for any of these opportunities, perhaps you consider a career change as a way to pay off your student loan debts.
If you aren't sure what types of loans you have or what debt forgiveness programs you may be eligible for, login to My Federal Student Aid to find out the information you need to know about your debt.
Check out DC's new book Hustle Away Debt to learn everything you wanted to know about making money through side hustles!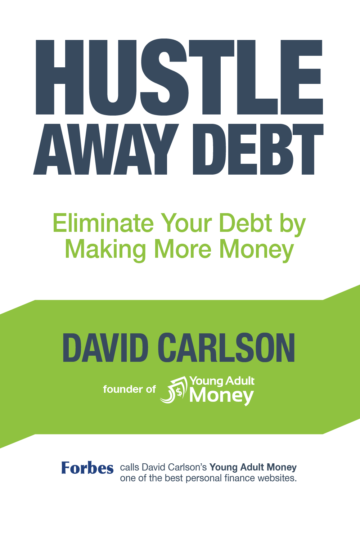 Have you ever applied for a student loan debt forgiveness program through your employer? Would you consider changing careers to become eligible for cancellation of your debt?