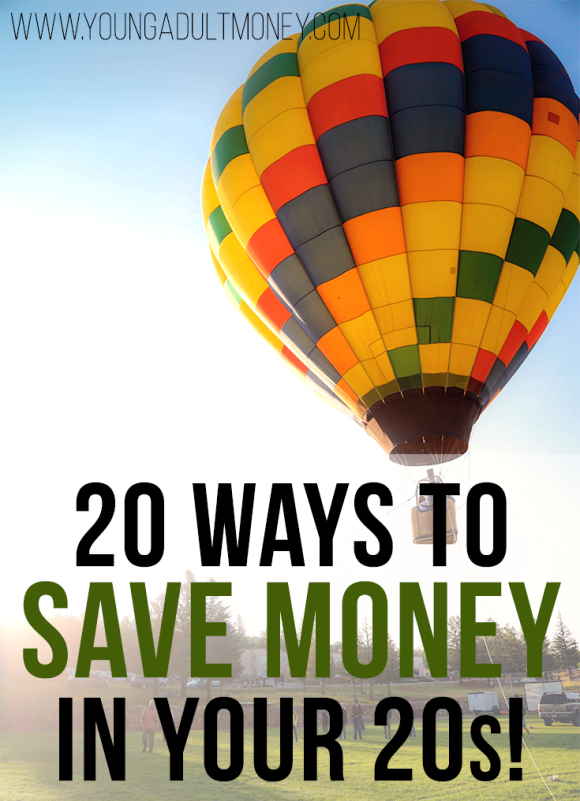 This post is by our regular contributor, Erin.
I think we can all agree that starting to save money early on is valuable. The problem isn't being aware of the fact – the problem is figuring out how to save.
As young adults, we have a lot of expenses, and typically, a limited amount of income. If you're a regular reader, you know we advocate side hustling to amp up the "earn more" side of the equation, but it is worth spending a little time on the "spend less" side of things.
That's what this post is dedicated to.
If you're motivated to start saving and just can't seem to find the money in your budget, these 20 ways to save money in your 20s will help get you there!
1) Practice Delaying Purchases
You can use this method in a few ways. First, you can practice delayed gratification, which basically means sleeping on your decision to buy something. This is great if you're an impulse spender who can't seem to say "no." By taking a few extra days to think a purchase over, you might find you don't want it after all, which allows you to save money.
Second, you can also settle for buying something at a price-point more affordable to you, rather than getting the whole package for more. DC has given the classic example of buying a fixer upper. So you want to be a homeowner, but you can't afford your dream home. Instead, you settle for a fixer upper, making renovations as your budget allows.
This is a smart move because your bank account won't take a huge hit and you (hopefully) won't be underwater on your mortgage any time soon.
Third, simply being content with what you already have and delaying an "upgrade" can help save you money. I'll give you a few examples: driving your car until it dies, keeping with "outdated" technology when it suits your needs just fine, and (a personal one) using any products you've purchased until they're completely empty/gone.
2) Buy Generic Brands
This is self-explanatory, but buying generic can save you a lot of money. By going with the "right" store brands, you won't even have to sacrifice on quality. There are plenty that taste just as good as the name brand!
For example, my fiance gets store brand condiments, bread, cereal, and coffee creamer. He even gets store brand deli meat. Each of these is at least 50 cents to a dollar cheaper than their name brand counterparts. Experiment!
Costco's Kirkland brand is great, too. They have the best paper goods. I always stock up on its toilet paper, tissues, and paper towels for less. Who needs Kleenex, Puffs, or Bounty?
3) Rent an Extra Bedroom
The best way to save a decent amount of money is to lower your housing costs. This can be done in a number of ways, but one of the easiest is to rent out a spare bedroom. You can do this if you own a house with a separate living space (basements work well as long as they're legal), or get a 2 bedroom apartment with a roommate.
If you're feeling adventurous, you can even rent out a spare bedroom on Airbnb and make new friends, but be aware this does come with some costs (keeping the apartment clean and stocked).
4) Use Coupons When Possible
There aren't many reasons to pay full price for things these days, especially when you're ordering items online, or buying food at the store. It's so simple to check for a coupon code, you'd be foolish not to. That's basically leaving money on the table.
Sometimes, half the battle with couponing is organization. If that's the case, consider downloading this helpful coupon database spreadsheet. You'll be a coupon-using master in no time.
Alternatively, if you use a loyalty card from a store, you can load digital coupons onto it so you don't forget them at home.
5) Ditch Your Cable Subscription
I've never been a huge fan of TV, but I know others who can't live without it. While negotiating with your cable provider can be helpful, you'll save the most by completely canceling your service.
With Hulu+, Netflix, and Amazon Prime Instant Video, you'll be able to watch all your shows for a fraction of the price. Sports fans may need to find other alternatives (like going over to a friend's house that has cable).
6) Use a 0% Balance Transfer Offer
Do you have credit card debt at high interest rates? Looking around for a 0% balance transfer offer with 0% interest may be beneficial. You can transfer your old credit card balance to a new card without incurring a fee, and without having to pay interest on the balance for a set period of time.
Many credit cards typically charge around 3% for a balance transfer fee. If you have a $5,000 balance, that means paying $150!
The one caveat with this is you should be 100% sure you can pay off the balance within the allotted time frame, otherwise, your balance will start to accrue interest again. Run the numbers and have a plan.
7) Focus on Free Entertainment
As a young adult, it's easy to get swept away doing the same expensive activities over and over. Going to see a movie, going out to dinner, going to a bar, or going to a concert, sports game, or comedy event can add up week after week.
While you don't have to give all of that up, focusing on free entertainment options such as having a potluck, movie, or game night with friends once in a while will save you money. Going to a party at someone's house is also probably cheaper than a night at the bar. Think outside the box and change things up.
8) Say Goodbye to the Gym
Not all gym memberships are pricey, but unless you go on a consistent basis, they're not worth the money. Recently, I've been using YouTube videos to get in shape. There are a bunch of different body weight workouts available, and running/walking/hiking is always free.
It just comes down to knowing yourself. If you keep saying you're going to go to the gym, and never make it there…you have your answer.
9) Take a Money Savings Challenge
There are a number of money savings challenges out there, from the 52 week savings challenge, to having "no spend" days or weeks, to periods of self-imposed shopping bans on the items you can't stop buying.
Challenge yourself to save, and get some friends or family members involved. Make it into a competition for extra motivation!
10) Unplug For a Bit
Most of the time, when we're looking at a screen, we're either being advertised to, or influenced to buy something. This could mean traditional ads to getting jealous of friends who just got back from a fancy vacation, dinner, or shopping haul.
Unplugging, even for a day, enables us to focus on what's really important. Keep your financial goals in mind at all times, and don't be easily swayed by what you see in the media. Companies want your money – it's up to you to keep it.
11) Bring Your Lunch to Work
This is a "common sense" tip, but bringing your lunch to work, at least 4 days out of the week, will save you a lot in the long run. If you're spending $7 on a meal every weekday, that amounts to around $1,820 per year. That could easily go toward something else, like a vacation.
12) Bike or Walk Places
This goes along nicely with getting rid of that gym membership! If you live in or near a city, try walking or biking to destinations, rather than driving.
Transportation is another expense that can be on the larger side if not kept in check. By using your car less, you'll save on gas, maintenance, and, stress if you encounter a lot of traffic!
13) Focus on Quality Items
Buying a more expensive quality item might sound counter intuitive, but think of it this way: if you spent $10 on something now, only to have it break every two months, you'll spend $60 over the course of a year replacing it.
Instead, why not splurge for the quality item that may cost you $60 to begin with, but will last for years?
14) Embrace Minimalism
Living with less isn't for everyone, but at least take the time to consider it. My parents tend to hold onto things a lot, and without thinking, I inherited their habits. Now, I just want to go through my entire apartment and clean everything out.
Clutter takes up space. Larger houses and apartments cost more. Storage costs a lot. If you need to move, getting a larger truck is more expensive. Having a "need" to buy more stuff is costly.
It's not worth it. You can't take things with you in the end. Be happy with what you have, and make it a point to ask yourself if you truly need something before bringing it home.
15) Switch Your Cell Phone Plan
This is one of my favorites. I went from paying $92 per month with Verizon to around $30 with Republic Wireless. I still get decent service, the phone works just as good as my old iPhone 4S, and I'm saving over $500 every year.
There are no shortage of alternative carriers out there these days. Pick one with the best coverage near your city and see how much you can save.
16) Ask for Discounts
Does it ever hurt to ask for a discount? The worst response you'll get is a "no." Saving money is worth the temporary discomfort asking for a discount brings, and you'll get over that the more you ask.
This is handy for negotiating service packages, insurance premiums, and other membership fees, or when you're buying things used, or if you're unhappy with a service/product (but don't abuse it!).
17) Take Advantage of Matching 401(k) Contributions
This one isn't saving in the direct sense, but it's about saving for your future. If your employer offers matching 401(k) contributions, and you're not contributing enough to receive those contributions, you're losing out on free money. Seriously.
Many companies offer at least a 3% match, with some going up to 6% (or more)!
How does this work? If your employer offers a 6% match, and you earn $40,000, you'd need to contribute $2,400 (6% of your salary) for your employer to match it, giving you a total of $4,800.
If you only contribute 4% of your salary ($1,600), your employer will match that 4% contribution for a total of $3,200. You're then losing out on $1,600.
Just make sure you can afford to get 3% – 6% taken out of your paycheck every month, then opt into automatic contributions and don't look back. Your retirement fund balance will start adding up!
18) Trade In Your Unwanted Gift Cards
This is handy around the holidays and special occasions. If your family loves to give you gift cards that don't make a whole lot of sense, you can always sell them for money or trade them in for another gift card you can actually use.
19) Use Deal Sites
Besides using websites for coupons, you can also use deal sites to score some great savings, but be careful not to overdo it. Sites like Groupon and Living Social offer a lot of attractive deals, so stick only to what you were originally looking for.
In addition to that, you can use websites like Swagbucks to earn gift cards to buy things, so you don't have to touch your cash!
20) Prioritize Your Health
In your 20s, you may feel invincible, like you don't have to think twice about any sort of health or life insurance. You have many years ahead of you – eating tons of fast food, drinking often, and getting next to no sleep is pretty normal.
And it will all catch up with you eventually. Making your health a priority now by spending a bit more on healthy food, making sure you get enough exercise, and going to your doctor for routine checkups will actually save you money in the long run.
It's better to take the preventative care approach with your health than to skip out on going to the doctor for 3 years, only to go there and find out something serious is wrong.
________________
Remember, if you need to find extra money somewhere, it always pays to look at your spending. If you're not keeping a close eye on it, things can fall through the cracks. You might be surprised at the amount you've spent at restaurants, bars, grocery stores, or Amazon. Be mindful and focus your spending on your values.
Now use these ideas and get started with saving your money!
Let's hear your favorite ways to save. Do you focus on the bigger expenses, target the little things, or go for a balance of both? What move has saved you the most money recently?