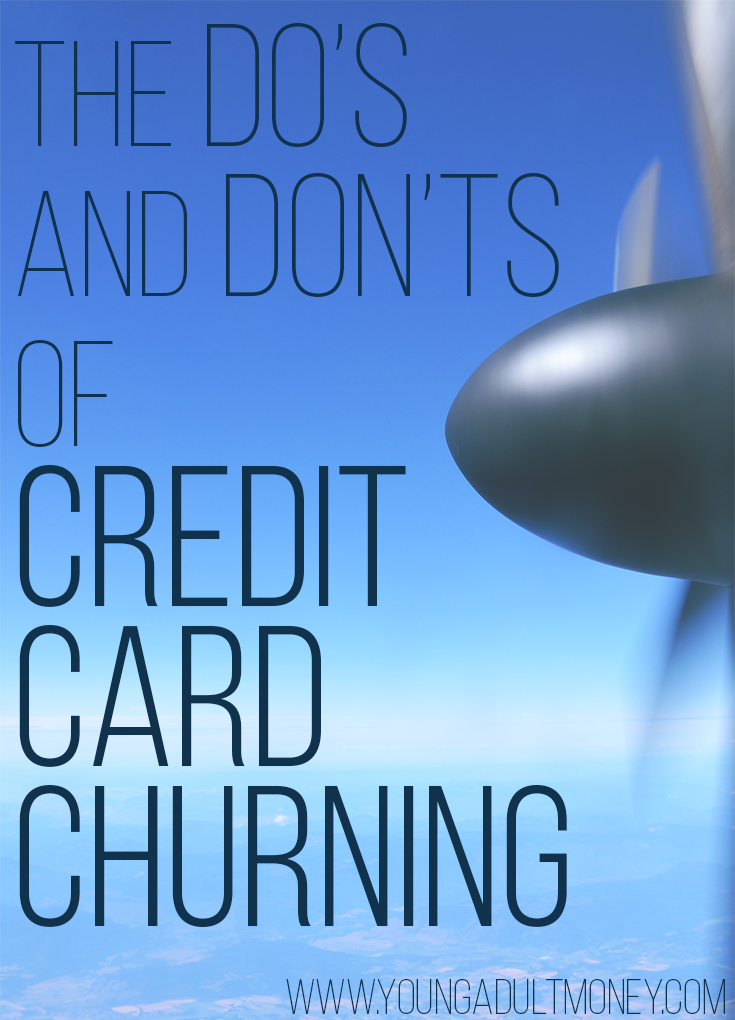 This post is from our regular contributor, Erin.
It's summer, and that means the travel bug is making its way around! If you're sitting on the sidelines without a place to go because you didn't have the extra money in your budget for a vacation, you might be interested in knowing more about credit card churning.
It's a popular method used among personal finance bloggers to earn a lot of rewards points on credit cards, which can then be traded in for free travel (miles and hotels) or cash.
It's often done in rapid succession and can take some time to plan (some people churn 2-4 cards at a time).
While credit churning sounds like a pretty awesome deal, there are a few caveats to know about before you dive in. Let's review the do's and don'ts of credit card churning.
Don't: Apply for Rewards Credit Cards if…
These are general rules of thumb when applying for any credit card, but I want to make sure no one makes these mistakes.
If you're planning on applying for a mortgage or a car loan, you want your credit to be in tip-top shape. If you start going crazy applying for every rewards card under the sun, that's going to look a little suspicious. Your score is going to suffer just a bit.
You also shouldn't be applying for rewards credit cards if you're in any sort of consumer debt. Credit card churning and hacking is for those that are disciplined enough for it. If you can't trust yourself with plastic, stay away, because the rewards points are going to act as a bigger incentive to spend.
Lastly, don't churn credit cards if you're not good at tracking your expenses, balances, or due dates. Credit card churning takes quite a bit of organization to work.
Do yourself a favor and only get into credit card churning when your credit score and financial situation can handle it. That means having a decent emergency fund, not being in debt, and not needing financing for anything any time soon.
Do: Seek Out the Best Signup Bonuses
A large part of credit card churning is applying for the rewards cards with the best signup bonuses. These bonuses change frequently, and new rewards cards and programs will pop up throughout the year.
Keep an eye and ear out for any cards that fit your particular situation – don't sign up for them because the bonus seems good. You want to go about this strategically.
That means looking out for rewards cards specific to the airlines you love to travel on, or the hotels you enjoy staying at.
You'll be better off having a trip in mind before applying, as you'll know how many points you need to do it for free. That allows you to maximize the best airline and hotel cards for your trip.
There are quite a few sites out there dedicated to telling you how you can get the most out of certain cards. I recommend subscribing to their newsletters for the latest news and strategies. Just be aware most of these sites also make a commission when you sign up for a card through them!
Don't: Spend More than You Can Afford for a "Free" Vacation
This also goes without saying, but the point of credit card churning, and getting rewards points in general, is to get points for any spending you were already planning on doing. You shouldn't be "forcing" yourself to spend to hit the minimum needed for signup bonuses, especially if it's not in your budget.
Say your signup bonus requires you to spend $3,000 in 3 months. Except you normally don't spend even $1,000 in one month. Uh oh! You start charging anything and everything, looking for a way to rack up the required spending before the 3 months are over.
So you get there, and you're left with a huge bill you're unable to pay. The APRs on rewards cards aren't nice. The interest is going to eat away at the value of any points you received. Suddenly, your free flight isn't so free anymore. Don't do this!
Do: Spend According to Plan
That said, it's wise to churn credit cards when you have planned large expenses coming up. This can be anything from a home renovation, to insurance premiums, to a down payment on a car, to medical expenses.
Most signup bonuses on personal credit cards require around $3,000 – $4,000 of spending within 3 months. On the lower end, you'll generally need to spend $1,000 in 3 months to get the bonus.
Don't shoot for the stars if it's not in the plans. I definitely don't spend $1,000 (that I can charge) in one month, so I stay away from the bigger signup bonuses unless I know I have some big expenses coming up.
If you need help reaching the spending requirement, one thing I've done is paid for things my parents were going to buy. They pay me back right away (usually on the spot), and it works out for both of us. I happen to go shopping with my mom when I visit, and I know she has the money. I would only recommend doing this with close family you can trust.
Or, if you happen to travel a lot for your job, and you pay for your expenses upfront, you can take advantage of credit card churning without actually having to spend any of your own money. I would recommend having the money to cover your bill just in case your company is slow with reimbursing you.
Don't: Forget About Business Credit Cards
You can take advantage of the amazing signup bonuses business credit cards offer even without owning a large business. Some credit card issuers are particular about this when filling out the application, and others you can get by with using your name and saying you're a sole proprietor.
This is great because you can basically "double dip" with issuers. If you already have a few cards open with one, and are worried your approval chances are low, apply for the business version of the card instead. You're more likely to get approved.
However, business credit cards do tend to have a higher spending limit to reach. Don't go for this option if you can't spend at least $3,000 in 3 months.
Do: Be a Responsible Consumer
Just in case it wasn't clear before – you never want to carry a balance on these credit cards (or any credit card). When you're churning multiple cards, it's important to keep track of all your due dates and balances. Don't overextend yourself!
Additionally, if you're going to be applying for and using multiple cards, you'll want to keep tabs on your credit score and reports. Having more cards open can possibly lead to more opportunity for fraud. Keep yourself covered.
You'll also want to keep track of cards that have annual fees. Many credit card churners cancel these cards right before 12 months is up as annual fees are typically waived during the first year, and get charged the second year.
Lastly, this type of credit card usage requires a lot of attention to detail. This post is meant as a brief overview, but there are many websites dedicated to the art of credit card churning. Do your research so you know exactly what you're getting into. It's not as easy as opening a new card every month and spending away.
_______________________
Overall, credit card churning is a great way to score a free vacation, but you have to be strategic about it. If you don't earn or spend a lot, it might not be right for you. Go in with eyes wide open, and don't be afraid to call a credit card issuer to confirm the details about a signup bonus.
Have you ever churned credit cards before? What's the best free trip you've gotten out of it? Do you struggle with meeting the minimum spending requirements needed for signup bonuses?