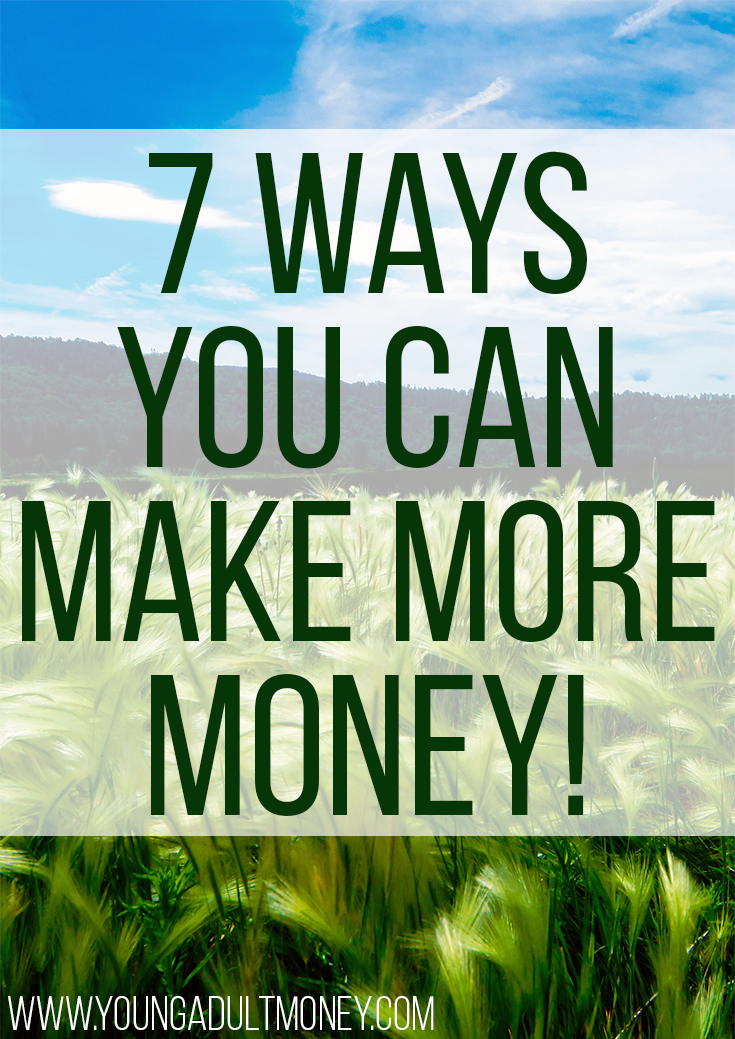 This post is by our regular contributor, Erin.
Last week, we published a fantastic guide to getting started with side hustling. A lot of you were excited to see such a resource, and some of you commented you wish you knew where to start. Others lamented they didn't have enough time to commit to a side hustle.
With that in mind, we wanted to present a few ways to make more money with just about everyone in mind. Whether you're still a student in college, a recent graduate trying to find a full time job, a stay at home parent, or your average Joe, one of these ideas will work for you!
1) Use Craigslist and eBay to Sell and/or Flip
Let's start off with one just about anyone can do, and from their home no less! I've written about the value of decluttering before, and I still believe in it. Less stuff around my living space (especially because I work from home) means more space to breathe and think. It's a completely added bonus that you can also make money in the process.
You might not think anyone will pay money for your used items, but there's no harm in having a garage sale (especially at this time of year!), or listing things on Craigslist or eBay.
There's no reason to be intimidated by either platform. Once you've gone through the process a few times, you'll be able to create listings quickly and hopefully generate more of a profit.
Heck, you can also post your items on Facebook and see if any friends or relatives want them!
There's another side to the coin, too. Lots of people make a side hustle out of flipping things they get for free (or dirt cheap) on Craigslist. If you love tackling DIY projects from Pinterest, and have the space to refinish furniture, or the know-how to fix items up, this could be a perfect fit for you.
2) Get an Advanced Degree (or Certificates/Skills to Boost Your Resume)
While I still stand behind the fact we shouldn't let our college degrees define us, advanced degrees do tend to help your job prospects, depending on the field you want to get in. Plus, earning more at your day job is one of the easiest ways to boost your income.
However, we wouldn't recommend getting an advanced degree without carefully considering the pros and cons first. You don't want to go into debt (or further into debt, if you have undergraduate student loans) only to come out with a degree that wasn't worth your time or money.
Of course, if your employer offers tuition reimbursement, take advantage of it! What's better than learning on someone else's dime? Just be careful and read the fine print before applying to a program. You may have to stay with your employer for a set period of time after getting your degree or certification.
A cheaper alternative to a degree is taking a few courses and complete certification exams to brush up on essential skills and knowledge for your field. This can be done in any number of ways. You can take a class or two at a local college, study material on your own, or take free online classes. These are great methods to use if you want to transition into a new (better paying) career, too.
3) Get Over Your Fears and Ask for a Raise
Along the same lines, asking for a raise is one of the simplest things you can do that has a direct impact on your earning capacity. I know – it's scary. I've been there. But there are strategies you can practice and use when it comes time for your review.
First, having confidence is key. Your boss isn't going to give you a raise if he/she can barely hear you when you ask for it. You need to go into your review knowing that you deserve a raise, and you need to be able to prove why.
Having salary data from others in your field can greatly help if you're currently underpaid. It's unfortunate this happens, but it does, and it's up to you to make sure you're not being taken advantage of. However, take care not to out any of your coworkers in the process. Get the data from a trusted website – there's less potential for drama that way!
4) Take On Another Job
This isn't the one most people like to hear, but for recent graduates, or those in a temporary tight spot, it can be the fastest way to make extra cash.
Try to get a "fun" job on nights or weekends, or take a seasonal job that appeals to you.
For example, bartending is classic side job known for its income potential, and being a lifeguard (if you have the skills) during the summer isn't a horrible gig. If your friends need extra money, see if you can all get a job together, provided you can keep it professional during work hours.
If all else fails, and if your day job allows for it, take on extra shifts or work overtime to earn more. Let your coworkers know they can come to you if they need someone to cover for them.
5) Invest in Dividend Paying Stocks
Now's the time to start investing if you have some money to spare! Many people who aim for financial independence invest in dividend paying stocks as they provide passive income.
Trading on the markets is probably the "easiest" way to generate extra money in the entire list, but it requires some knowledge and it takes some time to build up. However, the result is pretty nice if you want a hands-off approach to earning more.
6) Use Your Skills to Freelance
You don't necessarily need to build an entire side hustle around your skills. What about simply finding contract jobs to take on every once in a while? The entire point of freelancing is that it's flexible – you make it work for you, however that may look.
Freelance writing is all the rage these days, and it's not as difficult to break into as you might think. Other ideas include designing graphics for blogs, web design, setting up WordPress sites for small businesses and bloggers, editing videos, or acting as a consultant within your field of expertise.
7) Pick a Topic and Start a Blog
Blogs are still reigning supreme and content is valuable to just about everyone. There are many ways you can make money with blogging, but you should enjoy writing and be passionate about whatever subject you choose to blog about.
Creating a blog is honestly the simplest part of the process. Maintaining it, making connections, and growing your audience is where the bulk of your time will be spent afterward. It might look easy, but if you want to have a successful blog, you'll likely be spending at least 15 hours on it a week, most likely more.
______________________
There's no reason not to focus on earning more at some point in your life. Perhaps you don't have the time right now, but at least think about the paths that interest you. When you are ready to dedicate some time to making more money, you'll have a list of ideas and a plan ready to go!
Have you always tried to make more money, or have you recently gotten into earning more? What are your favorite ways to earn extra money? Any unusual ones out there?