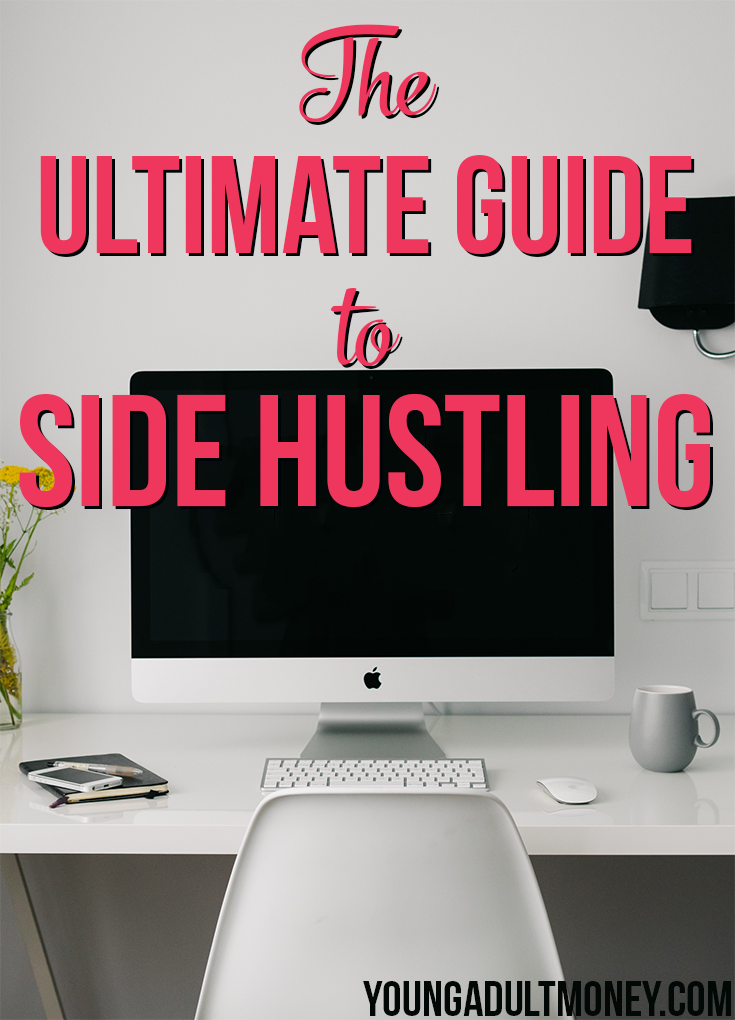 This post is by our regular contributor, Erin.
We fully believe in the power of having a side hustle here at Young Adult Money. If you're a veteran reader, it's quite obvious from our extensive catalog of posts on earning side income.
However, for newer readers interested in side hustling, we wanted to make things a little easier with a little 101 tutorial.
We're going to zip you through the basics of why side hustling is awesome, how you can get started, what side hustles will earn you money, and how to grow your side hustle after you become established.
Ready? Let's get started!
Why Bother Side Hustling?

If you're new to the idea of side hustling, you might be wondering what all the fuss is about. I know I didn't understand the entire concept the first time I heard about it. That's why I decided to highlight the benefits of side hustling.
Beyond giving you another source of income, side hustles can provide a creative outlet, they allow you to explore new fields you might not have otherwise worked in, and you can pick up useful skills for your full-time job!
Even when you're interested and knowledgeable about side hustling, fear can hold you back. After all, you're essentially becoming your own boss, responsible for making sure your clients are happy and that your work is up to their standards. It can be scary! Unfortunately, there's nothing to gain by being afraid. The sooner you overcome your fears, the sooner you can start earning more.
All right, ready to get started, but have no idea what you want to do? Finding the perfect side hustle can be a little overwhelming at first, but it's just a matter of matching up your interests to something people will pay you for. Let's take a look at some ideas.
Consider Blogging as a Side Hustle

DC has named blogging as one of the best side hustles, and with good reason. If you love to write and you're interested in learning about how you can make money with a blog, 8 ways to make money blogging is a must-read. DC shares the different ways he's been able to generate income from his blog and suggests a few other avenues. Some may surprise you!
Plenty of people are doing it. While it can be a long and challenging road, it's a very rewarding way to earn more. Read DC's guide on how to start a blog today to get started.
Freelance Writing

Second to blogging is freelance writing, the difference being when you freelance, you write for others on their platform (like I am!). If you love to write, but aren't completely sure about the time commitment involved with blogging (and it is a lot, even if it doesn't seem like it), freelance writing could be perfect for you.
Sound good? The first thing you need to do is decide what you're going to write about, which can be a mission in and of itself, especially if you're passionate about a number of things. DC answered this question in detail when he considered writing for others in the past.
Side Hustle Ideas

Maybe blogging isn't for you, or you don't want to take your side hustle too seriously to the point where you're dedicating 20+ hours to it a week. That's okay, you can still earn extra on the side while maintaining your sanity.
Take a look at DC's own list of ways he's earned side income for inspiration, or consider these 7 quick and simple ways you can make money online. Working from home is always easier than getting a second job, and working online means you can be location independent, too.
Does earning $200 an hour from a side hustle sound crazy to you? There are plenty of people out there earning much more for their expertise. Just because you're working on your side hustle, well, on the side, doesn't mean you have to earn peanuts. The entire point is to increase your earning potential independent of your day job!
It's not uncommon for hobbies to eventually become side hustles, either. Hobbies are something you enjoy doing, and you want to enjoy the work you do for your side hustle. However, there are pros and cons to turning a hobby into a side hustle – namely, you might stop enjoying it once you're being paid for it.
If you don't want to give up your hobbies, then take a look at the skills you already possess that could be turned into money-makers. Let me tell you, I've been surprised time and time again by what people will pay for. Don't sell yourself short.
Need more inspiration? Look to this list of side hustle ideas we've covered in the past:
Growing Your Side Hustle

The single biggest struggle most side hustlers face is how to carve out time in their schedule to dedicate to it. While earning extra money sounds great, making a lot of sacrifices doesn't. If you value your free time or family time, but still want to give side hustling a try, read up on how to make time to develop your side hustle.
Have you reached a critical point of growth in your business? It could be time to explore new ways to invest in it. I'm pretty frugal, even with my business expenses, but I realized very quickly you need to put more than just effort into your side hustle to get what you want out of it. Self and business improvement are a must if you want to reach new heights.
Additionally, you should always be seeking to make your side hustle more profitable and efficient, especially if you want to spend less time on it and maintain or increase your income. It's possible as long as you have a plan and the right tools!
Lastly, it goes without saying, but in order to be successful with side hustling, you need to stay motivated. When you're working a total of 60-80 hours a week, that can be a challenge. Find out what keeps you going and remember why you're doing it in the first place so you can stay consistent.

There you have it, everything you need to know about side hustling. Hopefully these resources have given you the blueprint to start your own side hustle and take off with earning extra income!


Do you love side hustling? How did you get started? What would you tell a friend interested in starting a side hustle?