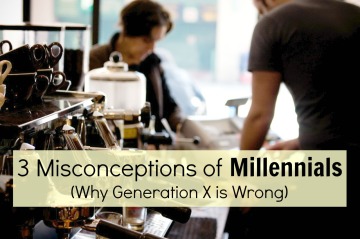 Please help me welcome the newest addition to the YAM team, Kristi!
The word "millennial" is often met with eye rolls and the typical "kids these days" commentary.
Every other week it seems, another major news network highlights the many reasons that millennials are technology obsessed, egotistical, and lazy. According to their arbitrary polls, we are self-absorbed brats who care nothing about others.
Apparently, we want what we want, when we want it, and we don't want to do the necessary footwork to achieve it. We are self-entitled jerks who want to push our way to success before we have paid our dues.
Why do baby boomers, Generation X, and the media have this false perception of an entire generation of people?
If the same media outlet were to make sweeping generalizations about the work ethic of an entire race or gender, they would be vilified by both their viewers and social media alike. So why does our society allow the constant slander of an entire generation?
Here are 3 misconceptions of millennials that our generation needs to take by the horns and dispose of once and for all.
Misconception 1: We have an unhealthy obsession with social media
Older generations seem to believe that the millennial attachment to technology is a nuisance at best and at worst indicative of an unhealthy addiction.
For some reason they believe that our use of social media reflects poorly on our work ethic. It's confounding that people actually believe that being tech savvy and a hard worker are mutually exclusive.
Truth: We value technology and social media as powerful business tools
As the first generation to be raised with the internet and mobile information technology, Generation Y workers are keen users of social media as a business tool. In a fast-paced world of technology and information sharing, you have to respond almost immediately to a job posting or a business inquiry if you want to have even a chance at scoring a new business deal. We understand how to connect and promote our businesses via social media channels.
Our technology obsession, which all the baby boomers and generation Xers gripe about, actually creates a strong business environment. Our attachment to our phones and iPads mean that we are more likely to answer business related emails, text messages, and phone calls, even when we are officially off of business hours.
In short, we are workaholics. Any company would be wise to encourage the "technology obsession" of their millennial employees.
Misconception 2: We are lazy and feel entitled to what we haven't earned
I truly believe that the baby boomer and Generation X perceptions of millennials as a lazy and unmotivated group stems from a difference in upbringing. As young adults, they didn't have the technology available to them that is now at out fingertips. We don't have to endlessly scour a library's archives to find relevant sources.
We can instantaneously and efficiently find and utilize a vast network of information with which to accomplish our tasks. They resent millennial workers for accomplishing a task with less foot work that they had to at that time of their lives.
To them, we are lazy because we don't have to do things the old fashioned way. They then project negative stereotypes as a result of these false perceptions.
Truth: We are self-starters with the confidence and ambition necessary to be entrepreneurs
Millennials are the most educated generation our country has ever had. Entering the job market during the Great Recession means that many millennials took whatever employment they could find, even though those jobs were low paying and they were over-qualified as candidates.
Not every employee will be content to slowly work their way up the corporate ladder when they were forced to start in the mail room with a Master of Economics degree.
Rob Asghar, a Forbes Contributor, wrote a refreshing article on why millennials are the great entrepreneur generation. He contends that because creativity and flexibility in the workplace are so important to millennials, we are more likely to seek employment through our own means, rather than looking for it in a corporate office somewhere. He's right!
Instead of staying in a stagnant and rigid corporate job where our creativity is repressed and social media is frowned upon, we will do whatever it takes to get into a career we are more than qualified to work, even if it means starting our own business.
Misconception 3: We are narcissistic and don't care about helping others
Apparently having a penchant for taking selfies means that you must not really care about anyone else. A relatively recent CNN article claims that millennials care the least about helping others out of every generation, because finding a steady and well-paying job is our highest priority.
Truth: We strive to make social changes that have a positive impact
I challenge the notion that millennials are self-absorbed and care nothing about helping others. We care about having a steady and high paying job, but we also work towards social change which will positively impact American society. We use social media platforms like GoFundMe and change.org to crowd fund charities and sign petitions for social change.
We may show we care differently than older generations, but it doesn't mean we care less.
Push back against these misconceptions
Whether older generations like it or not, millennials will comprise two thirds of the work force by 2025. If we ever want to be respected and taken seriously as peers, we need to assert ourselves. We need to prove how our need for creativity blossoms as innovation in our businesses. We need to demonstrate just how powerful social media can be as a business tool.
The best way to prove our worth is to continue doing what we're doing. Our generation of entrepreneurs and confident go-getters needs to push back against these misconceptions of millennials and educate other generations about the truth of Generation Y.
Have you seen millennials negatively portrayed in the media? What are your opinions of millennials compared to other generations?
____________
Photo by jakeliefer