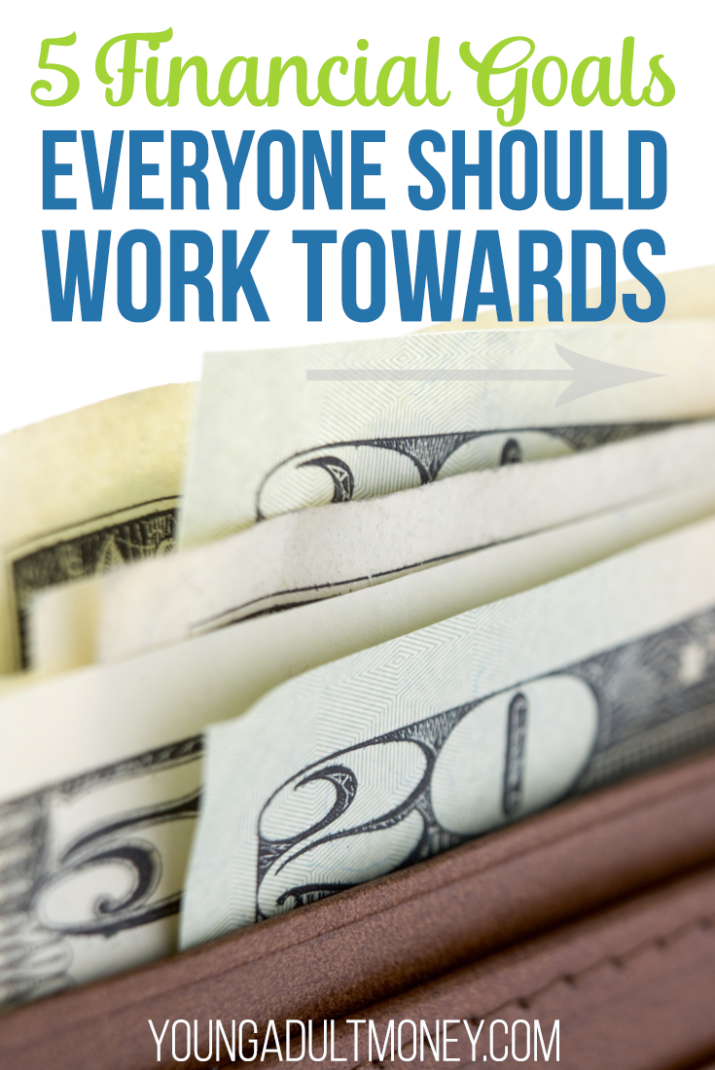 Personal finance is called personal finance for a reason: it is largely based on individual situations.
You wouldn't give the same financial advice to a college student as you would someone just a few years away from retirement.
With that being said, I do think there are 5 financial goals everyone should work towards. These would apply to a wide variety of situations, though of course it wouldn't apply to every situation.
The interesting thing about the millennial demographic, which includes people ages 18 to 35, is the large variety of financial situations you run into. This demographic includes those who are just starting college, those who are a few years out of college or in grad school, and even those attending their 15 year high school reunions.
Needless to say there is a lot of variance when it comes to millennials' personal finance situations.
The following 5 financial goals are things that virtually all millennials are working towards, though, in one way or another. Keeping these 4 financial goals in mind will help guide nearly all financial – and life – decisions.
1) Gaining Financial Confidence

In the past Erin talked about how confidence increases earnings potential, but today we aren't talking about asking for a raise at work (though that certainly isn't a bad way to boost your finances!). One goal I think everyone should be pursuing in one way or another is gaining financial confidence.
Financial confidence goes hand-in-hand with financial literacy. When you have financial confidence, you have confidence in your knowledge and understanding of personal finance. You know whether to sign up for term or whole life insurance – or to not sign up for life insurance at all. Most importantly you understand why you are making the financial choices you make.
Gaining financial confidence takes sacrifice and discipline. Reading and learning about personal finances isn't the funnest thing to do in your spare time, but it just might be the most rewarding. Reading blogs like Young Adult Money and researching personal finance topics relevant to you are both good ways to gain financial confidence.
Gaining financial confidence takes time and there's always more to learn. Not sure where to start? Why not start with these 7 ways to improve your finances?
2) Cutting Expenses

Cutting expenses is another financial goal that everyone should pursue. The "golden rule" of personal finance is spend less than you make. This obviously doesn't apply to everyone, as nearly all college students end up spending more than they earn. But once you are graduated from college you should really focus on cutting expenses until they are below your income.
Cutting expenses will look different for everyone, but the first thing you need to do is record your income and expenses. If you don't have a good understanding of where your money is going it's really difficult to cut costs. Once you have a few months of income and expenses recorded you can start to analyze it and look for areas that you spend more than you should. Perhaps you spend hundreds more on eating out than you thought you did. If so, that's a good target to cut costs.
How do you practically cut expenses, though? The easiest – though definitely not the most painless – way is to simply cut back on spending. If you spend $500 on restaurants each month target $200 going forward. One thing my wife and I have found effective is couponing. We even created a coupon database in Excel that many people have found useful. New to couponing? Check out our 12 tips for beginner couponers.
Just like everything else in personal finance this goal will be more or less important to each person depending on their unique situation. For example my wife and I have done many things to cut our expenses. We've couponed for years now and have saved thousands of dollars. We've trimmed down excess spending and track our finances month-after-month. Because we've gone through that cost-cutting exercise we are now much more focused on increasing our income.
3) Increasing "Regular" Income

The third financial goal I think everyone should pursue is increasing what I call "regular" income. Regular income to me includes anything where you are trading time for money. This includes your job, freelance work, and any side hustle where you need to consistently put in time to get paid.
This blog has been very focused on the topic of increasing income. I strongly believe that increasing income can have a much bigger impact on your finances than virtually anything else. I wrote a post earlier this year titled Why Making Money is Better than Saving Money where i laid out my case for focusing on increasing income.
Many blogs focus on passive income, which I will touch on in a bit, but the reality is that most people need to work to get the resources necessary to create passive income. Most of us work a 9-5 job. I am a strong believer in the fact that if you're going to work a 9-5 you might as well make as much as you can during those hours. I used online resources to find and compare salary data that allowed me to negotiate for a higher starting salary at a new job. I would highly recommend people always look to "move up" and increase their 9-5 income.
It's not all about the 9-5, though. Most readers of Young Adult Money are also curious about strategies for how to make money through side hustles. I have been working side hustles – including but not limited to running this blog – for years now. One of my recent posts highlighted 10 Ways I've Made Side Income. I was happy to share this post because a lot of bloggers write about ideas for side hustles. My post is actual side hustles I pursued, not simply ideas.
I think regardless of what you do for a job, what sort of business you own, or what your side hustle is, you should always look for ways to increase your income. Even people who work in jobs that have relatively "set" salaries – such as teachers – should consider ways that they can increase their income. Even teachers can explore looking for a job in a higher-paying school district or even starting a side hustle in their spare time that supplements their income. The options are endless.
As a last point I truly am biased towards making money through blogging. The income I've gained from blogging has really changed my life. If you are interested in starting a blog I explain how to start a blog in 5 easy steps. I also have a post that explains 8 Ways to Make Money Blogging.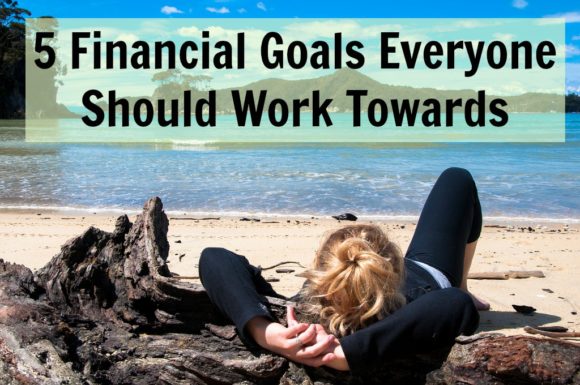 4) Increasing Savings and Investments

Another financial goal that I think everyone should pursue is increasing savings and investments. Savings gives you options and helps alleviate some of the stress and pressure that come with unexpected expenses. It also allows you to avoid going into deeper debt for inevitable expenses such as a car, home upgrade, or medical cost.
One of the most stressful times in my marriage was when we allowed our savings to dip too low. We were new homeowners and fairly recent college grads (and not to mention newlyweds!). Emergencies and unexpected expenses happened, and I hated the feeling of not having enough cash in our savings account to cover those costs. After experiencing that I immediately made building a small emergency fund a priority. We were able to do this primarily through blog income, which was a huge blessing. Did I mention increasing income should be a financial goal??
At this point in the post I feel it's necessary to mention high-interest debt. Savings is important, but if you have high-interest credit card debt you need to consider making paying off that debt a priority. There are some options such as refinancing or debt consolidation that can help alleviate some of the pressure of debt. If you are in credit card debt please read my post What to do if you are in credit card debt.
Hand-in-hand with increasing savings it's also important to invest. I think everyone has a goal of retiring, and retirement typically isn't possible without having a large amount of investments. If you haven't started investing for retirement consider checking out our post 8 Ways to Start Investing.
5) Increasing "Passive" Income

Investing has the huge perk of also potentially providing you with passive income. I think everyone should have "increase passive income" as a lifelong financial goal. After all, if you are able to create enough passive income to live off of you technically never have to work another day in your life. Not only that, but you also don't have to slowly deplete your savings/investments in retirement because your investments have created a sustainable passive income.
Some of you may be wondering what qualifies as passive income. To me passive income has to be something that requires little to no effort. Dividend income is the ultimate passive income because it literally requires zero effort for the investor.
I created a tool a while back that calculates how much money you would need to live off of dividend income. It has two calculators. One of the calculators you input a desired income and it tells you how much money you would need to invest to receive that much in dividend income. The second calculator allows you to input how much money you have to invest and it shows you how much dividend income you will receive from that investment. It's a good way to get a sense of just how much money you will need for passive dividend income.
Another form of passive income is real estate. Real estate income can be very "non" passive if you are actively managing it and working on properties. But if you purchase a property and outsource the management aspect of being a landlord you potentially could have a relatively passive income source. Yes you will probably still have to make some decisions like "do we renovate the kitchen or leave it as is?" but it can be a great source of income for anyone looking to build passive income.
____________
While I strongly believe personal finance truly is "personal" and every situation is unique and different, there are financial goals everyone should be working towards. The amount of energy or focus that people have on each goal will vary tremendously based on their situation, but ultimately everyone should have these financial goals on their radar.


Which of these goals are you most focused on today? Which were you most focused on 5 years ago? Which goal do you think is the most important for millennials to be focused on?