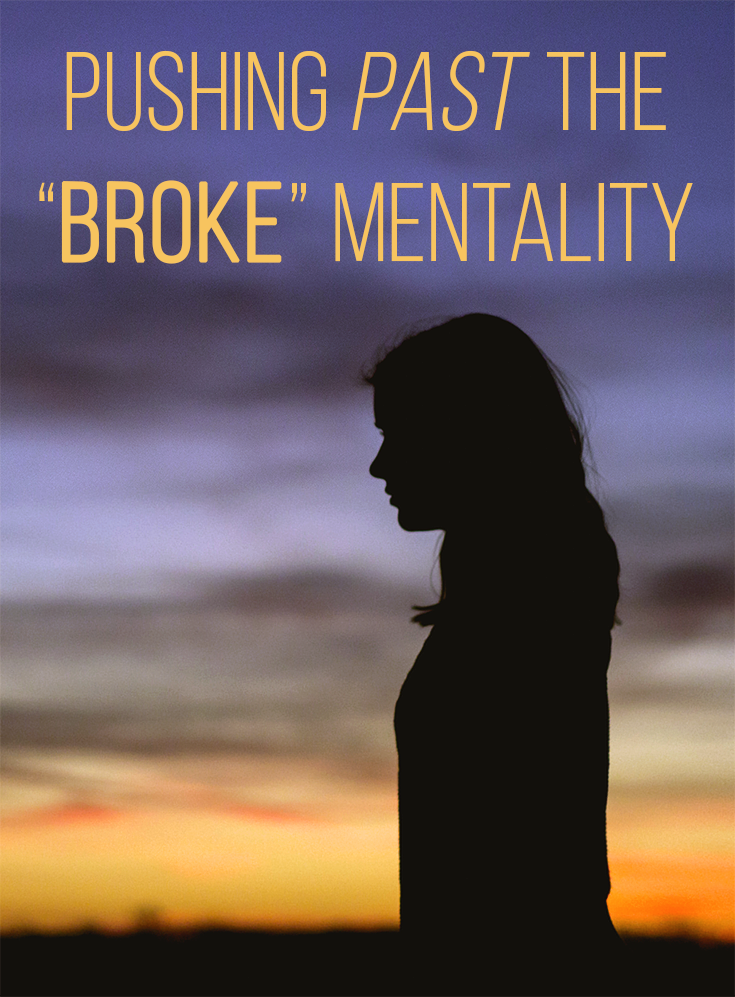 This post is by our regular Wednesday contributor, Erin.
How many times in your life have you said, "I'm broke," and actually were broke?
How many times have you been broke and not been actively doing anything about it?
Chances are, there have been at least a few times. Maybe you've felt broke, or you were waiting for your paycheck to hit, but you weren't in a dire situation. You were getting by.
I know quite a few of my friends who say they're broke, but go out to eat, have $90 cell phone bills, and still manage to buy games, books, and movies they like. That's not being broke.
For some people, especially young adults, being broke is a result of mismanaging your money. Or it's due to not taking the correct actions to improve your financial situation.
Either way, it's possible to push past the "broke" mentality and into one of wealth. Here's how!
Stop Saying You're Broke
Is it really that easy? Yes and no.
If you're constantly saying you're broke, telling others that you're broke, and essentially, telling yourself that you're broke, you obviously believe it to be true on some level.
Don't let your money (or lack of money) control you like that.
I used to do something similar, saying I couldn't afford certain things, when it wasn't completely true. I was just unwilling to spend the money because I didn't find the purchase worthwhile.
Yet, negativity started seeping in anyway. I seriously started believing that I had to live on a super tight budget, and had to watch my spending like a hawk.
That was emotionally draining. I was letting my money control me.
It's almost like a self-fulfilling prophecy, and only you can put a stop to the cycle.
Stop saying you're broke, and instead, put a positive spin on it. Tell yourself (and others) that you're working to get your finances back on track. Set financial goals and tell people what you're working toward.
Remember, if you're not actually broke, you're just in the broke mindset. You can absolutely choose whether or not to get out of it or stay in.
Stop Living Paycheck to Paycheck
If you feel broke, or you're near broke, you might be living paycheck to paycheck. I know far too many of my friends that do this, and it kills me.
Again, it's one of those vicious financial cycles you need to break yourself out of.
First things first, you need to get a hold of your money. Have you been tracking it? Do you have a spending plan? If not, get on that!
Money could be slipping through the cracks without you knowing because you're not bothering to figure out where it's going.
Next, create a spending plan, or at least evaluate how your expenses compare to your income. Are you bringing in enough every month to cover all your basic expenses? Or are you in the red?
If you're in the negatives, do whatever you can to fix it. Change your living situation to a cheaper one if possible, negotiate any monthly bills you're paying, do your best to save at the grocery store, and be mindful of how much you spend on things that aren't necessities, like entertainment and dining out.
I know living paycheck to paycheck might seem like the norm – and it is to many people – but that doesn't mean it has to be your norm.
If you're tired of the anxiety you feel while waiting to get paid, it's time to start figuring out how you can save.
Be Open to Opportunities
Growing up, my parents weren't very well-off. They've had consumer debt ever since I can remember.
As a result, I figured my financial life would look much the same. I never thought I'd be a millionaire or anything special. I assumed I'd be working some mediocre job from the time I entered the workforce till the time I retired.
That was no way to think, especially as a young adult with so many years ahead of me!
Again, it's all about your mindset. I had grown up with the "broke" mentality because my parents were always broke. But I didn't have to follow in their footsteps.
I might have started off that way, but within the last year, things changed – a lot.
I quit my job, relocated, and started my own business. I'm now making more than I ever did at my day job.
You don't have to make such drastic changes, but you do need to be open to other opportunities. Don't limit yourself! It only leads you to undervalue yourself.
Even if you're in a not-so-great career situation right now, just remember it's only temporary. If you get your finances together and establish an emergency fund, you'll gain the freedom you need to leave.
Money gives you choices, but only if you leave yourself open to them.
Remain Grateful for What You Have
Going back to my childhood, there were a lot of rough financial times, as my parents couldn't seem to catch a break. Major expense after major expense came our way, and what little savings we had couldn't keep up.
However, I still had it good compared to a lot of people.
Food was always on the table, I had clothes, and I was spoiled by my grandma. Even though there was a lot of tension, my parents are still together and they're thriving in retirement.
Keep an eye on the big picture and be grateful for the things you have. I know this sounds cliche, but having perspective does wonders for your attitude.
I'm sure there are at least one or two things you can find to be grateful for, even when things seem bleak. Focus on those things, pull yourself up, and surround yourself with positive, supportive people.
_______________
If things seem unbearable, do your best to change what's in your control. Create a plan to improve your finances, and take action. The worst thing you can do is stay in the broke mentality. By default, it's a limiting one. There's no reason to create extra obstacles for yourself.
Have you ever been stuck in the "broke" mentality? How did you push past it? Were there times in your life when you were truly broke? How did you deal with it and bounce back?