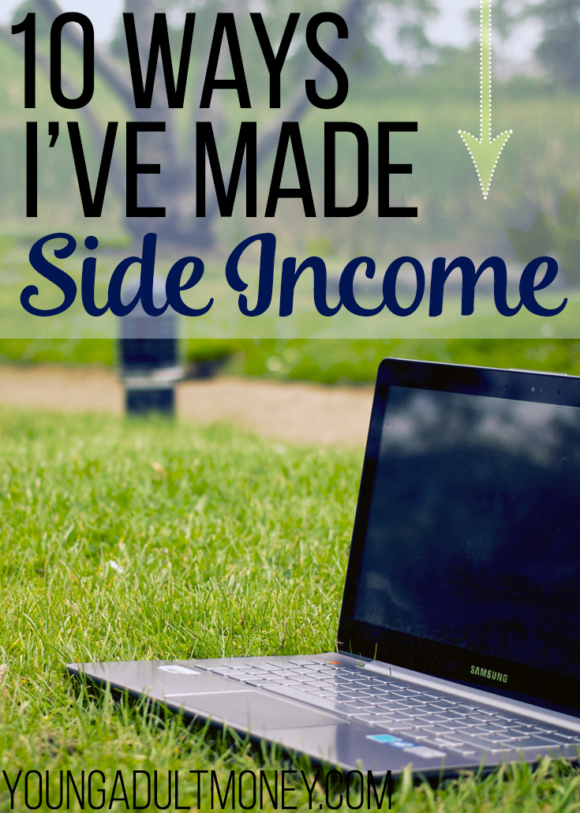 With so much focus on side income these days, I thought it would be fun to think back to all the ways I've made side income over the past decade.
What I realized is that as time passes it's easy to forget the ways that we've earned side income.
It's hard to believe, but I legitimately have made side income at least 10 ways.
The side income that I pursue changes from year-to-year, just as my "life" situation changes from year-to-year.
While I hesitate to say there has ever been a time the past 10 years that I haven't been busy, there are times when my schedule was more flexible.
One of my biggest takeaways from reflecting on the various ways I made side income is this: stay open to new ideas.
You never know what opportunity will come up in the future and it's important to be open to walking away from one side income source for a new, more promising one.
In the same way you may have more or less capacity for side income depending on your job or life situation (children, anyone?).
Having side income can greatly help your finances. Beyond that you inevitably learn and improve skills, as well as meet and network with new people. You can use mental accounting to motivate you to continue to earn side income, as any side income can be "extra" money that covers a car payment, mortgage payment, or even travel you otherwise couldn't otherwise afford.
Here are 10 ways I've made side income:
1) Working a Part-Time Job

My freshman year of college I worked at my University's IT department. In fact, I held that IT job the entire time I was in school. It was a great job. But this brings up one of the first ways I ever made side income: a part-time job.
While some may argue this part-time job wasn't truly side income because my IT job was only part-time, I viewed it as a side job because it forced me to sacrifice what otherwise would be free time. I worked as a furniture/equipment/cubicle mover for a company that specializes in office interiors.
This job was Friday night and/or Saturday mornings/afternoons. It was flexible as you could decide if you wanted to work or not, as long as you told the scheduler by Wednesday. It was good money considering it was essentially just 'muscle' work. Then again, I'll never forget the Saturday that I helped unload four full-size semis on 3 hours of sleep…
2) Working for a Blog

Another way I've made side income was working for a blog. During my college days I randomly met a personal finance blog owner through a political blog I ran for fun. We ended up chatting and emailing and I eventually ended up doing blog work for him on a regular basis.
This was an awesome way to make money in college because it seemed more difficult than it should have been to find jobs that helped develop skills that would be applicable to my future career. It's a side income source that I still have listed on my LinkedIn.
Having this early exposure to the personal finance blogosphere gave me a head start when I finally started my own personal finance blog approximately three years ago. I knew how to get traffic, connect with other bloggers, and had a bunch of topic ideas planned that helped me get off to a great start.
3) Taking Surveys

Throughout college I took surveys for money. I had a few other friends who did this consistently as well, and we enjoyed the small side income we were able to gain from it. Swagbucks is one of the sites that I've used to make money on surveys.
Over the past few years as I've run this blog full-time and worked in corporate America I've realized just how valuable feedback is on products, services, brands, and more. Companies are willing to pay a lot of money to get this data (sometimes millions), so I really don't expect surveys to ever go away.
4) Blogging

I first started blogging eight years ago. At that time I was a political blogger and I wrote on my own political site as well as a group blog called United Liberty. I didn't make much money on political blogging, but I was also a new blogger learning the ropes.
Young Adult Money has been a different story. Last month I shared a lengthy post title 8 Ways to Make Money Blogging. I won't lie and say I make six figures a year blogging, but it has been a great source of side income for my wife and me over the past three years.
As more and more people spend time searching for and reading content online, I think there is a great opportunity for people to both make side income blogging as well as turn it into a full-time job. My only regret with blogging is not starting sooner. There is an initial time frame that can span 6 months or longer where you won't make a dime. If you stick with it, though, it can be a great way to make a location-independent income.
Have a blog idea but haven't started a site yet? Here's How to Start a Blog in 5 Easy Steps.
5) Poker

I made a side income playing poker in college. I would play poker both online as well as in-person at card rooms throughout Minnesota. I never had a big payday like a couple others who I graduated high school with (one scored over $300k from winning a tournament and another won more than $200k…) but I did make a small amount of side income through playing.
Poker has changed a lot the past few years. First, the U.S. government shut down the online poker sites that were operating in the United States. This came as a shock to many who had quit college and jobs to play full-time. We've also seen the overall skill level of players reach a level where it is much more difficult to win. There simply isn't that "easy money" out there.
With that being said, I do know some poker players who are very dedicated to the "sport" of poker and play nearly every week in live cash games and tournaments. I myself would still like to play in the $10,000 World Series of Poker Main Event, but poker as a side income is not something I'm currently pursuing.
6) Spreadsheet Consulting

Ever since starting my career in finance I've used Microsoft Excel on a daily basis. Some days I'm on it the entire day. Excel is a great tool and it's pretty incredible what you can do in Excel when you integrate formulas, pivot tables, charts, and automation through VBA.
One way I've made side income in the past is through spreadsheet consulting. The work was done for a small business one of my friend's owns (around 10-15 employees). He was looking to better track financial metrics and the status of accounts they own.
I did work for six to twelve months for them and it was a great experience. I was able to improve skills that were directly applicable to my career while getting paid. It also gave me a taste of freelance work and made me learn many of the difficulties that full-time freelancers and contract workers face.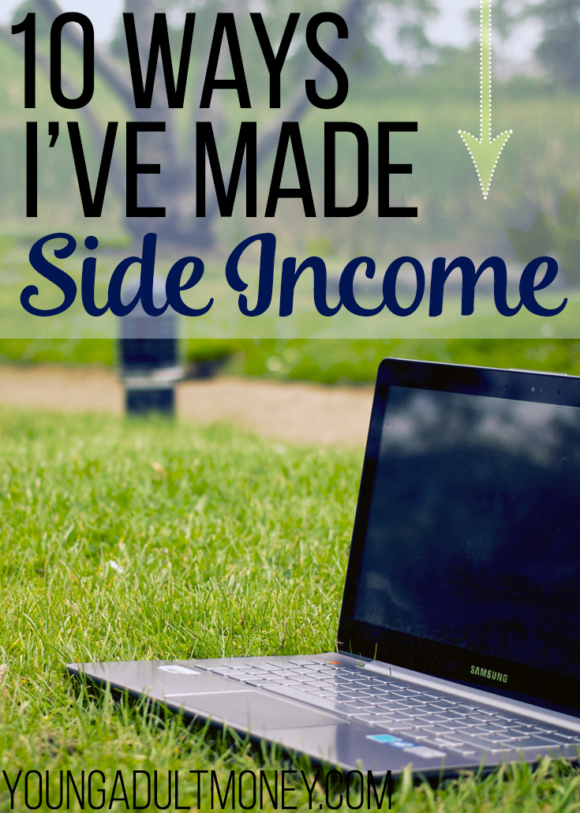 7) Freelance Writing

The past year I worked as a freelance writer for the FeeX blog. I wrote a post once a week and for a short time was writing two posts a week. Freelance writing is a great job for anyone who wants to make money remotely and is looking for a more flexible schedule. It didn't matter whether I wrote the post at noon or midnight. All that mattered was that I got my post submitted by the deadline.
Freelance writing is something that naturally comes out of blogging, and starting a blog in the niche you are trying to freelance write in is a great way to break into freelance writing. Not sure what niche to choose? Here's how to pick one.
I haven't done any freelance writing this year. The reason I've chosen not to pursue it is because I would rather build up my own blog and spend some time going through the prep phase of launching my second website. This is just another one of those situations where you need to weigh taking on work that brings in money immediately versus work that won't make you anything short-term but could pay off long-term.
8) Credit Card Rewards / Credit Card "Churning" / Travel "Hacking

Over the past couple years I've become increasingly interested in credit card rewards. I've "churned" a number of credit cards for rewards and received some free travel from it as well as lump sum cash bonuses.
My wife and I will go to Vegas for free this year thanks to travel "hacking" and we are in the process of gaining and utilizing credit card rewards to take a trip to either Europe or South America next year. It's pretty incredible how much more affordable international travel is when you can get two round-trip flights for free instead of paying $3,000.
Want to get started? Here's my 7 Keys for Successful Travel Hacking.
9) Renting out part of our house

When my wife and I were looking for our first home we were looking for one that specifically had rental income potential. We have been happily renting out a basement rental unit for nearly three years now. Our long-term plan (years down the road) is to turn the entire house into a rental home so that we can use the rental income to pay off the mortgage. Even further down the road I would love to have anywhere from 1-4 rental houses providing me with income in retirement.
Renting out an extra bedroom or basement isn't a decision that should be made quickly. There is a lot of work and responsibility that comes with being a landlord. I shared some of these in 9 Things to Consider Before Renting a Basement or Bedroom. The income may be nice, but you certainly end up sacrificing something in return for that income.
10) Entering Giveaways

The final way I've made side income is through entering giveaways. If you are a long-term reader you will remember our weekly Friday giveaway roundups that included anywhere from 100-300 giveaways. We kept that going for nearly two years until my wife started grad school and simply did not have time to put together the list each week.
As you can probably imagine, during that time we entered and won quite a few giveaways. We won tablets, a $400 lawn mower (that was promptly converted to Home Depot store credit), hundreds – if not thousands – of dollars worth of gift cards, and a ton of other random things such as a kitchen sink, child seat, and copper cauldron.
Some people have asked us why we enter giveaways for things we don't want or need. The reason is simple: it's easy to convert things into cash. And that's exactly how we made a side income through giveaway.
The biggest giveaway I won? A trip to Hawaii. We took the trip in January and had an amazing time.
Make Money with Side Hustles

If you are interested in side hustles be sure to check out my new book Hustle Away Debt where I go in-depth about how side hustles can help you eliminate debt and fast-track your finances.
Related: 50+ Online and At-Home Side Hustles


What have you done – or what do you currently do – for side income? What do you hope or plan on doing for side income in the future?