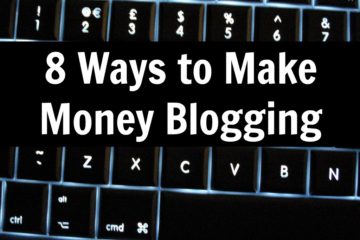 I've mentioned in the past that I think blogging is the ultimate side hustle. I've also talked a lot about online income.
I've been interested in online income for about ten years now and have launched a number of online businesses that failed. Young Adult Money has been my most successful project to date and I've learned a lot about how to make money blogging in the process.
The best thing about online income is that there is always something new to learn. There seems to constantly be new companies and businesses that make it easier to make money blogging.
While I realize many of the readers of this blog don't actually have a blog of their own, most people I know are very interested in how to make money blogging. This post will focus specifically on legitimate ways to make money blogging. You will need a blog if you plan on using these strategies. If you don't have a blog you can start one quickly using our 5-step guide for starting a blog.
Many people have asked me how do you make money on your blog? The answer to that question is this post. I've seen a number of other blog posts on this topic, but honestly most just talk about how much they make instead of how they make it. This post will go into much more detail about the specific ways you can make money blogging.
One last note: If you want to see general ways to make money online instead of how to make money blogging, check out our list of 7 ways to make money online.
Here are 8 ways to make money blogging:
1) Sponsored Content through IZEA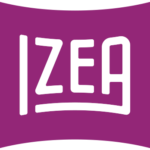 I have a long history of making money on IZEA that dates to before my blogging days. IZEA is a company that is focused on match-making publishers and advertisers for social sponsorship campaigns. Publishers don't have to be blogs, as many campaigns are focused solely on Twitter, instagram, or some other non-blogging platform.
If you are a blogger your potential for making money on IZEA increases because they have many sponsored blog post campaigns you can apply for or be asked to take part in. One thing I love about IZEA is that they are fully in compliance with FTC disclosure laws. For example, sponsored posts will have "no follow" links instead of "do follow." They will also provide a disclosure for the beginning of the post.
To see an example of an IZEA post on my site, check out this post. If IZEA sounds like a good option for you, go here to sign up for IZEA (it's free).
2) Sponsored Content through LinkVehicle
LinkVehicle is another company that offers a match-making service for publishers and advertisers. The negative of LinkVehicle is that you can't bid on jobs like on IZEA. You need to wait until an advertiser makes an offer. You do get to set your price per post, though, and the offers will be at that level.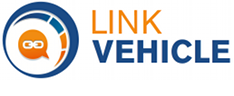 I first wrote about LinkVehicle in my post The Dirty Little Secret of How Bloggers Make Money. The big negative with LinkVehicle is they require "do follow" links, which violates Google Policy and can result in temporarily losing your Google page rank. Each blogger will need to weigh the pros and cons of taking on this kind of post. There really is a lot of money in it if you have a blog at page rank of 3 or higher, but again, it comes with risks.
LinkVehicle also has many affiliate link options for bloggers, but I honestly haven't used their affiliate links. There are other networks I prefer to use if I'm going to go that route for monetization.
Head on over to LinkVehicle if you are interested in seeing what they have to offer.
3) Google AdSense Banners
Google AdSense banners are the "old faithful" of the online blogging world. AdSense is extremely popular among bloggers for a few reasons:
It's Easy – All you have to do is go to AdSense.com, authenticate your site, and pick what ad units you want.
It's Volume Based – This goes along with "it's easy." Typically the more traffic you get, the more you will get paid from AdSense. In a future post I will be talking about a wrestling blog that makes over $200k a year in profit from Banner ads alone. Their secret? They get at on of traffic day-after-day.
There's No Minimum – You can have AdSense banners from day one on your blog. Conversely some affiliate programs and advertisers will only work with you once you hit a certain monthly traffic level.
The bottom line is this: AdSense can be a great way to monetize your blog. Don't expect to make a ton of money off AdSense, though, unless you get a ton of traffic.
4) Affiliate Links
Affiliate links are links where you get paid when someone clicks on a link and fulfills a certain action (i.e. inquires about a mortgage, purchases a product, etc.). Virtually every company around has an affiliate program.
Below are a few of the bigger affiliate networks that I'd recommend checking out:
LinkOffers – LinkOffers is a good network if you are going to try to sell any sort of financial-related products or services. They are really focused on this area and have a wide variety of companies you can work with.
FlexOffers – FlexOffers is another good affiliate network with thousands of companies you can work with. Some examples of companies I've worked with on FlexOffers are Target, Hotels.com, and Angie's List.
Commission Junction – Commission Junction is an affiliate network I would highly recommend bloggers check out simply because of the wide variety of companies they have in their network. The companies are as diverse as Lending Club, Blue Host, and Vegas.com. They also seem to compete heavily with LinkOffers/FlexOffers, so you are almost guaranteed to find a company on one of the three networks.
Affiliate revenue is tough. You can write an amazing post that has what you think is a very effective call to action and have little or no conversions. I have a small business loan blog post that gets tons of Google traffic but for whatever reason barely ever actually results in an affiliate sale.
With that being said, affiliate revenue is the most respected and sought after revenue stream for a blog. If you ever plan on selling your blog to an investor you'll want to at least put forward some effort in this category because $1,000 in affiliate revenue per month is worth a lot more than $1,000 worth of sponsored content per month.
5) Paid reviews of products and services
One way I've made money blogging is reviewing products and services. I've negotiated most of these directly with companies that have reached out to me. You may be surprised at the number and diversity of companies willing to pay you to review their products or services.
If you look at my Review category of the site you will see some of the companies I've worked with on reviews in the past. They include:
These are just three of the companies I've reviewed. Again, see the rest on the Review category page.
There are other companies that ask me to work in a mention more naturally into a post. You won't see them under the "review" section, but I've had some good feedback on these types of posts and advertisers seem to be really happy with how they've performed. I also sometimes write reviews of products in hopes of driving affiliate sales. This has been hit or miss.
Bottom line: Ask for money! If you are going to spend the time reviewing a product or service you might as well get paid for it.
6) Write a Book
If you blog regularly you will naturally become an "expert" on the topic you write about. I've been blogging about personal finances for nearly three years now and in that time I've written hundreds of posts and have read tens of thousands of blog posts on other personal finance blogs. I'm not sure I'm an "expert" but I also wouldn't be surprised if others would refer to me as one.
Regardless of what the topic of your blog is you will likely have more than enough knowledge to write a book or e-book that you can then sell on your blog. Like most things with blogging, this can be really hit-or-miss. Some people write books and never sell more than a handful; others have a lot of success and are able to get good media coverage to promote their book.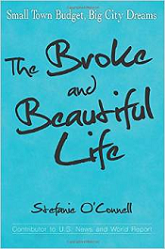 One person who seems to have done a great job of promoting their book is my friend Stefanie of The Broke and the Beautiful Life who recently wrote a book by the same name.
Writing and promoting a book based on your blog topic is an art, not a science. Some people seem to simply "get lucky" and their book gets a lot of exposure. Others have amassed such a huge audience they are almost guaranteed to sell thousands of books. Finally some have such "niche" audiences that there really aren't a lot of books on the market for the topic they blog about.
While I haven't written a book or tried to sell one on my blog, if I do go that route in the future I will likely focus on solving a problem people have. If you can solve a "migraine" problem through your book people will be much more inclined to pay money for it.
7) Selling a Product you created
One of my favorite business/entrepreneurship/lifestyle books is Tim Ferriss' The 4-Hour Workweek. In this book the main strategy he gives people for making passive money is creating a product and selling it online. He refers to it as a "muse."
A muse is something that hasn't been made before, but doesn't have to be a ridiculous new invention, either. For example a couple people who read his book decided to create a two-person yoga mat. It's essentially just a really big yoga mat. Nothing too "insane" from a creative standpoint but it clearly had a market as it ended up bringing in over $15,000 a month in sales.
Creating a product is tough, but because of this it also has a much higher potential from an income perspective. After all, you are providing more value because you aren't simply referring people to a website to purchase things that some other vendor created, marketed, and serviced. Instead you are taking as high a profit margin as you want (or are able to, depending on what you create) because you control the pricing.
8) Leveraging your blog for contract work
The final way to make money blogging is leveraging your blog for contract work. I put this in a different category of selling a product you create because typically this is more "service" work that requires you to trade your time for money instead of creating a passive income.
Despite not being passive income, leveraging your blog for contract work can still be a great way to monetize your blog. I was able to freelance write for a site for nearly a year at a rate of $50 a post. I negotiated it up to $75 after six months and even had two posts a week for a period of time. Having a blog was the sole reason I was able to land this job. After all, the editor found the site and reached out to me, not the other way around.
Besides freelance writing many bloggers move into social media management and general blog management. These are skills that bloggers acquire over the course of starting and running a blog, so it's a natural service to offer. I would encourage all bloggers to "think outside the box" because there really is an unlimited amount – and type – of contract work that bloggers are uniquely qualified for.
____________
Hopefully after reading this post you realize there are a variety of ways to make money blogging. Ultimately it's true that blogging isn't "easy money," but it is possible to make money. Tens of thousands of bloggers make money blogging every day, and some even do it full-time. They all had to start somewhere, so if you haven't taken the plunge into blogging: get started!
Do you currently make money blogging? What has been the best strategy? If you don't currently make money blogging, which of the 8 ideas sounds the most appealing to you?
____________
Photo by MoneyBlogNewz