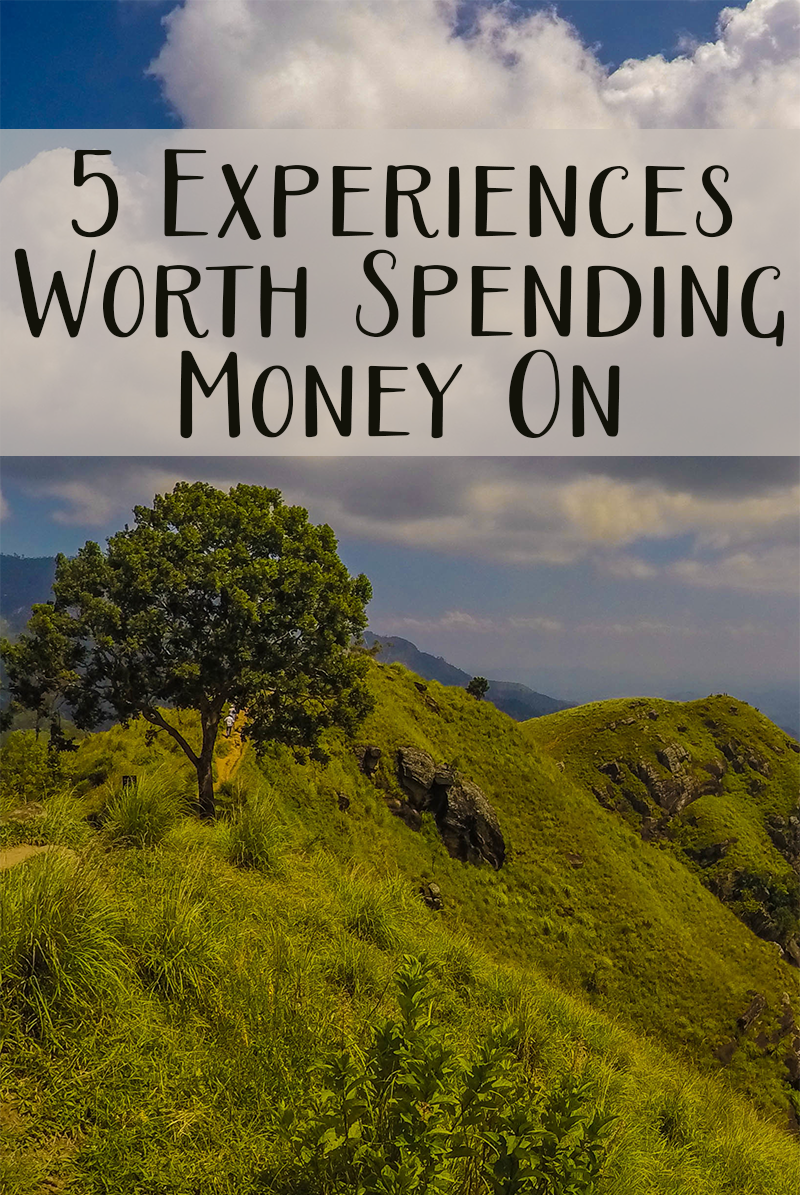 This post is from our regular contributor, Erin.
We all know that spending on experiences usually makes us happier, right? If not, you can read up on several studies that highlight why.
I'm sure you can think of a few of your own examples, though. Does buying a new phone or new clothes make you as happy as going on vacation with family, or having an awesome night out with your friends?
Probably not.
By now, regular readers are aware I'm 100% on board with meaningful spending. I believe spending on experiences is basically as meaningful as you can get.
Regardless of price, I'll likely never regret spending on experiences, but it's a different story when it comes to material items.
That's why we're taking a look at 5 experiences worth spending money on. Chime in with yours in the comments!
1) Travel
Of course, I have to mention travel first, because it's usually the first thing people think of when experience comes up.
The feeling of being in a new country on your own, immersing yourself in a different culture, eating foreign food, and trying to learn a new language – these are all unique experiences on their own.
"Travel" doesn't have to equate to wanderlust, either.
Traveling back home to visit family and friends is still an experience, even if it's a slightly different type.
Heck, traveling to a neighboring state still provides you with an experience. You don't have to spend a ton to change your surroundings.
Keep what you want to get out of your travels in mind, too. Are you looking to relax, to explore, or do a bit of both? The experience you have will largely depend on the purpose of your travels.
2) Concerts
This wasn't one I personally believed in until recently.
Don't get me wrong, I absolutely love music (and chair dance frequently while I'm working), but listening to it live never appealed to me.
However, when I found out a group I've listened to for the past 10 years was coming to a city near me, I jumped at the chance to buy tickets. I had heard they put on an excellent show, and I wasn't disappointed.
The atmosphere ended up being incredible, and there's no way to properly describe it. It's something you had to feel – it was its own experience.
Music often bonds people in an amazing way. There's a lot of emotion behind it, and it's universal.
So if you're like me and didn't understand the big deal about seeing your favorite band or artist perform live, give it a shot.
I walked away with my ears ringing, but no regrets.
If live music in a formal venue isn't your thing, you can always check out local festivals!
3) Conferences / Conventions
When I say conferences and conventions, I don't just mean industry specific events where you primarily go to network and learn.
There are so many different types out there, you're bound to have a unique experience at each, depending on what the purpose of the conference/con is.
For example, back when I was in college, I was part of the History Club on campus. We were allowed to go to a history conference for teachers, all expenses paid.
While it was interesting, it leaned heavily on the educational side. My friends and I stuck to our own little group. We weren't there to network.
My second conference was FinCon, the conference for money media nerds. That was a mix of everything from learning to networking to dancing and drinking. It was a lot of fun, and it was great to connect with everyone that went.
I'll be attending a convention this summer that's much larger than either of those two. It's specifically for one company, and it's basically a big community event. There won't be any networking, just fun times being had and meeting new people with a common interest. (Think Comic-Con.)
Each of these is rewarding in its own way. Conferences can be an opportunity to meet others in your field, to learn and invest in yourself, or to enjoy a specific community you're a part of.
4) Something On Your Bucket List
Do you have a bucket list full of crazy things you want to accomplish before a certain age? Why not cross a few things off every year?
I actually haven't thought about creating a bucket list, but it's a great way to get focused on what experiences you want to have. If it's amazing enough to be on there, you know it's worth spending the money on.
Something I did that was "out of the norm" was ride a jet ski a few summers ago. The idea always appealed to me, and even though it was technically a touristy thing to do, I'm glad I did it.
It was actually a lot of fun, and very worth the money I spent for 2 hours out on the ocean. Even though I fell over once or twice. Moving on.
If you've ever wanted to do something a little crazy, like skydive, learn how to fly a plane, attend a big sporting event, start saving up for it and make it happen!
5) Weekend Trips With Friends
I view this a little differently than travel, because the purpose isn't specifically to travel, but to hang out with friends somewhere new.
My personal example is going on a ski trip with a bunch of people. It was an absolute blast renting a house all to ourselves in the middle of nowhere. We could be as loud as we wanted to be at night (and believe me, that was taken advantage of), and during the day we got to hit the slopes and have fun trying not to ski off the mountain (maybe that was just me).
Get together with your friends and think of a trip you can do annually. It gives you all something to look forward to every year.
I can't begin to tell you how many inside jokes came out of that one weekend away, and they were referenced throughout the year. Even though it was pricey, it was definitely worth it from all the memories that were made.
__________________
Now, I know there are some people who will say that buying items can provide experiences, and I agree. There are many things we can buy that can be used as tools to have an experience. For example, we can buy books, games, or movies as an escape to another universe. There's nothing wrong with that!
But if you want to ditch spending so much on everyday things and spend on something that's going to give you more ROI instead, try these five ideas out!
What's the best experience you ever paid for? What other ideas would you add to this list?