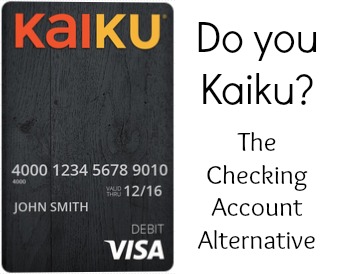 The question of the day is this: Do you Kaiku?
Over the past couple months I have been testing out Kaiku. Kaiku is a prepaid debit card that is loaded with features that make it a viable checking account alternative.
There are many prepaid cash cards that have fees for everything. ATM fees, deposit, fees, transfer fees…the list goes on. What I appreciate about the Kaiku Visa Prepaid Card is that I wasn't left wondering whether I was going to get charged a fee or not; the card benefits are all included with their low monthly fee.
The biggest benefit of Kaiku is how well integrated it is to our new digital payment society. More and more of our finances are moving online. You can access Kaiku both online or through their app. The folks at Kaiku are really committed to having a great app and they even rolled out a new upgrade to the app in the month or so that I was testing out the card.
I was impressed that you could have direct deposit on the Kaiku Visa Prepaid Card as well as the fact that they have over 50 thousand surcharge-free ATMs in their network. Forget about overdrafts, too: there are NO overdraft fees with Kaiku.
After you read all of the benefits that come with the card I think you'll agree that this card gives checking accounts a run for their money and is the obvious choice when compared to other prepaid cards.
That doesn't mean I have zero concerns about the card. I'll discuss two of these concerns later on in the post.
What comes with a Kaiku card?
I'm always skeptical when it comes to prepaid debit cards. After all, why not just set up a checking account or use credit cards? Plus I always assumed prepaid cards had few useful features.
I can honestly say that I was very surprised at the number of features that the Kaiku Visa Prepaid CardKaiku card came with. They include:
Direct Deposit – You can set up a direct deposit so that your entire – or just a portion – of your paycheck is deposited directly into your Kaiku account.
Load Cash – You can load cash on to your Kaiku account at any Visa ReadyLink or MoneyGram location.
Funds Transfer – You can transfer funds from PayPal, Amazon, and other accounts by adding Kaiku as a bank account.
Send Friends Money – Do you have a friend who has a Kaiku card? Send them cash quickly and easily through your Kaiku account.
Bill Payment – Pay bills through your Kaiku account, just like you would with a checking account.
Surcharge-Free ATMs – Kaiku has an impressive network of surcharge-free ATMS. They have 55,000 surcharge-free ATMs in their network.
No Overdraft Fees – Kaiku has no overdraft fees. If you try to purchase something and do not have enough funds in your account your card will simply be declined.
Mobile Check Loading – Deposit checks by scanning them on your mobile phone.
Mobile App – Kaiku has a mobile app so you can access all these features on the go.
As you can see there are countless benefits that come with the Kaiku card. it is ultimately more than "just" a prepaid cash card, as it has many of the benefits that come with most checking accounts, if not more.
My Two Concerns with the Kaiku Card
I had two concerns with the Kaiku Visa Prepaid CardKaiku card that I thought were worth mentioning, as I'm sure many people reading this will have the same concerns.
My first concern was security. After all, aren't credit cards more secure than prepaid cash and debit cards? Well as you may have picked up on from my earlier mentions, Kaiku's formal name is the Kaiku Visa Prepaid Card. The card is covered by Visa's Zero Liability Policy. This policy guarantees that consumers won't be held responsible for unauthorized charges.
To provide even more detail on the security of the Kaiku Visa Prepaid Card I was told:
Behind the scenes, our network infrastructure is compliant with Payment Card Industry Data Security Standards (PCI-DSS). We have a dedicated customer service and fraud abuse team available to help our cardholders. The number for cardholder services is on the back of each Kaiku Card and on our website (it's 1-855-285-2458). Additionally, our help team is available via email at customerservice@kaiku.com to report lost/stolen cards.
Knowing that Kaiku has the full backing of Visa's security put my mind at ease.
My second concern was the $3 per month fee. As I mentioned at the beginning of the post, Kaiku has taken away some of the sneakier fees that have plagued the prepaid card industry. For example, there are no overdraft fees with the Kaiku card, nor are there activation fees or minimum balance fees.
It's also important to point out that the monthly maintenance fee can run a lot higher on other cards – cards that have the hidden fees. The GreenDot Card charges $5.95 per month and Chase Liquid is $4.95 per month. Finally when Kaiku is compared to checking accounts that charge a monthly fee it's almost always lower – sometimes 1/3 the cost.
Who is the ideal user of a Kaiku card?
After using the Kaiku card for a couple months and learning more about it's features I've thought often about "who is the ideal Kaiku card user?" I think there is a number of individuals who would benefit from using the Kaiku card instead of a traditional checking account or credit card. They include:
Those who do not have access to a free checking account
Those who need access to a wide variety of ATM locations across the United States (or even across their metro area)
Those who have struggled with credit cards in the past
A dependent who you want to give funds to but do not want to give a credit card to
The bottom line is this: there is no better prepaid cash card on the market than the Kaiku Visa Prepaid Card. Considering all the benefits that come with the card it can be an excellent checking account alternative.
Have you heard of the Kaiku Visa Prepaid Card before? What do you think of the features that come with a Kaiku card?
____________
Photo by MoneyBlogNewz