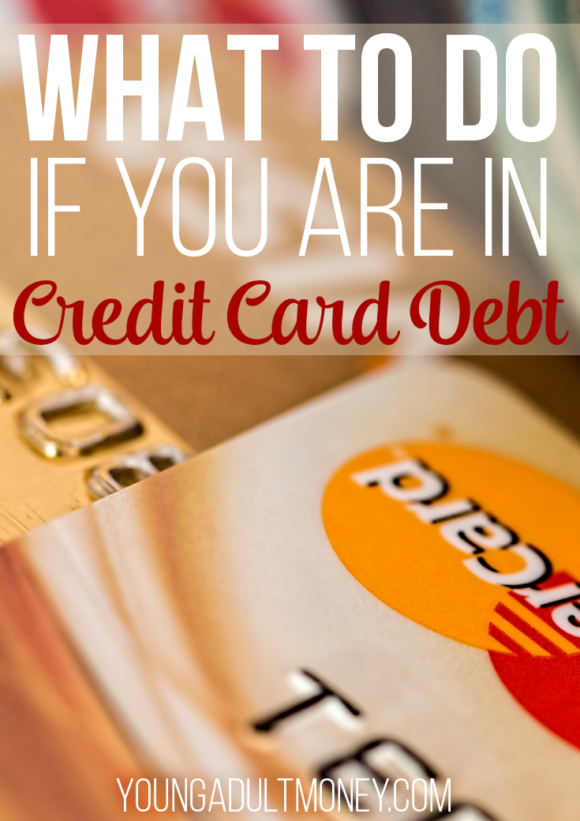 As much as we talk about investing, increasing income, and even travel hacking on the blog, it's important to recognize the fact that many people's finances revolve around one thing: credit card debt.
Millions of Americans are in some form of debt. Debt can have a huge impact on quality of life, and is the source of stress for many people.
It's important to recognize that not all debt is the same. Some debt has rock-bottom interest rates (as low as 0-3%), while other debt such as credit card debt has a very high interest rate.
Today I want to discuss what to do if you are in credit card debt. Credit card debt is something that needs to be addressed, and thankfully there are many actions that can be taken to reign in credit card debt and move forward.
1) Seek Help

Many who are in credit card debt avoid confronting the reality of their situation. It's also common to "keep it to yourself" and not share your situation with others. This is common behavior, but it also prevents people who are in credit card debt from taking steps towards fixing their problems.
Seeking help is essential for anyone who has gotten themselves into credit card debt. After all, there are millions who have successfully gotten out of credit card debt – why not trust the organizations and companies that specialize in helping those who are in credit card debt?
One organization I have heard a lot about is Care One Debt Relief Services. They even helped a fellow personal finance blogger get out of over $100,000 of debt. Care One's founder started the company because of the bad advice he received when he himself was having trouble with debt.
Seeking help doesn't necessarily mean friends or family. Finding a company or nonprofit that will help lower your debt total and lower your interest payment is a great source of help and expertise.
2) 0% Transfer Credit Card Offers

Credit card companies are desperate for customers. After all, there is very little difference from one credit card company to the other. Because of this lack of differentiation they typically provide very good promotions to new customers.
One of these promotions are 0% transfer credit card offers. If you transfer your current credit card balance from an existing credit card to a new credit card, many credit card companies will give you a grace period where you have 0% interest. This can be for as much as 18 months.
The reason why 0% transfer credit card offers are so desirable is because it gives breathing room to the debt holder. During those 18 months you may be able to pay off most – if not all – of your credit card debt. Even if you can't pay off the entire balance, the lack of interest charges will allow the debt holder to make larger payments towards the balance.
Keep in mind that there are oftentimes fees that come with a balance transfer. These can be between 3-5% of the balance being moved. So if you have a $1,000 balance being moved, you may have between $30-$50 added to the balance. That's nothing to be worried about, though, because it's well worth having the 12-18 months of 0% interest.
3) Get a Debt Consolidation Loan

I talked to an acquaintance recently who took the first step (seek help) and worked with a Christian nonprofit debt relief company who negotiated his $23,000 of debt to less than $12,000. This significantly cut down the monthly payment as well as the length of his debt repayment plan.
Finding a company or organization that can negotiate on your behalf is a great way to be proactive about dealing with your debt. You may be surprised what help you are able to find, especially when companies are able to cut down your overall debt load as well as the time it will take to pay it down.
If you don't feel comfortable seeking help from others but still want to cut down the interest rate of your credit card debt there is a do-it-yourself option: peer-to-peer lending (P2P).
P2P lending sites like Prosper provide loans to people with anywhere from excellent to terrible credit. The interest rate is higher for those who have bad credit but it still typically is less than the 20+ percent rates that people get who are carrying a credit card balance month-over-month. Consider checking out Prosper to find out what sort of rate you can get on a loan.
4) Become Vigilant about Tracking Spending & Income

The next thing I suggest for those who are in credit card debt is to be vigilant about tracking your spending and income. The reason this is important is because cutting expenditures is one of the best ways to find money to pay down debt. If you don't know what you are spending on a weekly and monthly basis it's hard to identify areas where you can cut back.
Tracking spending and income is a little more difficult than it sounds but it by far one of the best things you can do for your financial health (regardless of whether you are in credit card debt or not). Taking the time to track your spending and income will help you pay down your credit card debt faster.
Start by listing out all of your accounts that you charge to each month. Set a date to download your spending history from the prior month (I typically do it the first weekend of a new month). Be sure to also keep track of any cash expenditures. Assign a category to every dollar you spent (i.e. Groceries, Cell Phone, Restaurants, etc.). Consolidate all the information in an Excel spreadsheet and review each spending category.
This will help you identify what spend categories you are spending too much money on. Perhaps you can shave $100/month off your groceries or $150 a month off your entertainment budget? Take the time to analyze and scrutinize your spending. Any extra dollar you can find to put towards credit card debt helps you achieve your debt-free goal faster.
5) Increase Income When Possible

Some people simply can't increase income, but for a majority of people there is always something they can do to increase their income. This does not necessarily mean getting a new job or asking for a raise at work, though that certainly would help.
There are many ways to make money in addition to your 9-5 job. This may mean working at a retail store on the weekends or freelance writing. Shannon from Financially Blonde wrote about how one of her clients was not going to be able to afford a vacation they had been looking forward to. The client decided to take a job working at Target on the weekends and was able to divert 100% of that money towards the vacation.
While working an additional job to pay down credit card debt may not sound ideal, it will definitely get you to your debt-free goal faster. In fact, another blogger did just that when they took on a second job as a pizza delivery driver. This blogger's goal was to move his family abroad to be full-time missionaries, but their debt stood in the way. By working tirelessly at his 9-5 as well as his second job delivering pizzas, he was able to accomplish this goal.
The moral of the story is this: if you're able to increase income, do it! How you do it isn't as important as whether you do it or not. Spend some time thinking about how you can increase income – even if it's temporary – to pay down your credit card debt.
6) Don't Let Debt Define You

Having credit card debt can be both stressful and depressing. It can feel like a huge weight is constantly on your shoulders, especially if you have no clear path for getting rid of it. Dwelling on the past isn't a productive use of your time, though, and it's important to look at what can be done today to get rid of your credit card debt.
I want to end this post on an encouraging tone because it's extremely important for people with credit card debt to remember that debt doesn't define you. While having credit card debt may impact your lifestyle and mindset, it shouldn't define who you are as a person. Make a plan for how you can get rid of credit card debt and be vigilant about sticking to that plan.

What advice do you have for those who are in credit card debt? If you've gotten out of credit card debt in the past, what worked and what didn't work for you?

____________
Photo by frankieleon