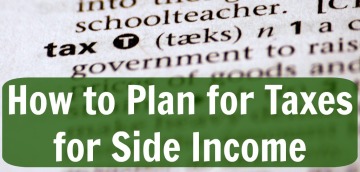 A couple years ago I had my first sizable "side income" from blogging and freelance work.
Unfortunately I also made an embarrassing, yet common, mistake: I didn't plan for taxes appropriately.
Needless to say I ended up owing the IRS a decent chunk of change come tax time. Ever since then I have been vigilant about making sure that I take the appropriate steps throughout the year so that I'm prepared when tax time comes around.
Today I want to talk about how to plan for taxes for side income. Specifically I have three suggestions for how you can plan your taxes for side income better and not end up owing the IRS a large amount come tax time.
1) Pay Quarterly Estimated Taxes
Quarterly estimated taxes can be incredibly confusing to anyone who is new to making side or freelance income.
As most people know, when someone works for a business they have taxes withheld from their paycheck. These taxes cover a number of different taxes, but the most important is income taxes. If an employer did not withhold taxes for their employees, employees would have to pay in a relatively large lump sum at tax time. Instead, many employees even get money back from the government.
For freelancers and small business owners, the responsibility falls entirely on their shoulders. Quarterly estimated taxes are supposed to reduce the tax burden freelancer/contract workers feel when tax time comes around.
I wrote a post about how to calculate quarterly estimated taxes that includes a spreadsheet tool that will help you determine how much to pay in. The post also explains when quarterly estimated taxes are due as well as where to send them.
2) Take Additional Taxes out of your Paychecks
While full-time freelancers are not employed at a 9-5 job, those who make side income by definition are employees for their full-time gig.
One strategy that you can use to account for taxes on side income is to take additional taxes out of your paycheck. You may not know this, but employees can voluntarily have $50, $100, or any other additional amount taken out of their paycheck and put towards tax withholdings.
This is a strategy that I've been using the past few years to add some "padding" into my tax withholdings. Quarterly estimated taxes are great, but they are in essence simply an estimate and can easily end up being low if your side income increases year-over-year.
3) Build up Cash Savings in your Business Account
Besides paying quarterly estimated taxes and voluntarily having additional money taken out of your paycheck for taxes, you can also plan for taxes for side income by building up cash savings in your business account.
You have to pay taxes one way or another, so having additional money in your business account (or personal account if you do not have a business banking account) can help you prepare for any unexpected taxes.
I personally start to hoard cash in my business account around the December through February time frame. Building up cash in my account around this time will not only help me pay any money I owe to the government but will also provide me funds for my first quarterly estimated tax payment of the year (which is due mid-April).
____________
I hope that this post on how to plan for taxes for side income will help you be better prepared for taxes in the future. Taking these three steps will help you adequately plan for your side income taxes, as well as have money set aside in case of a tax-time surprise.
Have you ever planned poorly for taxes and owed a lot of money to the IRS? How do you plan for taxes for side income?
____________
Photo by Alan Cleaver