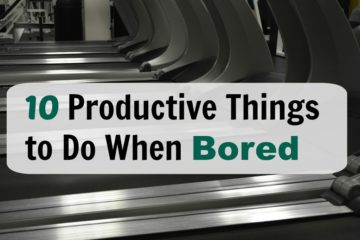 Boredom is inevitable.
At some point or another, you will get bored. You can either waste time playing games and mindlessly scrolling through apps on your phone or you can make productive use of your time.
Thankfully, being bored isn't all that bad. It means you are likely open to doing just about anything to cure your boredom.
Today we have a list of 10 productive things to do when bored.
1) Organize Music
Keeping music playlists organized is an ongoing battle. Whether it's iTunes or Spotify, putting together playlists is a time consuming activity that most people put off – and inevitably get frustrated about.
I've been using Spotify's $10/month unlimited plan for nearly 2 years now and I have trouble imagining life before unlimited streaming. The only issue with unlimited streaming is that everything is playlist-based. You have to continually organize and update playlists. If you're bored, open up your iTunes or Spotify and organize your music.
2) Work Out
Working out is one of the best things you can do when you're bored. Typically when people feel bored they feel "out of it" and are anxious. Exercising can actually give you energy and (obviously) has many health benefits.
Going for a quick run or doing a quick workout at home can be a good way to fit in a workout without sinking too much time (or money) into it. If you currently pay for a gym membership, make sure you get the most value out of it. The last thing you want to do is pay for a gym membership and never use it.
3) Go through your stuff
When was the last time you went through your closet, basement, bookshelf, or clothes? Let's face it: we have a lot of stuff. Going through your stuff and getting rid of everything you don't need not only gets rid of clutter but also gives you an opportunity to make money by selling your stuff on eBay.
While I wouldn't suggest this for everyone, it can also be productive to look for things you need to buy. Let's say you need to purchase a new humidifier, but never spend the time to research which humidifier is the best. If you browse Amazon and do your research when you're bored, you can find the humidifier that is the best value.
This can be applied to other purchases that typically are made in a rush such as dress clothes or electronics. Does anyone else always wait until their laptop is dead to buy a new one, or is it just me?
4) Plan and Execute a Home Project
Another productive thing you can do when you're bored is plan and execute a home project. Too often homeowners wait until a repair or upgrade is needed ASAP to execute a project.
Instead of taking this approach, avoid the stress of needing to do a project immediately by doing the repair and upgrades before something absolutely needs to be done. This will also save you money because you have the ability to take your time and really do your research.
5) Read
Reading is almost always a good use of time. If you're bored, it's an excellent use of time. Think of how many times you've been unable to read because you're too busy. If you find yourself bored, it's an ideal time to dive into a book, magazine, or the newspaper.
Personal finance books I recommend are The Money Book for the Young, Fabulous, & Broke and Rich Dad Poor Dad. For news I highly recommend The Wall Street Journal.
6) Clean up your Email Inbox
If you're email inbox is completely cleared out, congratulations! You are one of the .05% of the population who have their email inbox under control.
For the rest of us, clearing an email inbox is a big task. I personally manage three email accounts between my personal account and work; having even one of these under control is an accomplishment. Utilize your "bored" time to clean up your inbox.
7) Start a Blog
I started blogging over six years ago and it's easily one of the best decisions I've made. Blogging is a lot of work, but it can turn into a business and lead to other opportunities, such as freelance writing jobs.
One of the best (and sometimes, worst) things about blogging is that there is always one more thing to do. You can always do something else to improve your blog, whether it's writing new content or tweaking your design. The "to do" list is a never-ending one. The work can be a grind at times but it also can fill time and potentially make you money.
I wrote a post explaining how to start a blog in 5 easy steps if you are interested in getting started. Trust me, it's hard to ever be bored when you have a blog.
8) Organize your Electronic Files
Recently I was on an eight-and-a-half hour flight. Because my computer only lasts a couple hours without being plugged in, I decided against paying for WiFi. Instead I looked for productive things to do on my computer that didn't require WiFi.
One of the things I did was organize my electronic files. My "my documents" folder was a mess and my desktop was filled with files. After about 45 minutes I had all my electronic files neatly sorted in appropriate folders. I also deleted old files I no longer needed.
One other thing I did was back up important files onto a USB drive. It's incredible how much space you can get on a USB drive these days (and how affordable it can be). Once your files are sorted consider backing them up on an external storage drive and/or in the cloud.
9) Organize Personal Finances
This is a personal finance blog, so I need to include something in this post that is blatantly related to personal finances, right? Organizing personal finances are something that are almost always put off by people. With that being said, getting everything organized can also be extremely valuable.
Some things that you can do to organize your finances are:
Track your income and expenses
Review your work benefits & make sure you are contributing enough to retirement accounts
Explore ways to save money (i.e. couponing, cutting down on entertainment expenses, brewing coffee at home, etc.)
Getting your finances organized is an essential step to take towards improving your finances. If you don't have a good grasp on your current financial situation, it's difficult (if not impossible) to change it for the better.
10) Watch a Documentary
If you're bored and don't feel like doing any of the other suggestions, consider watching a documentary. If you're going to watch TV, documentaries are the best way to be "productive" while doing it.
Thanks to the "streaming revolution" there are a ton of documentaries available on Netflix and Amazon Prime. Amazon Prime is currently offering a free 30-day trial that you can take advantage of. The library is also stocked with documentaries as well.
Are you productive when you are bored? What is your favorite thing to do when you get bored?
____________
Photo by Jeff Blackler