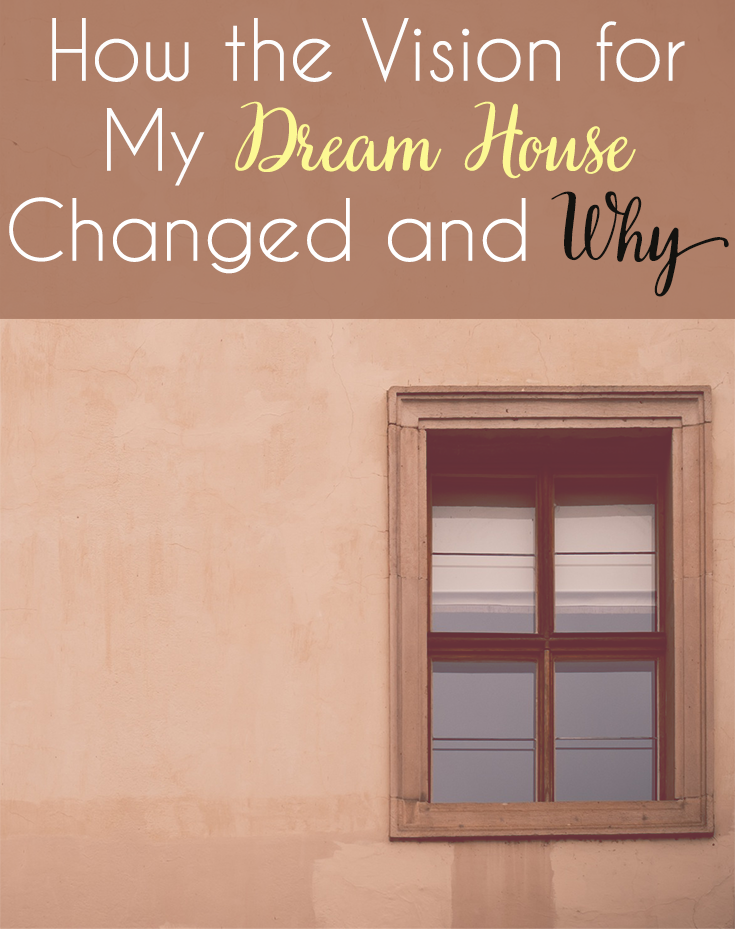 This post is from our regular Wednesday contributor, Erin.
When you were younger, did you have unrealistic expectations of what your future house would look like? Or did your dreams come crashing down once you knew how much of a mortgage you were approved for?
Back in elementary school, I'd actually doodle floor plans for the grand mansion I'd eventually have built, complete with multiple indoor pools, waterfalls, an ice rink, a huge kitchen, fountains outside, and a wrought iron gate to get in.
Obviously I had big dreams. ;)
Little did I know how much that would actually cost (let alone cost to run – that's a lot of water!). The grandeur of it all was just fun to think about.
Thankfully, I snapped out of that after a year or so. And while HGTV's House Hunters does lure me in from time to time, I know better than to buy more house than I can afford.
I also know there are plenty of people who want to stretch their money when it comes to their dream homes, and I thought it would be interesting to see if anyone else's vision of their dream house changed once they were actually in the market to buy.
Here's how the vision for my dream house changed, and the reasons why I no longer want a mansion (besides the fact I can't afford it!).
I Realized I Don't Need Much Space
My fiancé and I lived in a little basement apartment before our current apartment. It was about 700 sq. ft. with one bedroom, one narrow bathroom, a kitchen area, and a living area. There were no hallways, it was just one space after another.
While we were slightly cramped (and also concerned that our cats didn't have enough room to chase each other around, because that's totally important), we probably could have made it work.
We then upgraded to a 2 bedroom, 2 bathroom, 1,041 sq. ft. apartment that feels entirely too big. Most of that square footage is in the living room, which is open to the kitchen. It's huge.
As a result, a second bedroom for my office was almost unnecessary. It's nice to be able to get away from distractions, but right now the living room looks fairly barren because we decided we didn't want to spend money on extra furniture.
It's so easy to think more space will make you happier, but I've realized that's not true in my case. Our apartment doesn't feel cozy because it's fairly empty.
My fiancé and I agree that if we opted for the one bedroom version of our apartment, we'd be perfectly fine.
As it stands, my dream house would be between 800-1,000 sq. ft, a far cry from the mansion I once envisioned!
Less Space Usually Means Less Clutter
We're actually thinking of moving again, and with that comes the realization that I should simply get rid of half my stuff. Because that's all it is: stuff.
I think most people feel they need lots of space for two reasons: kids, and stuff (and having toys can be half the problem).
Whenever I watch HGTV, someone is claiming they need more room because there's not enough in their current place.
Meanwhile, things are strewn all over, and there's no organization in their house. My guess is that if they pared down their belongings, in most cases, they'd be able to make do with what they have.
I'm not a minimalist by any means, but the thought of being able to pack up and move anywhere in just a few days is appealing to me.
Admittedly, I've been a bit of a packrat over the years. I'm not proud to admit it, but I'm finally seeing the error of my ways.
In the past, I had been afraid to get rid of things just in case I needed them, but now all that stuff is weighing on me. It feels like baggage. And there's only one thing to do when that happens: get rid of it (or donate it)!
I'm also not a huge fan of cleaning. The less I can get away with, the better. Having more space tends to lend itself to clutter, which means more upkeep. No thanks.
Having a smaller house will force us to keep our things to a minimum. Plus, utilities are usually less, and I'm all for saving money on housing expenses!
Open Floor Plans Make a Huge Difference
One thing we've noticed since relocating to the south is that open floor plans are huge here. They're becoming more and more popular for a reason – they make places feel bigger.
My dream house definitely consists of an open floor plan. I love the way our kitchen and living room take up one whole long section of our apartment. It's convenient and lends itself well to entertaining.
Our living room also has a huge window, and in the morning, the light filtering in is refreshing. Windows (and mirrors) tend to make spaces feel larger than they are.
Having rooms closed off from one another makes houses feel cramped and isolated. I'd rather have a 1,000 sq. ft. open floor plan place than a 1,500 sq. ft. place with 20 different rooms.
Windows and open spaces are a must for me! I could never go back to living in a basement.
My Dream House Might Not Even Be a House I Own!
I think the biggest way the vision for my dream home has changed is that homeownership seems slightly overrated (at least to me).
Again, we don't plan on having kids, and we don't have any plans to buy a house in the near future because we want to be able to travel around.
If anything, I'm interested in buying an investment property to rent out, but I like the freedom and flexibility of renting right now.
I know I'm not alone in this, but it seems to be an unpopular opinion. I understand that others want the security of owning a home – it's "permanent" and feels stable.
However, thinking about being a homeowner suffocates me. I don't want to be chained to any one place right now. That could change in the future, but when some of my friends have already purchased homes, it feels like we're going against the grain.
____________
I know common advice for buying a home is not to settle, but I don't feel like I'm settling at all! Mortgages can be an enormous burden, and I'm very grateful I came to the above realizations before buying a home.
When I am ready to enter the market, I know I won't be tempted to go beyond my budget, and my desire for a smaller house will (hopefully) mean needing a smaller mortgage.
Did the vision of your dream house change at any point? When, why, and how? Are you happy with your current living situation?