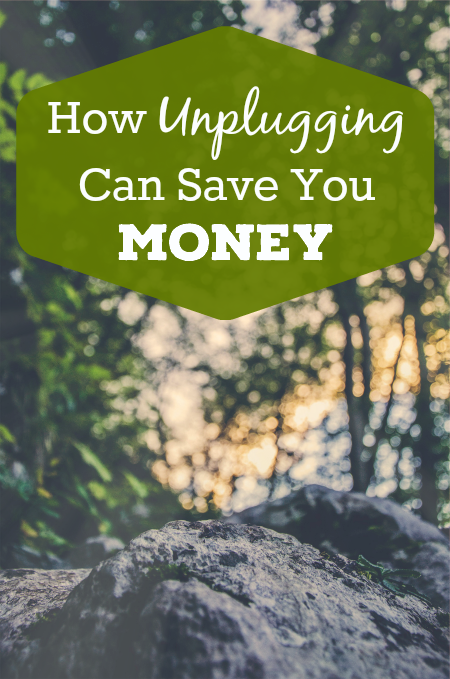 This post is by our regular Wednesday contributor, Erin.
Did you ever stop to think that unplugging can save you money? Have you thought about how being attached to all sorts of media at all times of the day is impacting your finances?
If you haven't, then read on, because being connected is costing you, one way or another.
Smartphones, tablets, and computers are so ingrained in our society these days that no one actually stops to think about the financial repercussions they have.
But maybe it's time we do.
Here are my thoughts on how unplugging can save you money in the long run.
Unplugging Gets You Off of Social Media
There have been various mentions that social media only feeds the "Keeping Up with the Joneses" mentality that so many people have, and I agree.
Our friends and family are constantly posting pictures of their purchases, whether it be their vacation destinations, clothing, cars, or food.
Social media can serve to perpetuate the consumerism that's rampant almost everywhere.
Tell me – and be honest – have you ever felt a pang of jealousy after seeing a friend post something amazingly awesome on their news feed?
Probably.
That leads to an awful habit or need to "one-up" the other person, and it needs to stop.
How do we break the cycle? By unplugging.
Now, I know that's not realistic for a lot of people. Social media can be highly addicting.
What I am saying is that we need to be more mindful of things.
Be mindful of the fact that whatever appears on social media is just one small snippet of someone's life. Who's to say they didn't go into debt from the purchase they're bragging about?
Be mindful of how certain people make you feel, too. Do you really want to be friends with those that constantly show off their purchases?
Do what you have to do to put a stop to jealousy. Take a planned hiatus from social media, clean up your friends list, and try being grateful for what you have.
Unplugging Gets You Away from Pinterest
Pinterest gets its own section, even though it's technically a social media platform. Why? Because it sucks so many people in, day after day, and leaves them dreaming about what they want, but might not be able to have.
Pinterest is the epitome of perfection when it comes to the home, crafts, beauty, fitness, and more. People then want to attain that level of perfection, and they feel bad when their home looks nothing like the one in the photo they're pinning.
While DIY projects are great, if you don't need a refurbished chair/desk/table, then you're spending money just because you saw something cute on the internet. It can very easily lead to mindless spending.
If you find yourself lost in the abyss of pins, get out and take a break. You might find you don't miss it!
Unplugging Means Avoiding Well-Crafted Emails
Did you receive super salesy emails over the holidays? I was actually laughing at some of the ones I received.
"You absolutely must buy this," "You need our products," "Best deals you can't afford to miss!"
Um, no.
I have all of these emails go to my junk email, but wading through them kind of ticked me off. I couldn't help but wonder how many of these emails were appealing to the little voice in the back of people's minds, begging them to give in and treat themselves.
If you have a weakness for shopping at all, please unsubscribe from these types of emails, or at the very least, avoid them until you know you need to buy something.
Retailers are NOT your friends. "Deals you can't afford to miss"? What about deals you can't afford, period?
When You Unplug, You Leave Technology Behind
Let's face it – most of us have fancy smartphones that we paid about $100-$300 for. Laptops, PCs, tablets, e-readers – they all cost a decent amount.
So the very things we're using to consume media are costing us. Even more if you pay for a data plan.
Because of our "need" to be connected all the time, we're purchasing all these different gadgets to stay connected. I mean, who really needs a smartwatch?
Then you have the fact that technology is constantly being upgraded. People go from the iPhone 5s to the iPhone 6 without blinking. There's never a question of upgrading – they need the new technology, even when their old phone is working just fine.
People make an occasion of camping out to get the latest stuff. Is it really worth it?
Decide to unplug and attempt to stay away from technology for a day. I'm sure you can do it (if you don't need it for work-related purposes). Hopefully, you'll realize the setup you have is working well for you, and that there's no need to go out and spend $X on the newest thing to hit the market.
Unplugging Gives Us Much Needed Perspective
It all comes down to needing perspective. We get caught up in what everyone else has, what the media is telling us we need, and essentially, what we don't have.
The easiest way to regain control over your spending is to remove yourself as the target, and unplugging is the best way to go about it.
When is the last time you went without internet? Most of us can't even imagine that!
The days of living simply are fading away. That's why we need to gain a different perspective.
I'll admit, I'm saying this as someone who isn't overly attached to being connected, aside from the fact I need the internet to work. There are times I forget to take my phone with me when going somewhere!
Because of that, I can say with certainty that it's easier for me to be grateful for everything I have. I'm not trying to compete with anyone on owning the most stuff, or the newest stuff.
I only purchase things I need, when I need them. I know I care about my money more than anyone else, so I'm not going to let others influence my purchasing decisions.
For example, I bought a phone exactly one year ago. A new second generation just came out, for $100 more than I originally paid. I didn't even think about upgrading, as my current phone is working just as well as the day I got it.
If there's something you've been wanting to buy for a while because someone else has it and it looks cool, or because you keep seeing it advertised, take a step back and ask if it's right for you.
__________________
If you've felt pulled by the tides of consumerism, it's time to take a step back and evaluate why. If social media, crafty marketing, or the desire to "be better than everyone else" is coming into play, then unplugging could save you money. Give it a try!
Do you think unplugging can help you regain control of your finances and tame the temptation to spend? How do deal with being jealous of others (if you feel that way)? Does practicing gratitude help you?