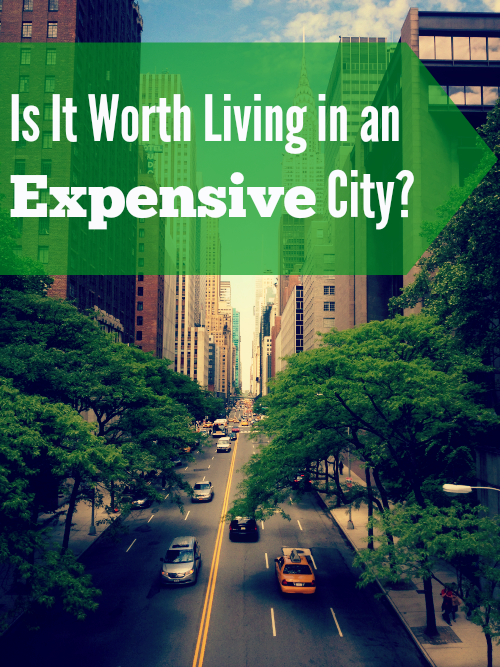 This post is from our regular Wednesday contributor, Erin.
As some of you know from my previous post on the subject, last year I relocated from a higher cost of living area to a lower one (Long Island, NY to Charlotte, NC, specifically).
It had been a goal of mine to move for a while, as my financial goals were constantly taking a backseat because my monthly expenses were so high.
I'm naturally frugal and cut most of my expenses down as much as possible, but rent was still overpriced, and that's an issue in just about every expensive city!
The argument is always that the better paying jobs are in the higher cost of living areas. If you're employed in NYC, for example, you're likely going to be earning more than someone working in the south.
I wanted to have a little fun and play devil's advocate today. I know there are people who are passionate about both sides of the argument, and I want to hear your experiences and thoughts in the comments!
Let's take a look at what needs to be considered when thinking about moving to a higher cost of living city.
The Best Bang for Your Buck
You don't always get the best bang for your buck when it comes to living in a more expensive area. Going back to my own example, we were paying $1,250 for a ~700 sq.  ft. basement apartment with one bedroom and one bathroom (utilities included, at least).
We're currently paying $900 (base price) for a fancier 2 bedroom, 2 bathroom place, with a balcony (1,050 sq. ft.). With utilities, it's about $1,050 a month (on average).
It blew my mind to realize how much more we were getting for our money when we first moved here. I admit, I was hoping to rent an apartment for around $800, and we might have been able to had we gone with a 1 bedroom, but I wanted office space. There are still more affordable options nearby!
Best of all, according to Nerdwallet's cost of living calculator, housing down here is 58% less than it was back home. That's a big difference.
Temptation to Spend
Ask anyone that lives in a major city, and they'll tell you the amount of activities available is ridiculous. Restaurants, boutique shops, street vendors, studios and more line the streets.
Unfortunately, this can lead to the temptation to spend. If you're only a short walk away from your favorite place, it's harder to stay away than if you were 15 minutes away by car.
More Variety Isn't a Bad Thing
On the other hand, having so many options to choose from makes it easier to live within your budget. There have been many posts documenting how it's possible to live in NYC on a lower salary.
Cities offer tons of free things to do, and if you know the local specials, you can score some great deals. Having so many businesses around makes for competitive pricing.
If you live out in the middle of nowhere, you might have one or two stores to rely on. Limited choices means you might be forced to buy things at a certain price.
Your Salary and Career
Earning more is always nice. If you prioritize your finances, you can avoid the temptation to spend, and you can probably choose your place of residence a little more intelligently than your peers (deciding to share a room, or deciding you just don't need much space).
More career opportunities are directly related to higher salaries, too. There are simply more companies in bigger cities, and thus, more job opportunities. If you want to keep moving up, living in a big city is going to help you network and use those connections to your advantage.
Public Transportation
This one is both a blessing and a curse, I think. In some places, public transportation is fairly expensive, and there are still people who choose to own a car. Then there are cities that have lackluster, unreliable public transportation.
However, if you can get away with not having a car, and having reasonably priced public transportation (or a bike), then you have a winning combination.
Regular and Irregular Expenses
While our rent dropped in price, food hasn't (which was disappointing). According to the cost of living calculator, food is supposedly 25% less here, but some items are actually more expensive than others.
Gas is cheaper, at least, and our car insurance rates both went down dramatically after moving.
Utilities are another expense to consider. While our electric is cheaper down here, water is more expensive.
What about taxes? Some states don't have income tax, while others have a higher sales tax. I should mention that we were never required to pay vehicle property tax in NY, but we are here.
My parents experienced a huge difference in their property taxes when they moved, too. They were paying $7,000+/yr on Long Island, and now pay $250/yr in SC. But, their homeowner's insurance is more.
As you can see, balancing costs can be tricky. A lower cost of living area might not be lower in every single category. It's worth it to gather the necessary information to make an informed decision on how moving will impact your finances.
Other Items to Consider
Let's face it – maybe you don't like the high prices where you live, but there are other reasons you stay there, such as:
Family – Some people simply enjoy living near their loved ones.
Weather – I could never live somewhere that didn't have fall. Weather can really affect our mood, and it's important to consider.
Network – While it's true that we can communicate with anyone anywhere now, there's still value in having a local network available to you. When you move, you lose your contacts, and starting from scratch isn't easy.
Environment – Lastly, I think it's important to note of the type of environment you enjoy living in. Some people aren't cut out for the city, while others would be driven crazy by living in the boonies.
Conclusion
When asking yourself if it's worth living in an expensive city, I think it's critical to consider other factors – not just ones that revolve around money.
As with many things in life, money is not the end all be all. Perhaps you want to move because you're looking for a new adventure. Maybe you want better educational opportunities for your children. Or maybe you fell in love with an expensive place!
In my opinion, where we live contributes a whole lot to our overall satisfaction with life. You can't always put a price on that.
Plus, for some people, working remotely is an option – which gives you the freedom to live anywhere and still make a great salary!
___________
In the end, I think it depends on your priorities and your game plan. Some people have no desire to try and make it big in the city, and others live for it.
The best thing you can do is to be prepared and arm yourself with knowledge so that you can prepare your finances for such a transition.
Do you live in a high or low cost of living area? Do you want to move? What are the positives and negatives from your experience?