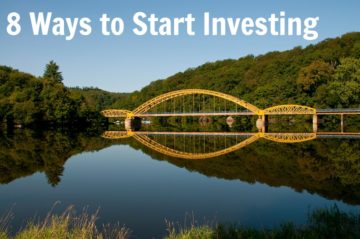 Last week I shared 3 simple ways to consistently increase wealth.
Today we want to focus on one of those ways: investing consistently.
Investing consistently is essential for creating wealth, but with so many options and suggestions of where to invest, how to invest, and what to invest, investing can quickly become overwhelming.
Oftentimes the most difficult part of investing is getting started. Today we'll help by sharing 8 ways to start investing.
1) 401k Retirement Account
A 401k is typically the best way to start investing. A 401k's have a number of benefits, including:
Employer match – Many employees match employee contributions to a 401k up to a certain amount. If your employer offers this and you are currently not contributing to a 401k, you are leaving free money on the table.
Tax Advantages – Contributions to a 401k are taken pre-tax, meaning it lowers your taxable income for the current year. Something to keep in mind is that when you start withdrawing funds at retirement you will have to report those withdrawals as taxable income.
Of course, not every employer offers a 401k. Some nonprofit employers will offer a 403b, which is similar to a 401k. There is also the "self-employed 401k" option for those who work for themselves full-time.
If your employer does not offer a 401k, no worries; there are a number of other options for you to get started investing.
2) IRA Retirement Account
IRA retirement accounts are another great option for people who are looking to start investing, especially if an employer does not offer a 401k retirement plan.
There are two types of IRAs: Roth and Traditional. Traditional IRAs are similar to 401ks in the sense that they are pre-tax. Roth IRAs are attractive to investors because they are after-tax accounts. Withdrawals are not taxed, meaning all the gains made throughout the life of a Roth IRA are tax free.
3) Health Savings Account (HSA)
I constantly promote Health Savings Accounts on this blog because a majority of people are unaware of the huge benefits they offer. As I mention in both 8 Reasons to Contribute to an HSA and What is the HSA Triple Tax Advantage?, the tax benefits of HSAs are huge.
Think of HSAs as Traditional IRAs, except better. They offer the additional advantage of allowing withdrawal of funds at any time for qualified medical expenses.
Contributing to a 401k plan up to an employer match amount should be your first investing priority; your second should definitely be maxing out the allowable annual contributions to an HSA account.
4) Individual Investment Account
While 401ks, IRAs, and HSAs are all great ways to start investing, none of them provide the same freedom that an individual investment account offers. If you're looking to invest in individual companies, ETFs, or mutual funds, consider setting up an account with one of the following stock brokers:
Scottrade – Scottrade offers $7 trades. Additionally Scottrade has many local offices where investors can meet in-person with an investment consultant.
All 3 of these brokerages are good options. While TradeKing clearly has the cheapest fees, both Scottrade and E*Trade are good options for investors.
Consider setting a goal of depositing a specific amount in your brokerage account each month. It's pretty incredible how quickly funds can accumulate once you get in the pattern of consistently having some of your income allocated to an individual investment account.
5) Peer-to-Peer Lending
Peer-to-Peer (P2P) Lending is a relatively new form of investing where individuals apply for loans and individual investors buy a stake in their loan. The interest rate on the loan directly correlates to the credit score of the individual applying for the loan. Therefore someone with a poor credit score will be required to pay a higher interest rate to compensate the investor(s) for taking on additional risk.
A couple of P2P lending companies are:
Lending Club – Lending Club grades their loans from A to G, with A being the least riskiest loans and G being the riskiest. Check out their website for more information on what returns you can expect and how to get started.
Prosper – Prosper is another P2P lending company that also provides loans with a range of risk levels for investors to choose from.
The loans are typically "unsecured" loans, meaning there is no asset to back up the loan. An example of a secured loan is a mortgage or auto loan, where the loan is directly tied to the asset and the lender has the right to pursue the asset if the loan goes into default.
6) Motif Investing
While I could have grouped Motif Investing with the other companies offering individual stock investing options, I call them out separately in this post because they offer a service no other stock brokerages offer: the ability to invest in up to 30 companies for only $9.95.
Motif Investing allows investors to create different "motifs" that consist of up to 30 stocks. Each stock can be weighed equally, by market cap, or however the motif creator wants. Investors can also invest in hundreds of other motifs that people have created.
To find out more about Motif Investing read my post How Motif Investing Works.
7) Real Estate
A number of people think that your home should not be viewed as an investment, but instead simply as a "home." I disagree and think that people should always think of their home as an investment. When making improvements to a home, the homeowner should always take into consideration what a future buyer would think of the improvement.
An investor's home isn't the only way to invest in real estate. Purchasing a rental unit or rental home is another way to gain exposure to the real estate market. Investing in real estate investment trusts (REITs) or companies that are exposed to the real estate market is another way.
Because people typically end up buying a home at some point in their life, I think it's better for investors to focus on building up their retirement accounts and other investment accounts instead of taking on additional exposure to the real estate market. After all, a home is a huge investment for most people, so it's important to limit that exposure by investing in companies that are exposed to other markets.
8) Small Business
A final way to start investing is by investing in a small business. Investing in a small business can be much easier than most people think; you don't have to buy a McDonald's franchise to invest in a small business. A small business can be as simple as someone selling things they make on Etsy.
With more and more people having "side hustles" (businesses/freelance work they do on top of their full-time job) it becomes important to think about how small business investments factor into an overall investment strategy.
As an example I can "invest" in this website by hiring more writers, having a programmer develop a new tool for me to share with readers, or pay someone to spend more time on social media. The difficult question is whether or not it makes sense to invest in my small business or to invest in some of the other things I've listed in this post? There's no simple answer.
Check out Erin's post 4 Ways To Further Invest In Your Side Business if you are looking for ideas of how to invest in a side business.
____________
Now that you have 8 ways to start investing, it's time for the fun part: choosing which to invest in first. As I said earlier, I strongly believe that investing in a 401k account up to the employer match amount should be the first priority. Second should be maxing out an HSA account. IRAs are next on the list followed by everything else.
How did you first start investing? If you haven't started, what will be the first thing you invest in (401k, individual brokerage account, P2P loans, etc.)?
____________
Photo by Kevin Dooley