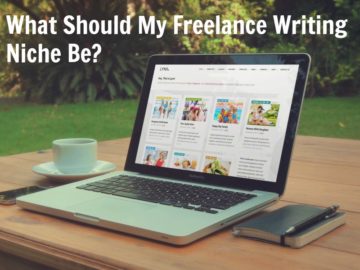 Anyone who has decided to pursue freelance writing has had to answer this question: what should my freelance writing niche be?
Recently I wrote about how to get started in freelance writing.
In that post I gave a lot of advice for getting started in freelance writing, but I only briefly mentioned starting a blog in the niche of your choice. Starting a blog isn't the only way to get started in freelance writing, but it is an approach where you have the most control. There are many writers who have never started a blog.
Regardless of whether you start a blog or get established in a niche some other way, you still need to decide what your niche will be.
What Niche Should I Choose?
I've recently been looking for more freelance writing jobs and have seen a wide variety of freelance jobs out there. What I've noticed is that people who are looking to hire are typically either looking for a very general "writer" or a very specific type of writer.
I started my blogging "career" as a political blogger. I had my own blog as well as a group blog that I wrote for. I chose this niche for one very simple reason: I liked politics. It was interesting to me. If I had to define my niche, it would be "libertarian blogger." I kept up on things like the liberty movement and Ron Paul. I wrote multiple times a week on both my website and the group blog.
Political blogging became a labor of love and I eventually quit due to time constraints. I started Young Adult Money a couple years later and have been working on it 10-30 hours a week ever since.
I chose personal finance because I had some exposure to the niche and knew there was money to be made. After all, during college I worked for a personal finance blog and did marketing and SEO for them. I knew for a fact they were making a decent side income from it, so I figured why not start one myself? I also was a finance major in college so it went hand-in-hand.
While I've been more successful as a personal finance blogger than a political blogger, I chalk that up to experience. The longer you are in the blogging/freelance writing game, the more you learn. Even the past few months I feel my content is leagues ahead of my content from the early days of Y.A.M.
When it comes to choosing a niche I will say this much: pick something you actually enjoy. Ideally you'd already have some background in the niche so that you can save yourself some research time. Establishing yourself in a niche will take a long time and you will end up writing hundreds of posts in the niche, especially if you succeed. So pick something you enjoy; there is demand for literally every niche imaginable.
How General Should My Niche Be?
If I had to define my niche as a writer I would have to define it as a "personal finance" writer. The benefit of that niche is that it's very broad so I could potentially write about a large variety of topics. The flip side of that is others who have a more concentrated niche like "stock investing" or "paying down debt" are more likely to land jobs than I am.
When I roam the freelance writing job boards I see people looking for very specific writers. For example:
Golf writer who lives in the Fort Worth area and can cover events and write content about courses in the area
Poker writer/blogger who can cover live events at the Borgata for a 20-day period of time
Food/Restaurant writer/blogger in the San Francisco area
Writer who has worked in the marijuana dispensary business
Writer who has background on recent Medicaid expansion and how it impacts provider groups in New York
Interior design writer who is keeps up-to-date on trends in interior design
This is just a tiny sampling of the jobs available and what people are looking for. As you can see, the more focused your niche is the more likely you are to land specific jobs.
Of course there is always the chance that there is no "perfect" candidate for the job. In this case the hiring manager is likely to go with someone who has some sort of track record in freelance writing, ideally in the same niche or a niche that is close to the one they are hiring for.
So how general should your niche be? There's pros and cons to both the specific and broad approach. There is one alternative, though…
What about Focusing on More than One Niche
Every writer at one point or another thinks about getting into a second niche. Lots of personal finance bloggers move into the travel niche or something else that is loosely related to finances.
I think sometimes focusing on more than one niche can be counter-productive because you stretch yourself too thin trying to keep up with news and developments in each niche. At the same time, it can be fun to go outside of your main niche and write about something different.
I have a couple tips for people who are looking to get started in freelance writing:
Pick something general to start – Picking something general when you first get started may sound counter-intuitive, but I think it makes a lot of sense. Especially if you are starting a blog, you may have trouble writing about the same narrow topic day-after-day or week-after-week. Instead pick something general until you know what part of that broader niche you really enjoy.
Establish yourself in one niche before looking for a second – Becoming well-established in one niche before moving into another one helps writers avoid burnout and being stretched too thin. You'll want to be a subject matter expert in one area before venturing into something totally different. This is especially true for people who are only looking to write "on the side" and do not have plans of making a career out of it.
Hopefully you found this article helpful. There is no easy answer to "what should my freelance writing niche be?" The answer to that question will be different for each person depending on interests and goals.
I still think starting a blog is the best way to get established in a niche, so consider launching a blog if you want to really establish yourself in a specific niche. You'll be surprised at how people will actually find you and offer you work instead of the other way around.
What niche do you want to write in? For those who already are freelance writers, how did you pick your niche? Also please share if you have had a good (or bad) experience having more than one niche.
____________
Photo by Kevin Dooley