Motif Investing is perfect for both beginner and advanced investors. It allows you to invest in the industries and companies you want to invest in.
If you are a fan of Exchange Traded Funds, or ETFs, you will absolutely love Motif Investing. With Motif Investing you can pick pre-made "motifs", or portfolios focused on specific company types or industries, or create a custom portfolio.
The ability to invest in specific industries – and set the exact companies within those industries you want exposure to – is a huge advantage of motif investing. No other company gives investors this much freedom nor makes it this easy to gain diversified exposure to specific industries and groups of companies.
If you're wondering how Motif Investing works you've come to the right place. I'll give a quick explanation of how to put together a custom motif as well as how to find pre-made motifs that fit your investing ideas.
I think it will quickly become obvious why I think you'll love Motif Investing.
How Motif Investing Works
Motif Investing allows people to select custom "motifs" made up of up to 30 stocks. Not only that, but you can choose the percentage of the motif that is made up of each company. You can spread the percentage equally among the stocks in the motif or assign custom weights to each stock.
For example, if you want to create a health insurance motif you could create a motif made up of the following:
UnitedHealth Group (UNH)
WellPoint (WLP)
Health Net (HNT)
Aetna (AET)
Humana (HUM)
CIGNA (CI)
After choosing the stocks in your motif, you can choose the weight that each stock has in the portfolio. This level of customization is pretty incredible because it allows you to both spread risk across a number of companies but also give greater weight to companies you expect to out-perform other members of the motif.
I gave each company a percentage weight based on their overall market cap.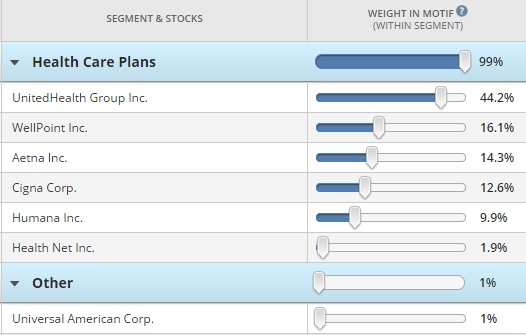 It's as easy as that! You can also add an image to your motif to make it look a little better to other people who may use your motif.
Motif Investing also offers over 100 pre-made Motifs that you can invest in. If you go to the "explore motifs" tab on their website you can view these pre-made motifs. Here's an example of four of them: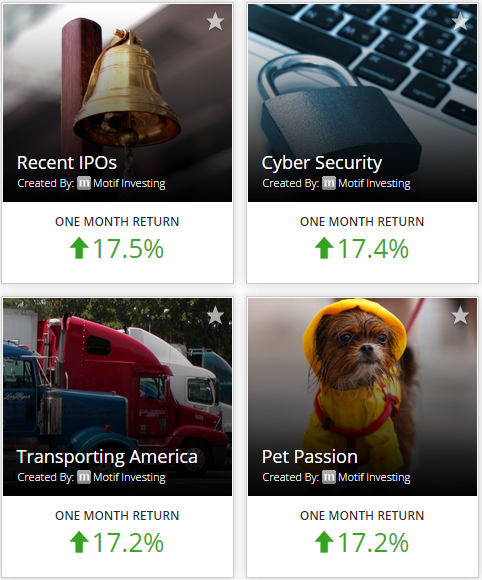 When you explore motifs there are quite a few filters you can use to find motifs that fit your specific criteria, such as one-month return, one-year return, industry type, and more. If you want to view my Health Insurance Company Motif, click here.
Motif Investing allows people to do something pretty complicated – create a custom portfolios – but they make the actual service incredibly simple for users. I'm really impressed with the user interface and love how quickly and easily users can create motifs.
Benefits of Motif Investing
Motif Investing is offering something that other brokerages have yet to offer: the ability to create custom portfolios and diversify risk across very specific industries.
The biggest benefit that I see in Motif Investing is that you can purchase your entire motif for the cost of one trade: $9.95. That means you could theoretically purchase up to 30 stocks for only $9.95. This would be much more expensive if you were going to buy all 30 stocks individually. You also would not have the ability to control the makeup (percentage of exposure to each company) nearly as easily as you do with Motif Investing.
Other benefits of Motif Investing include:
Diversification across multiple securities
A Fully customizable investment
Direct ownership of up to 30 stocks reflecting one idea
Intraday pricing
Marginability
Greater control over capital gains
I've already mentioned why I think motifs are better than ETFs, but I would go as far as saying that motifs are superior to index funds. With index funds you have exposure to every industry. The issue with that is there may be certain industries that are more likely to increase in value while others are less likely to increase, depending on where the economy is headed. You can purchase a number of motifs to gain exposure to only the industries you expect to increase.
Giving Motif Investing a try carries a low risk to investors. It's not an "either or" scenario where you will either invest in ETFs and mutual funds or invest in motifs. You can still invest in your "regular" investments while also putting more and more money into your Motif Investing account. If you end up liking one more than the other you can adjust accordingly.
$150 Cash Back Special Offer
Motif Investing has a special offer running for new users. If you sign up using this link (or any link to Motif Investing on this page) you have the opportunity to gain up to $150 cash back, starting with $50 cash back on your very first trade.
If you're ready to give Motif Investing a try, head to Motif Investing to get started!
What do you think of Motif Investing? What motif do you plan on making first?