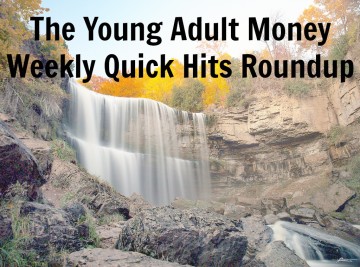 Let's enjoy this last stretch of Fall – and try to hold off the Christmas preparations until at least Thanksgiving.
Welcome to the Weekly Quick Hits Roundup!
If you're new here, every week I write a weekly wrap-up of things that were going on here at Young Adult Money, a few personal updates/thoughts, and finally a few posts I read this week that I thought were worth sharing.
If you don't already, please consider Following us on Twitter, Liking us on Facebook, and Following us on Pinterest.
We also have our giveaway roundup every Friday. This Friday there are 63 giveaways listed this week that end today (11/7) through next Thursday (11/13).
_____________________________________________________________________
Happy Friday everyone!
Another week in the books, and we saw some "wet snow" here this week. Looks like next week we should see some actual snow, though it *should* melt. Anyway enough on the weather updates…
How do you feel about there being only seven and a half weeks left in 2014? I was adding some paid time off to my calendar at work and it dawned on me just how few weeks remain for the year.
Some other updates and random thoughts:
New Car! For a few years my wife and I both drove aging and somewhat unreliable of cars. We replaced one a few months ago when my 2001 Saturn L200 reached 220,000 miles and this past weekend I drove over 200 miles round-trip to get rid of our 1999 Dodge Stratus that was having a ton of problems. I got a great deal on a 2008 Kia Spectra and it feels strange to drive a car that is new(er) and reliable.
Mid-term elections – Compared to the past few election cycles I was pretty "meh" about the election on Tuesday. I wasn't crazy about either of the Republican candidates in my State for Senate or Governor, but I did go to the polls and voted.

I watched the election returns and it was like the old days when I was super plugged into politics. I was a political blogger and polysci major a few years ago but since then have lost some of my desire to follow the news.

I'm not sure I mentioned it int he past, but since 2008 I have been a huge Ron Paul fan. I actually was one of the first people to donate to Rand Paul's Senate campaign, technically donating before the campaign was official. I'm looking forward to his Presidential run and I'm sure I will be following politics a lot more closely once he announces he is running.
I'm looking forward to spending some time with friends this weekend and hopefully I will get everything done on my "to do" list early so that I can watch Football on Sunday. I don't plan on playing any Daily Fantasy Sports but I tend to change my mind last minute and throw a lineup in. It makes the games interesting but also stressful.
Below are the posts we published this week:
Posts of the Week:
As usual, here are 5 posts that I enjoyed this week from around the blogosphere.
Want to be featured? I pick blogs that comment on the site regularly, so stop by and leave a comment!
____________
What's new with you? Anything fun planned this weekend? If you're from the US, what did you think of the election results? How interested in politics are you?
____________
Photo by paul bica