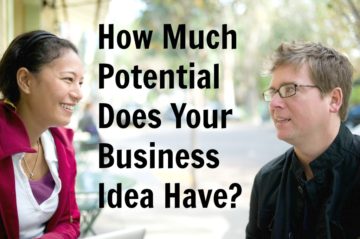 Potential is an important word when it comes to business ideas.
Business ideas can vary drastically when it comes to potential, and some ideas simply have potential that is limited.
There's nothing wrong with having a business idea that has limited potential, but I am almost certain that 99% of entrepreneurs are looking for a business idea that has the highest possible potential.
Today I want to dig into this idea of potential and try to make it a little less abstract. I'll do this by talking about scalability and competition as they relate to business ideas.
Scalability
Scalability is the ability of a system, network, or process to handle a growing amount of work in a capable manner or its ability to be enlarged to accommodate that growth. Everywhere you look there are examples of businesses with very high scalability: McDonald's, Target, Walmart, Starbucks, Planet Fitness…the list goes on.
In simple terms, a business idea that has a high level of scalability also has a high level of potential. while this does exclude or ignore the overall viability of the business idea, it does mean that the entrepreneur is thinking in terms of growth.
I will use an example out of my own life to show how this principle can be used to analyze the potential of a business idea. I have an "advanced" level of knowledge when it comes to Microsoft Excel. I've helped many people with Excel and created (in my opinion) some pretty great spreadsheets and tools. This has led me to wonder how viable it would be for me to start a Spreadsheet consulting business.
What I found out is that it definitely is possible to start your own spreadsheet or database consulting business, it really isn't a very scalable business to get into. Because the business is built around one individual it becomes hard to take on additional work without increasing hours worked. The knowledge, expertise, brand, reputation, and everything else about the business falls on one individual. This is not a very scalable business and would be the equivalent of being a full-time contractor or simply "self-employed." The only way to increase income would be to charge more per hour.
Now if I was able to create some sort of spreadsheet application that solves a problem for people, then my business idea would have a higher level of scalability and in turn, a higher potential for profits. A spreadsheet app or tool could be worked on by multiple people and sold to an unlimited number of customers without having to create a customized version for each customer.
Competition
Competition for any given industry has increased in recent times due to technology. With technology like Google Drive, there are tools out there that allow a business owner to operate at a much higher level than ever before. This has made it much easier to launch a business idea, but has also made the barriers of entry much smaller than they previously were.
Underestimating or not accurately evaluation competition is a big reason businesses fail. The reason the bookstore Borders went bankrupt was because it failed to realize that their competition was making their business less and less viable. They inaccurately analyzed the competition and it cost them everything.
An ideal business would have no competition, high barrier of entry, and high scalability. Of course this is an ideal situation and likely will rarely if ever exist for a startup.
There are many people – myself included – who have made money by starting a blog and building it as a business. The issue that blog owners run into is the nearly nonexistent barrier of entry; there are literally thousands of new blogs started every single day. Competition is extremely high, and this will always lower the potential of a business idea. Don't get me wrong, there is still plenty of money to be made as a blog owner, it's just highly unlikely that it will ever become a multi-million dollar operation or even a hundred thousand dollar operation.
Scalability and competition are two things that can be used to analyze a business idea's potential. There are more that I will cover in a future post, but if your business idea doesn't have the potential you are looking for based off of scalability and competition, I would recommend thinking of a new idea.
Have you ever decided against a business idea because it didn't have as much potential as you wanted?
____________
Photo by Joi Ito