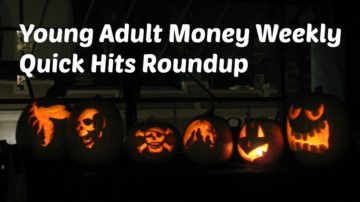 It's almost time for Halloween, so I thought a pic of carved pumpkins was fitting.
Welcome to the Weekly Quick Hits Roundup!
If you're new here, every week I write a weekly wrap-up of things that were going on here at Young Adult Money, a few personal updates/thoughts, and finally a few posts I read this week that I thought were worth sharing.
If you don't already, please considering Following us on Twitter, Liking us on Facebook, and Following us on Pinterest.
We also have our giveaway roundup every Friday. This Friday there are 61 giveaways listed this week that end today (10/24) through next Thursday (10/30).
_____________________________________________________________________
Happy Friday everyone!
What's up everyone? It's Friday!
This week has been a tiring one for me, mainly because I've been staying up a bit too late. A few updates and random thoughts:
So far I referred 2 people to DraftKings via my *monster* 1,500 word post on Is Daily Fantasy Sports (DFS) a Good Way to Make Money?

I'm pretty happy with the referrals considering this is a personal finance site. I hope this post ranks on Google and gets some more eyeballs. When you refer someone on DraftKings you can technically make money off the referral "forever" i.e. as long as they keep buying into tournaments.

This actually is the reason I've been a bit tired this week. I decided to start working on a Daily Fantasy Sports niche site and kind of started it on a whim on Sunday. It's really exciting to work on a second website but I'm not naive to how much behind the scenes work there is, especially at the beginning.
I finished reading a book that could very well end up having a huge impact on my life. The book is called All In Startup.

I finished it late on Sunday night and immediately tweeted with the author, Diana Kander. I've tweeted with a number of other authors of books I've read that I like and I'm starting to take it for granted. Getting directly in touch with an author – especially a best-selling author – was nearly unthinkable just a few years ago.

If you plan on launching a startup at any point in your life, this is the one book you need to read. I'll have a post about it sometime soon here, but I can't stress enough what an impact it could have on your life. There's a reason it has 60 five-star reviews, 5 four-star reviews, and 0 one, two, or three-star reviews.
I'll stop there as this post is getting lengthy quick. Time to watch the latest episode of The League on DVR. It's sad how obsessed I am with that show.
If there was ever a week to check out the giveaway roundup, it's this week. There is a Vegas Vacation, Alaskan Cruise, Kenya Vacation, Canon EOS Rebel Camera, and a 2014 Ford F-150 being given away! There's also tablets, a laptop, and multiple $500 gift cards. Check it out – and good luck!
Below are the posts we published this week:
Posts of the Week:
As usual, here are 5 posts that I enjoyed this week from around the blogosphere.
Want to be featured? I pick blogs that comment on the site regularly, so stop by and leave a comment!
Shannon from Financially Blonde had a guest post about goals titled Mushaboom
____________
What's new with you? Anything fun planned this weekend? What one book has had the biggest impact on your life?